Judge orders Kim Davis released from jail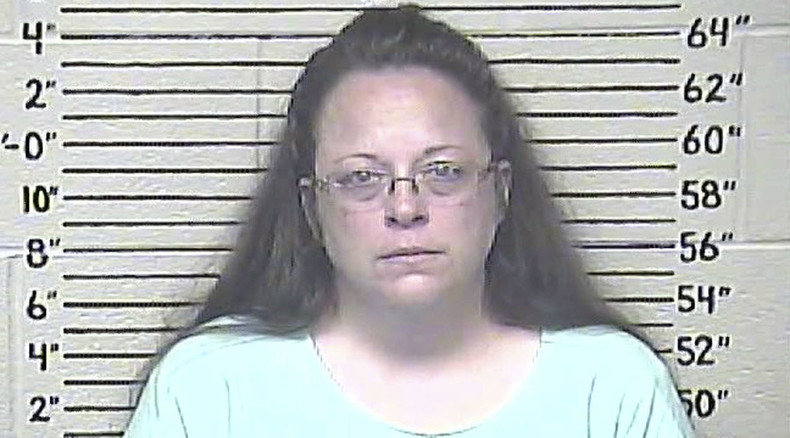 Kim Davis, the Rowan County, Kentucky clerk jailed last week for refusing to issue marriage licenses, has been released on condition she does not interfere with her deputies doing so.
US District Judge David Bunning ordered Davis released from US Marshals custody, after the same-sex couple that complained about being denied a marriage license reported they were able to obtain it from the deputy clerks.
"Defendant Davis shall not interfere in any way, directly or indirectly, with the efforts of her deputy clerks to issue marriage licenses to all legally eligible couples," or she will face sanctions again, Bunning wrote in his order.
Judge Bunning also ordered the lawyers for the five deputy clerks who promised to comply with the order to issue marriage licenses to file a status report every two weeks, "unless otherwise excused by the Court."
The licenses currently being issued do not have Davis's name on them.
READ MORE: Divided states: Kentucky clerk case spotlights gaps in legislature and opinions
Davis spent the Labor Day weekend in custody after Bunning decided to jail her for contempt of court. She can't be fired because she is an elected official. She can only quit her job, which she refuses to do, or be impeached by state legislators. The Kentucky legislature is considering a special session to address the issue in the near future.
The order came just hours before Davis's supporters were scheduled to hold a major rally in front of the Grayson, Kentucky jail where she was being held. Republican presidential hopefuls Mike Huckabee and Ted Cruz were supposed to be in attendance.
Following the US Supreme Court ruling in Obergefell v. Hodges that declared marriage a constitutional right, Kentucky instructed county clerks to issue marriage licenses to same-sex couples. Of the 120 county clerks in the state, 57 have objected. Citing her religious convictions, Davis flat-out refused to issue any marriage licenses at all, since denying them only to same-sex couples would be discrimination.
Harry Mihet, a lawyer for Davis, told RT she wanted an opportunity to backtrack, but was not given one. "She is given a choice between jail and violating her conscience. It is no choice at all. The problem here is with the court," he said.
Davis's case highlights the problem of enforcing a controversial decision by the federal government decision on the state level. Different US states have varying rules on the rights and duties of elected officials, including the accommodation of religious beliefs. While private employees can claim discrimination under Title VII of the Civil Rights Act, mandating equal opportunity in employment, government officials such as Davis are often exempt from Title VII requirements.
LISTEN MORE:
While proponents of same-sex marriage have branded Davis a bigot and launched a campaign of online mockery, many conservatives have declared her a martyr for the cause of religious liberty and a prisoner of conscience. Davis herself denies her refusal to issue licenses was ever a political statement, only a reflection of her deeply-held religious beliefs.
Former Arkansas governor Mike Huckabee, who is running for the Republican presidential nomination in 2016, made a prominent appearance at the rally outside the jail where Davis had been held.
"If somebody needs to go to jail, I'm willing to go in her place – and I mean that," he told reporters, with the tearful Davis at his side.