Out of hiding: Cecil the lion's killer returns to work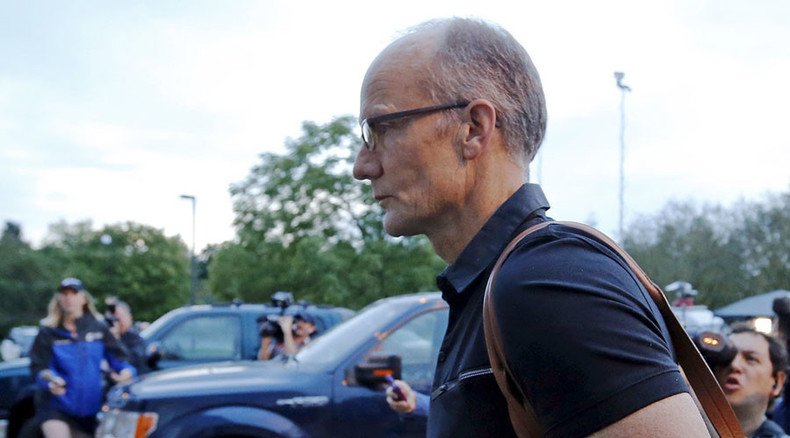 Greeted by protesters, Walter Palmer, accused of killing a rare, internationally known Zimbabwean lion named Cecil in July, has returned to work at his suburban Minneapolis dental practice.
About a half dozen protesters shouted "Murderer" and "leave town" as Palmer, 55, entered the River Bluff Dental clinic in Bloomington, Minnesota. Palmer had no comment as he entered the clinic, which was shut down in late July amid a surge of protests and public outcry. The clinic re-opened in mid-August without Palmer.
"He did something really bad and he really knows it," Veronique Lamb, a tourist from Brussels who was present at the clinic Tuesday morning, told Reuters. "Hopefully this has opened the eyes of people to this horrible business. It's very sad."
READ MORE: Cecil the lion Oxford University study funded by pro-hunting groups
Palmer is wanted for extradition by the Zimbabwean government after paying $55,000 for killing the country's local favorite lion, 13-year-old Cecil. He has yet to be charged with a crime for the killing.
READ MORE: Cecil the Lion's 'brother' Jericho 'feared killed by hunters'

Cecil, who always enjoyed human contact, was lured out of the Hwange National Park, wounded with a bow and arrow, and then shot dead with a gun on July 1. His carcass was discovered only a few days later, skinned and beheaded on a property bordering the park, thanks to the GPS tag implanted by the scientists studying the lion.
READ MORE: Lion kills tourist guide in Zimbabwe national park where Cecil lived
Palmer has said he believed the hunt was perfectly legal, and that he regrets the killing.

"I deeply regret that my pursuit of an activity I love and practice responsibly and legally resulted in the taking of this lion," Palmer said in a statement back in late July.
"I hired several professional guides and they secured all proper permits. To my knowledge, everything about this trip was legal and properly handled and conducted," the dentist added. "I had no idea that the lion I took was a known, local favorite, was collared and part of a study until the end of the hunt. I relied on the expertise of my local professional guides to ensure a legal hunt."
READ MORE: US govt never minded Americans killing rare lions before Cecil – WikiLeaks document

Zimbabwean authorities say it was Palmer's guide who reported Cecil's death to the authorities, saying it was a mistake. The killing has sparked waves of rage and disgust across the globe, especially via social media, including death threats aimed at the Palmer.
The dentist's vacation home in Florida was vandalized with graffiti and pigs' feet from those outraged by his actions. Palmer, who hired armed 24-hour security and installed hidden CCTV cameras in an effort to drive people away from his property, went into hiding.
In an interview with the Associated Press published Sunday, Palmer reiterated his understanding that the hunt was legal. He added that his daughter and wife had "been threatened ... in the social media, and again … I don't understand that level of humanity to come after people not involved at all."
Palmer had previously attempted to offer a $20,000 bribe to hunting guides after he illegally killed a black bear in 2006.
READ MORE: Cecil the lion's killer illegally hunted black bear, offered 20k as cover-up bribe

Trophy-hunting tourists legally kill more than kill 600 lions each year, according to the International Union for the Conservation of Nature (IUCN). That is approximately 2 percent of the entire African lion population, currently estimated at 30,000. A 2011 report by the International Fund for Animal Welfare said that between 1999 and 2008, American hunters accounted for 64 percent of the kills.
LISTEN MORE:
You can share this story on social media: