Cecil the Lion's 'brother' Jericho 'feared killed by hunters'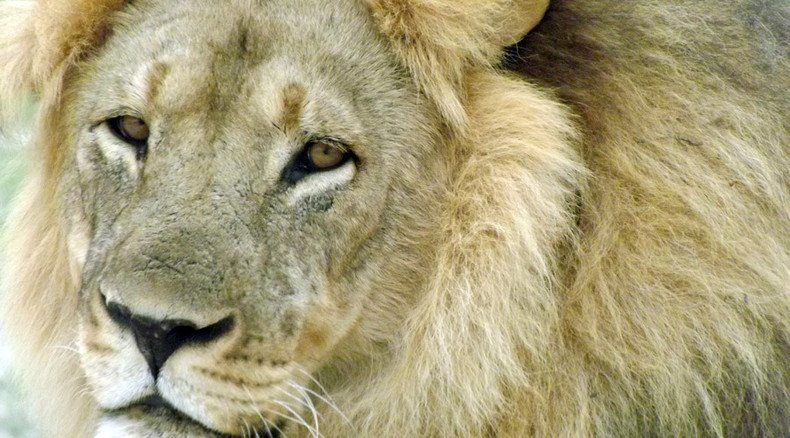 Only a month after a US dentist killed Cecil, the famous black-maned Zimbabwean lion, conflicting reports that his 'brother' Jericho was also gunned down caused a media stir. Meanwhile, Zimbabwe is tightening hunting rules outside Hwange National Park.
"It is with huge disgust and sadness that we have just been informed that Jericho, Cecil's brother has been killed at 4pm today," wrote Zimbabwe Conservation Task Force (ZCTF) on its Facebook page.
READ MORE: Zimbabwe asks US to extradite dentist lion killer
"We are absolutely heart broken. We will update you all as soon as we have more details," it added.
The lion was allegedly shot and killed by an illegally operating foreign hunter – just like in the case of his brother Cecil's killing.

Jericho had been taking care of six of Cecil's cubs, which are at risk of being attacked by rival lions.
Hunting ban
The Zimbabwe Parks and Wildlife Management Authority have announced the suspension of lion, elephant and leopard hunting outside of Hwange National Park in wake of the incident.

"Following the illegal killing of an iconic lion, Cecil, outside the Hwange National Park on Antoinette farm in Gwayi River Conservancy on the 1st of July 2015, it has become necessary that the Zimbabwe Parks and Wildlife Management Authority further tightens hunting regulations in all areas outside the Parks Estate," said Edison Chidziya, Director-General of the agency.
READ MORE: Let's turn the tables on trophy hunters – and get justice for Cecil the Lion
The statement specifically added that bow hunting is now also prohibited – arrows were used in the killing of Cecil.
Chidziya, however, did not mention Jericho in his statement.
Happy end for Jericho?
Meanwhile, some researchers have dismissed reports of Jericho's death.

"He looks alive and well to me as far as I can tell," Brent Stapelkamp, field researcher for the Hwange Lion Research Project, told Reuters.

Stapelkamp said that Jericho's GPS tag showed that he was moving as usual and was accompanied by a female lion.
"When I heard that report, I had a look on the computer and his movements look regular. He sent a GPS point from his collar from 8:06 pm (18:06 GMT). Everything looks fine," he said.
READ MORE: US govt never minded Americans killing rare lions before Cecil – WikiLeaks document
The Zimbabwe National Parks and Wildlife Management Authority has released a photograph of Jericho that it said was taken Sunday morning, and said that the lion "is still alive and being monitored," AP reported.
To complicate the matters further, a report by NPR, citing Dr. Andrew J. Loveridge of the Wildlife Conservation Research Unit in Oxford's Department of Zoology, the organization which actually put tracking collars on both Cecil and Jericho, says that the two lions are not brothers at all.

"Cecil and Jericho are not brothers, but male lions frequently form coalitions with unrelated males in order to successfully hold territories," Loveridge told NPR. Jericho is believed to be looking after Cecil's cubs along with his own.

As to the report on Jericho's death, Loveridge is skeptical: "We believe this report is incorrect and will confirm with a sighting of the Jericho tomorrow (it is nighttime here)," he said.
Being fitted with a GPS collar did not shield Cecil – a participant in the Oxford University study – from being killed.
Cecil the Lion was killed by American dentist Walter Palmer, 55, on July, 1. Palmer allegedly paid $55,000 to arrange for the cat's killing. Cecil was lured from his protected habitat in the national park with meat and then shot with an arrow. Palmer then pursued the wounded animal for 40 hours before finishing it off. After that he beheaded and skinned the lion.

Cecil, who was distinctively large with a black mane, attracted many tourists as he was friendly to visitors.

His death caused public outcry all over the world.
Palmer abandoned his private practice in Minnesota after outraged activists found his office and began staging protests in front of it.

"I had no idea that the lion I took was a known, local favorite, was collared and part of a study until the end of the hunt," Palmer said in a statement on Tuesday.
Two Zimbabwean citizens, including professional hunter and a farm owner, Theo Bronkhorst, have already been arrested in connection with Cecil's killing.
READ MORE: Cecil internet rage forces dentist lion killer to hide & close clinic
"I don't believe I failed in any duties at all, I was engaged by a client to do a hunt for him and we shot an old male lion that I believed was past his breeding age," Bronkhorst told AFP, attempting to justify his actions.

Zimbabwe is seeking to bring charges against the "foreign poacher," and has requested Palmer's extradition from the USA, which has an extradition treaty with the African country.
You can share this story on social media: