Cecil the lion's killer illegally hunted black bear, offered 20k as cover-up bribe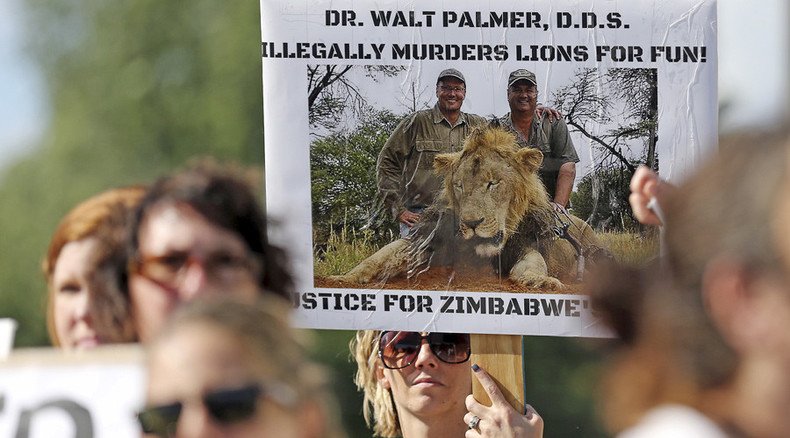 The dentist who killed Cecil the Lion also illegally hunted a black bear nine years ago – and offered $20,000 for the crime to be covered up. Newly emerged photos show Walter Palmer posing with his kill.
The illegal kill occurred in September 2006, when Palmer shot a bear in northern Wisconsin, in an area where he was not allowed to hunt, ABC News reported.
According to court documents, the dentist had a permit to kill a bear in one county, but ended up shooting and killing one 40 miles away.
Showing little concern about his illegal activity, Palmer posed with the bear before offering the guides he was with $20,000 to lie about where the bear was shot.
Palmer took the bear across state lines, back to his home state of Minnesota, and later lied to federal prosecutors during their investigation.
"He was lying to us. He was offering to pay, it turns out, about $20,000 to keep the others who were in the hunt, to have them lie, so that's a fairly aggressive cover-up," US Attorney John Vaudreuil told ABC's 20/20 program.
According to Vaudreuil, the three men Palmer was with had initially agreed to lie about where the bear was shot.
However, the guides ultimately refused to lie to authorities, and in 2008 Palmer pleaded guilty to felony charges of making false statements to the US Fish and Wildlife Service.
But the punishment was anything but severe. Though he faced up to five years in prison and a fine of up to $250,000, the wealthy dentist was sentenced to a year of probation and ordered to pay just $2,938.
Three years prior to the bear's killing, Palmer was also convicted of a misdemeanor in Otter Tail County, Minnesota, for fishing without a license. He was forced to pay a small fine.
The news comes just one month after Palmer made international headlines for illegally killing 13-year-old Cecil the lion during a hunt in Zimbabwe.
The lion was shot with a bow and arrow and then tracked for more than 40 hours before the dentist caught up with him and finished him off with a rifle. Cecil was then beheaded.
Cecil's death launched a media and internet frenzy, with Palmer receiving death threats online. The dentist's vacation home in Florida has been vandalized with graffiti and pigs' feet from those outraged by his actions. Palmer, who has hired armed 24-hour security and installed hidden CCTV cameras in an effort to drive people away from his property, is currently in hiding with his wife.
You can share this story on social media: