Final executive in WV toxic leak pleads guilty, but penalties 'disappointing'
Published time: 20 Aug, 2015 20:28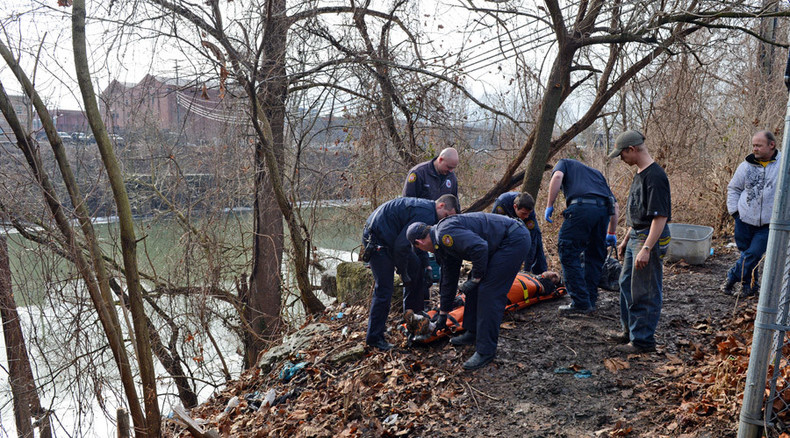 While four western states are battling the aftermath of a toxic spill that painted rivers yellow, the criminal case about a chemical leak that made more than 100 people ill and left 300,000 without drinking water for weeks is coming to a close.
The last of six executives for Freedom Industries, the company responsible for a toxic chemical leak in West Virginia, has pleaded guilty to environmental crimes.
Gary Southern, the company's former president, pleaded guilty in federal court on Wednesday to negligent discharge of a pollutant, unlawful discharge of refuse matter and negligent violation of a permit condition. He faces a prison term of 30 days to three years, and must pay a fine up to $300,000, the New York Times reported. His bankruptcy charges were dropped as part of the plea agreement.
Southern's plea came a day after Dennis Farrell, a former Freedom president and owner, pleaded guilty to violating the federal Clean Water Act, negligently discharging refuse matter in violation of the federal Refuse Act, and failing to have a pollution prevention plan. Farrell could face up to two years in a federal prison and a $200,000 fine, AP reported.
Southern will be officially sentenced on December 16, while Farrell will be sentenced on December 14.
On January 9, 2014, 10,000 gallons of coal-cleaning chemical MCHM ‒ a moniker for 4-methylcyclohexanemethanol ‒ began leaking from a tank at a plant owned by Freedom Industries into West Virginia's Elk River, just upstream from a drinking water intake. West Virginia Governor Earl Ray Tomblin announced a state of emergency in nine counties, affecting 300,000 people in and around Charleston. Two weeks later, Freedom Industries admitted that a second, previously unknown chemical called propylene glycol phenyl ether (PPH) also leaked into the community.
The guilty plea comes two weeks after another toxic spill made national headlines. On August 5, an Environmental Protection Agency contractor ‒ later identified by the Wall Street Journal as Environmental Restoration, LLC of Fenton, Missouri ‒ released some three million gallons of toxic mining sludge while attempting to clean up an abandoned mine near Silverton, Colorado. The waste flowed into Cement Creek, and has since contaminated the Animas River, San Juan River and the Colorado River in Utah. Environmental Restoration has received over $380 million in EPA contracts over the past decade.
While many are clamoring for harsh penalties in the Colorado spill, the punishments meted out for the West Virginia chemical leak show that Environmental Restoration is likely to receive only a slap on the wrist.
Environmental groups that called on the government to impose severe penalties on Freedom Industries have remained silent when it comes to the Animas River spill, Breitbart reported. Instead of calling for resignations from EPA leaders, groups like the Sierra Club, National Resource Defense Council and Earthjustice are taking a wait-and-see approach to the environmental catastrophe caused by the government.
However, one group is willing to take on the feds over the toxic spill. The Navajo Nation is fighting the EPA over the agency's damage claims form. The tribe's attorney general says Standard Form 95 contains "offending language," waiving all claims to future compensation.
"Once the claim is made it will only be for the claims suffered to date and precludes future claims," Navajo Nation president Russel Begaye said, ordering all tribal agencies to stop advising residents to use the form.
Booth Goodwin, the United States attorney for southern West Virginia, told reporters after Southern entered his plea that his office focused on criminal charges because prison time was a much stronger deterrent than financial sanctions.
"Executives are used to writing checks," Goodwin said. "It sends a stronger message if they have to trade their three-piece suits for a prison jumpsuit."
He added that the message he wanted to send was simple: "If you place our water at risk, you face prison time."
But one local group, People Concerned About Chemical Safety, had hoped federal prosecutors would have demanded that the former Freedom Industries executives be forced to make restitution as part of their sentences.
"It's disappointing that he'll be able to maintain his financial wealth through this when the community is still recovering," Maya Nye, the group's former executive director, told the NY Times.
It took four weeks for the 300,000 residents affected by the West Virginia spill to get the all-clear from the federal government that their tap water was safe to drink again. TestAmerica carried out an independent check at the time on both untreated river water and tap water from two homes in Charleston. The test found trace levels of MCHM in all three locations, which were well within the safe level of 1 part per million set by the Centers for Disease Control and Prevention.
Last July, the Labor Department's Occupational Safety and Health Administration (OSHA) fined Freedom Industries a total of $11,000 for two workplace safety violations related to the incident. The first was a $7,000 penalty for improperly operating storage tanks of the crude MCHM chemical behind a diked wall that was not liquid tight, while the second was $4,000 for not having standard railings on an elevated platform at their Elk River facility.
Inspectors said both citations were "serious," meaning the hazards posed to workers could cause accident or illness that would likely result in death or serious physical damage. OSHA also issued one "other-than-serious" citation against Freedom Industries, charging the company with improperly labeling chemical storage tanks. The agency said one holding tank – though not the one that leaked in January – was labeled as containing glycerin, though it actually held MCHM.
West Virginia Department of Environmental Protection investigators found that the company used only a simple cinder block and one 50-pound bag of a safety absorbent powder to block the flow of crude MCHM from a compromised containment tank.
Freedom Industries filed for Chapter 11 bankruptcy eight days after the toxic spill. Its board of directors estimated the company debt at the time was approximately $10 million, but expected that number to rise based on the costs of cleanup, lawsuits and fines. At that point, at least 20 lawsuits had already been filed, and the bankruptcy reorganization helped the company avoid paying punitive damages in many of them.
The company was responsible for a second chemical leak in the Charleston area in February 2014, after contractors for Freedom Industries hit an underground pipe with an excavator, unleashing water and even more MCHM chemical that leaked on January 9 of that year. However, none of the toxic material from the second spill reached the Elk River.