​Health official gives West Virginia water 'all-clear' after chem spill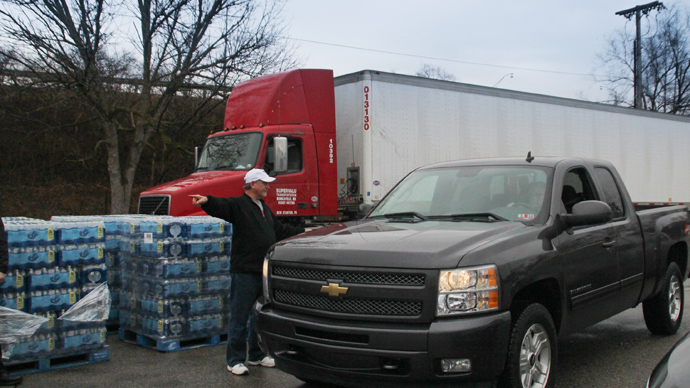 A federal health official said thousands of West Virginia residents affected by a massive chemical spill last month can now safely drink tap water if they choose. The public, however, remains skeptical over claims that the water poses no health risks.
On January 9, thousands of gallons of coal cleaning chemicals spilled into the Elk River near a water treatment facility in Charleston, sparking what has been described as "one of the largest human-made environmental disasters in this century."
Some 300,000 people in nine counties were told not to drink the water for up to 10 days, while Centers for Disease Control and Prevention (CDC) officials advised pregnant women to consider a different water source beyond that point.
Federal officials on Wednesday, however, gave the water a clean bill of health.
"You can drink it. You can bathe in it," AP cites Dr. Tanja Popovic, acting director of the National Center for Environmental Health and Agency for Toxic Substances and Disease Registry, as saying. "You can use it how you like."
Popovic further affirmed that the water was safe, even for pregnant women, suggesting the CDC's original message was only intended to help pregnant women make better informed health decisions for themselves.
"They may not want to eat certain food," Popovic said. "They may not want to fly. It doesn't mean that flying isn't safe."
Many restaurants, however, have refused to cook with the water, while local doctors have not taken the official assurances at face value, telling children under three and those with compromised immune systems not to drink it, said Dr. Rahul Gupta, health officer for Kanawha and Putnam counties.
On Wednesday, two schools closed early after the licorice odor associated with the chemicals wafted through the building. Students reported symptoms of light-headedness, itchy eyes and noses. One teacher fainted and another student was sent to hospital.
On Tuesday, the water crisis was the topic of a two hour hearing convened by The US Senate Environment and Public Works Subcommittee on Water and Wildlife, the West Virginia Metro News reports.
Shelley Moore Capito, US Representative for West Virginia's Second District, told the hearing the spill had caused many to live in fear and trembling.
"I'm a mother. I'm a grandmother. I live in the Kanawha Valley. I understand the fear, trepidation and anger the people feel because I feel it too," Capito said. "We've got to get to the bottom of this, where people are trusting that their tap water is safe and it won't happen again."
Capito spoke before the committee along with Third District Congressman Nick Rahall and US Senators Jay Rockefeller and Manchin.
West Virginia Secretary of State Natalie Tennant also testified to the atmosphere of fear that had descended on the affected areas.
"Our confidence has been shattered. I received a letter from a father whose wife is pregnant. This is supposed to be a joyful time. It's now turned into a fearful time for them," said Tennant.
A federal grand jury investigation has also been launched into the spill, with sources familiar with the grand jury's activities telling CNN that subpoenas have been issued requiring testimony for what one federal official confirms is a criminal investigation.
The broadcaster also had an independent water check carried out by TestAmerica. The test found that trace levels of the chemical 4-methylcyclohexane methanol, or MCHM, remain in both untreated river water and tap water from two homes in Charleston.
The results by TestAmerica found the chemical is within the safe level of 1 part per million set by the CDC. Whether that level is in fact safe, however, is a matter of debate. Lawmakers have called for more sampling in select homes across the affected nine-county area, although it remains to be seen who would conduct or pay for these tests.
According to the West Virginia Water Research institute, about 10,000 gallons of MCHM, plus about 300 gallons of a second chemical – PPH, a mixture of polyglycol ethers – leaked from a hole in a Freedom Industries tank just a mile-and-a-half upstream from the sole intake for the region's water utility.
Freedom Industries has denied any wrongdoing, although state inspectors found that a containment wall meant to block the spread of such a chemical spill was discovered to be cracked.
The firm has since filed for Chapter 11 bankruptcy-court protection in the state capital Charleston. Speaking at Tuesday's sub-committee hearing, Senators Barbara Boxer, (d) CA, was unrelenting in her criticism of Freedom House.
"You've got a rogue operator like this who absolutely is…they're cowards," she stated. "And running away and leaving the people is an outrage! An absolute outrage!"
Boxer said Freedom House's reaction to the spill provided more than enough justification to move forward with The Chemical Safety and Drinking Water Protection Act, which is intended to prevent such spills from occurring in the future.
But Richard Faulk, a Washington, DC, lawyer present at the hearing, urged lawmakers not to be cautious before rolling out the bill.
"Should we really rush immediately into federal legislation? I think we should be cautious," he explained. "Complex accidents generate a fog simply burdened by the sheer weight of information mixed with all the shock and alarm and confusion sometimes that can obscure clear deliberations."
You can share this story on social media: