Second, undisclosed chemical leaked into W. Virginia water during spill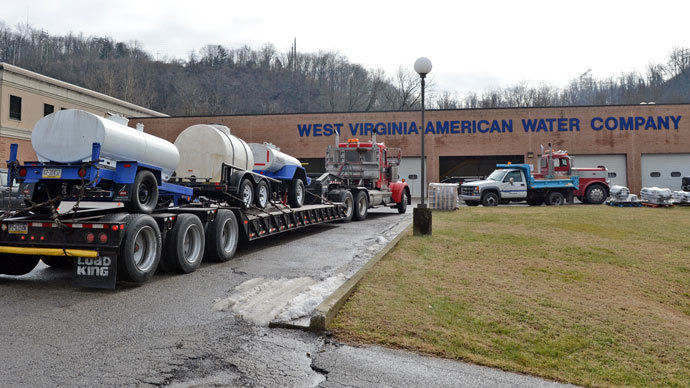 State and federal investigators looking into the West Virginia chemical spill that left 300,000 people across nine counties without water for 11 days have learned that a second, previously unknown chemical also leaked into the community.
A chemical known as MCHM began leaking from a tank at a plant owned by Freedom Industries into West Virginia's Elk River and the surrounding community. State authorities, quickly inundated with complaints of stomach pains, rashes, and other maladies, instituted a "do not use" order. Residents were told to avoid drinking, cooking with, or bathing in the water, even if they boiled it or used filtration devices.
The "do not use" order was lifted Saturday, although some of those affected were not convinced the water was MCHM-free because it remained a deep shade of yellow as it flowed from their taps.
Now, officials from Freedom Industries have admitted to investigators for what appears to be the first time that MCHM was not the only potentially harmful chemical stored in the leaking tank. Another product, known as PPH, was also stored there. While officials maintain that the chemical was likely removed from the drinking water by Elk River's filtration plant, they are still conducting tests to be sure.
Much of the toxicology information about PPH is unknown, but a Freedom Industries data sheet obtained by the West Virginia Gazette warned that the chemical can irritate the eyes and skin, and may be harmful if ingested. The same page noted that PPH was "less lethal" than MCHM. However, any long-term effects the chemical may cause were undocumented.
"We have to go back and confirm things and make sure we're doing our due diligence for public health," said General James Hoyer of the West Virginia National Guard. Other experts told the Gazette they are conducting tests currently and will make the results public when possible.
Local media reports speculated that 300 gallons of PPH had leaked into the Elk River. The US Centers for Disease Control and Prevention (CDC), apparently unconvinced that the chemicals have been filtered out completely, has encouraged pregnant women and young children to drink only bottled water until "detectable levels" have subsided.
Also unsure about the situation is West Virginia Governor Earl Ray Tomblin, who addressed the public from the state capitol Monday and advised that while the "do not use" order has been lifted, there is still much that remains unknown.
"It's a very complicated issue. I'm not a scientist, you know," he said. "My major concern for the last 11 days has been the health and safety of our residents...It's your decision. If you do not feel comfortable drinking or cooking with this water then use bottled water. I'm not going to say absolutely, 100 percent that everything is safe."
You can share this story on social media: