$11k fine for West Virginia company that poisoned water for 300k people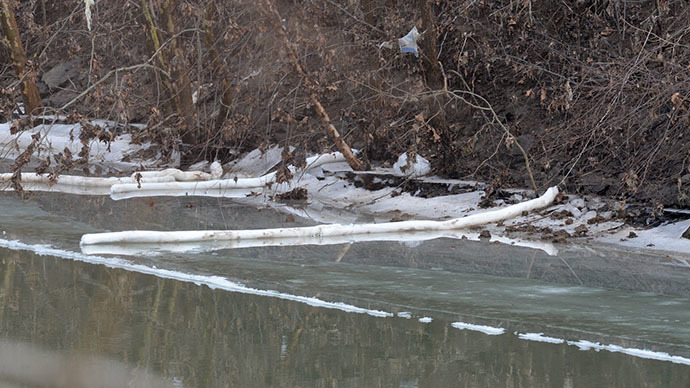 The company responsible for spilling enough toxic chemicals into West Virginia's Elk River to spoil drinking water for 300,000 people for days has been fined $11,000 by a federal agency for two workplace safety violations related to the incident.
The Labor Department's Occupational Safety and Heath Administration (OSHA) fined Freedom Industries $7,000 for improperly operating storage tanks of the crude MCHM chemical behind a diked wall that was not liquid tight, according to the Charleston Gazette.
OSHA also fined Freedom Industries $4,000 for not having standard railings on an elevated platform at their Elk River facility.
Inspectors said both citations, issued on July 3, were "serious," meaning the hazards posed to workers could cause accident or illness that would likely result in death or serious physical damage.
About 10,000 gallons of the coal-cleaning chemical MCHM - a moniker for 4-methylcyclohexanemethanol - leaked on January 9 from one of Freedom Industries' holding tanks through a diked wall into the Elk River.
State authorities, quickly inundated with complaints of stomach pains, rashes, and other maladies, instituted a "do not use" order. Residents were told to avoid drinking, cooking with, or bathing in the water - even if they boiled it or used filtration devices.
Some 300,000 people in nine counties were told not to drink the water for up to 10 days, while officials from the Centers for Disease Control and Prevention advised pregnant women to consider a different water source beyond that point. Federal officials finally gave the water a complete bill of health nearly a month later.
OSHA also issued one "other-than-serious" citation against Freedom Industries, charging the company with improperly labeling chemical storage tanks. The agency said one holding tank – though not the one that leaked in January – was labeled as containing glycerin, though it actually held MCHM.
Freedom Industries now has the opportunity to pay the fines and meet with OSHA to discuss the citations, or appeal to the Occupational Safety and Health Review Commission. The company did not respond to the Gazette when asked for comment.
OSHA's investigation into the massive spill began the day after the leak was detected. It was the first time the federal agency had inspected the Elk River facility.
OSHA had started an examination of the site in November 2009 as part of a program that analyzed accidents that led to amputations. But the inspection was never performed, as OSHA officials realized the company was in the wrong industry classification for the program.
Despite wreaking havoc on the state's top source of water, only 78 claims have been filed against Freedom Industries, the Charleston Daily Mail reported. The low amount of claims surprised a federal bankruptcy court judge this week.
"It's amazing that there have not been an overwhelming number of spill claims," the judge said at a hearing on Tuesday. "I don't know whether that's because they don't think there's enough money to pay claims or there's not significant damage."
The company filed for bankruptcy soon after the spill. It listed $10 million in assets and $10 million in liabilities at the time.
You can share this story on social media: