Reckless posting: Man arrested for driving 160 mph in Facebook videos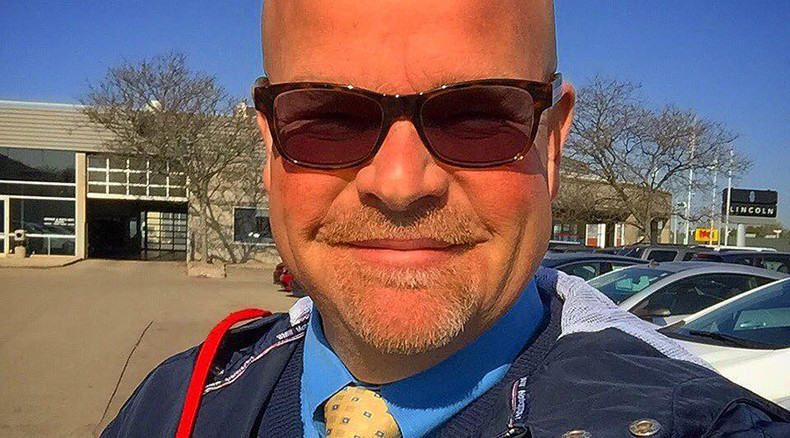 A Michigan man found out the hard way that the long arm of the law reaches into the virtual world. He's facing multiple counts of reckless driving, but the evidence against him doesn't come from a radar gun: He was brought down by his own Facebook videos.
Mark Whittaker, an assistant manager at a car dealership in Kalamazoo, loves to test drive cars, pushing them to their limits. He and his wife Jenifer make videos of his vehicular escapades, in which he extolls the virtues of the cars he's hoping to sell. As Whittaker drives everything from Mustangs to Escalades, viewers get a first-person view of the car speeding along Michigan roads.
But Whittaker's need for speed landed him in trouble with the law after police caught a glimpse of his videos, which he brazenly posted to Facebook for all to see.
Portage man facing charges over speeding video

A Portage man is facing multiple counts of reckless driving after posting video online, traveling the highway at more than 150 miles per hour.When you see the video for the first time, it's hard to believe it's real and that it happened in West Michigan. A driver pushed cars to their limits more than once, and recorded it all.

Posted by Newschannel 3, CBS News, WWMT, West Michigan on Wednesday, August 12, 2015
In one, Whittaker is flying down the highway in a 2015 Ford Mustang GT, driving with his knees, reaching speeds well over 100 miles an hour.
"it was really closer to 150, the mustang frigging rocks," he wrote in the caption for the video, which appears to have been removed from Whittaker's public Facebook page after it aired on WWMT.
Someone tipped off the Michigan State Police (MSP), who showed up at Whittaker's door on Tuesday, armed with the evidence he himself gave them ‒ videos that show his speedometer topping out well over posted speeds on US Route 131, as he exclaims excitedly about the car's performance in the background. Whittaker copped to the crimes.
"He really had no excuse other than he likes to drive fast and likes these performance vehicles," MSP Paw Paw Post Commander Lt. Dale Hinz told WWMT. "One, he is at 160 miles an hour, one at 140 miles an hour. The brazenness to post something like this to your Facebook, and number two, the danger it puts the public in."
Whittaker is part of a growing number of people MSP ‒ and law enforcement across the country ‒ is investigating based on social media postings.
"We are getting more tips like this where people are posting provocative videos online just to get more hits," Hinz said.
Not all the arrests stemming from social media are provocative posts, however. Some are updates that deliberately taunt police, like the teen in Wales who was arrested after posting, "Haha catch me you can, won't see me slipping" on Facebook ‒ as he breached the conditions of bail in just under a week after his release. A Pennsylvania teen was arrested after sharing a selfie on Snapchat of himself posing with the body of the classmate he had just killed. "Told you I cleaned up the shells," the 16-year-old texted to a friend whose mother turned him in.
Other arrests come when criminals cross the line from cocky to completely incompetent. A Maine man on the lam was arrested in March after he used Snapchat to post that he was at his house, which police promptly searched.
"While the deputies/officers were wrapping up their search, Wallace posted again on Snapchat," the local sheriff's office wrote. "This time he posted that the police were searching for him in the house, and that he was hiding in a cabinet."
He was quickly found and hauled in to face the music.
It's not just posts that pose a problem, though. Merely "liking" an update is sometimes enough to end up in the slammer. A Montana man was arrested in April after liking his mugshot ‒ which was labeled as "most wanted" in a local Crimestoppers group on Facebook. For a Tennessee man, liking a woman's Facebook status was enough for cops to arrest him for violating a restraining order she'd taken out against him.
Arrests based on social media posts aren't a purely American phenomenon, either. July saw the arrest of an Australian woman in the United Arab Emirates for "writing bad words on social media about a person," after she posted a picture of a car ‒ with the license plate blacked out ‒ parked across two parking spots for the disabled, but with no permit stickers visible. In September, seven Iranians were sentenced to six months to a year in prison, and 91 lashes, for taking part in the 'Happy' viral craze, in which fans remade the Pharrell Williams' hit in different locales around the world. Last August, eight people were arrested for participating in a nudist sports festival in Malaysia after video of the unique event went viral.