#MyStealthyFreedom: Defiant Iranian girl breakdances on Tehran subway (VIDEO)
Published time: 30 Nov, 2014 18:45
Edited time: 1 Dec, 2014 08:11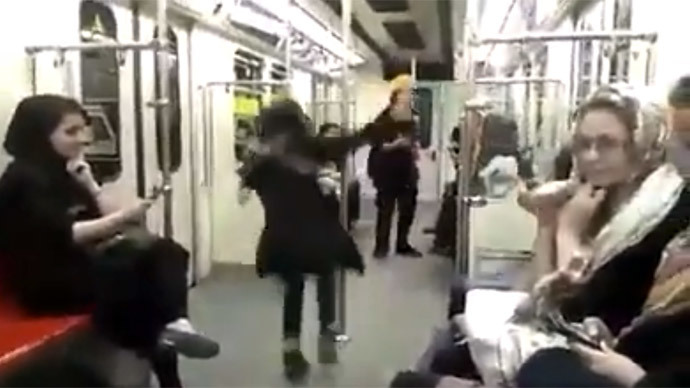 An Iranian girl with a mission to body rock without a hijab took to the subway of Tehran to breakdance in defiance of Iran's religious authorities. A video uploaded online shows her performing a combination of moves forbidden under the Islamic regime.
The unidentified young woman started her dance with a hijab on her head, but it slides down as she moves lively.
Between pops, locks, and flat out gyrations, many of the passengers react with the stone-faced bemusement known to all big city commuters.
One passenger becomes a willing participant in her "crime," taking hold of her music player and leaving the breakdancing queen free to rock the train.
Her soundtrack includes the song "Salute" by the British group Little Mix, a track with a clear feminist message:
Sisters we are everywhere
Warriors, your country needs you
If you're ready ladies, better keep steady
Ready, aim, shoot
Don't need ammunition, on a mission
And we'll hit you with the truth
Divas, queens, we don't need no man, salute!
The clip was first posted to a Facebook page called My Stealthy Freedom, where Iranian women upload pictures of themselves without hijabs in defiance of the strict religious authorities. Run by Iranian journalist Masih Alinejad, thepage has over 700,000 followers.
But while the protest might seem innocent enough, she could end up in hot water with the Iranian authorities, as it is also illegal for women to dance in public.
"I was scared to publish this video at first. I waited for a while and then I saw it online on another personal page and I saw that it was public. Then I published it because the face was not shown and because the girl was trying to keep her scarf on," Alinejad told The Independent.
The video has been shared by over 12,500 people and has received over 32,000 "likes."
In September, seven Iranians were sentenced to six months to a year in prison, and 91 lashes, for taking part in the 'Happy' viral craze, in which fans remade the Pharrell Williams' hit in different locales around the world.
While the sentences were suspended, they can be reactivated under Iranian law if the guilty party reoffends within three years.
Williams himself weighed in on the incident, which sparked an international uproar, saying on social media: "It's beyond sad these kids were arrested for trying to spread happiness."
The boldness of the girls at My Stealthy Freedom could also be a means of testing President Hassan Rouhani, who has tacitly supported a less morally strict code of behavior in Iran – which has a large tech-savvy, Western-oriented youth demographic.