From Ferguson to #BlackLivesMatter protests in 15 dramatic videos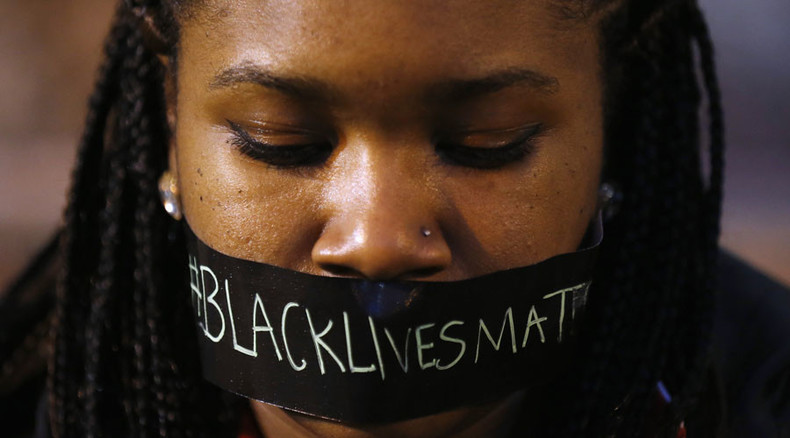 Ferguson, Missouri erupted into riots after the death of an unarmed black teen at the hands of a white police officer last August. RT captured the year's dramatic events as Black Lives Matter protests spread from the St. Louis suburb around the world.
Year of protest: Ferguson erupts into rioting after white officer kills unarmed black teen (pt. 1)
In the immediate aftermath of 18-year-old Michael Brown's death on August 9, 2014, a day of protests and vigils turned violent overnight as supermarkets and local stores were looted.
After a candlelight vigil in Brown's memory, tensions once again degenerated into chaos. Crowds looted and burned stores, vandalized vehicles and taunted officers who tried to block access to parts of the city.
Community anger once again boiled overas Ferguson residents clashed with law enforcement for the second successive night. In addition to tear gas, heavily-armed police officers used German Shepherds and fired rubber bullets at protesters in attempts to intimidate and suppress outrage.
An overwhelming SWAT force in riot gear descended on protesters, deployed tear gas against the crowd and declared the demonstration "no longer peaceful." Police also shot rubber bullets, smoke grenades and tear gas canisters while some of the protesters threw rocks and bottles at the police.
A week after Brown's death, the rallies and violence still hadn't subsided. Protesters and police once again took to the streets, with officers using tear gas and rubber bullets to deter the demonstrators.
Governor Jay Nixon (D-Missouri) declared a state of emergency and set a recurring 12-to-5-a.m. curfew in Ferguson. More than two hours before the midnight curfew was set to begin, authorities fired tear gas at protesters who refused to disperse after being given just one notice to do so.
The Missouri Highway Patrol responded to protests with a heavy show of force, but said it was only using smoke canisters to disperse "aggressors" who were trying to infiltrate a law enforcement command post at a local shopping mall before the curfew.
Violence ensued when Ferguson Police Chief Tom Jackson decided to participate in a march in Brown's memory. A fight broke out about 20 feet behind Jackson, which nearby police officers broke up. They arrested one person, and another three people were arrested after a second confrontation.
Riots and looting once again erupted in Ferguson after St. Louis County Prosecuting Attorney Bob McCulloch waited until 8 p.m. local time to announce that a grand jury declined to indict Officer Darren Wilson on any charges relating to the shooting death of Brown.
Riot police in St. Louis pepper sprayed protesters blocking a highway.
Protesters overturned a squad car and set it on fire, throwing stones and Molotov cocktails at law enforcement during a second night of unrest following the lack of an indictment.
Police arrested 44 people, including Denise Reese, a field producer from RT's Ruptly video news agency.
Protesters attempted to take control of St. Louis City Hall.
Protests also erupted in more than 170 US cities. In Oakland, California, several people took advantage of the national outrage over the Ferguson grand jury's decision not to indict, overshadowing peaceful protests by looting several stores and setting small fires.
Two police officers were shot during a protest outside the Ferguson Police Station. One was shot in the face, while the other was struck in the shoulder. Neither had long-term injuries.