'Calmer night' in Ferguson: 44 arrests, tear gas, Molotov cocktails, cop car torched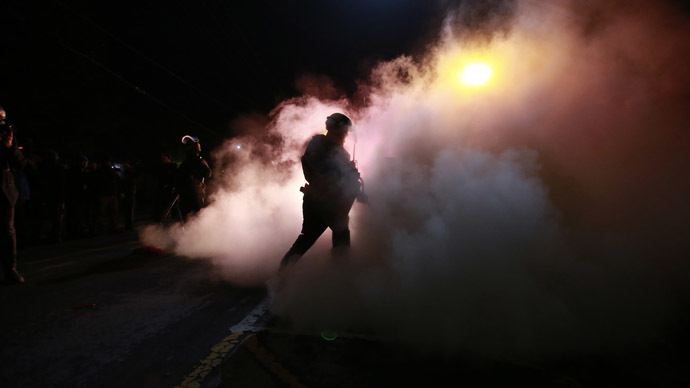 Police in Ferguson used tear gas against crowds who set a squad car on fire and threw stones and Molotov cocktails at law enforcement during a second night of unrest. More than 2,000 National Guard troops are at the ready in the area.
Ferguson grand jury decision divides America LIVE UPDATES
Forty-four people were arrested in Ferguson, Missouri, overnight, according to St Louis Police Chief Jon Belmar, who described the night as "a much better" one compared to a far more violent rioting, accompanied by looting and arson, the day before.
READ MORE: Night of fierce riots: Ferguson madness as witnessed by RT news team (PHOTOS, VIDEO)
A field producer from RT's Ruptly video news agency, Denise Reese, appears to be among those 44, as she was also detained by law enforcement officers in Ferguson.
Literally 2 minutes after my latest post I got arrested in #Ferguson - still in the police van - updates follow #MikeBrown@Ruptly

— denise reese (@denice_ruptly) November 26, 2014
Tuesday night's protesters were confronted by a tripled number of National Guard troops. Some 2,200 soldiers were deployed in the area on orders given by Missouri Governor Jay Nixon.

"Very heavy police presence" was felt in Ferguson as a result, according to RT's Gayane Chichakyan. She is on the scene, describing the situation on the ground as "very fluid" with "crowds moving from one place to another."
The unrest came to a head outside Ferguson City Hall, which had its windows broken by the rallying crowd. A police car parked nearby was also targeted. It was first flipped over and then set on fire.
Police responded with tear gas and pepper spray as well as by sending in reinforcements armed with assault rifles.
"Tact unit deployed tear gas to disperse crowd b/c of vandalism: burning a #Ferguson police car, attempts to set fires, unlawful assembly," St Louis County Police Department tweeted, later specifying it was the only incident throughout the night in which tear gas was used.
Protesters were throwing gas canisters back at police officers. Law enforcers also reported Molotov cocktails, stones, fireworks and bottles with urine were thrown at them.
Police eventually announced that the rally was "an unlawful assembly" and warned it would arrest those refusing to leave the area. The crowd dispersed soon afterwards.
Sporadic attacks on businesses and police cars continued though, according to St Louis County Police Department.
Vandals cause more destruction on Florissant. pic.twitter.com/e7AXoLtA2p

— St. Louis County PD (@stlcountypd) November 26, 2014
Protests on a more violent Monday night resulted in 61 arrests in Ferguson. Twelve commercial buildings were burned down and other businesses were looted during overnight protests, according to authorities cited by AP.

Protests take place all across the US for the second night in a row following a decision by a grand jury to acquit white police officer Darren Wilson of killing unarmed black teenager Michael Brown.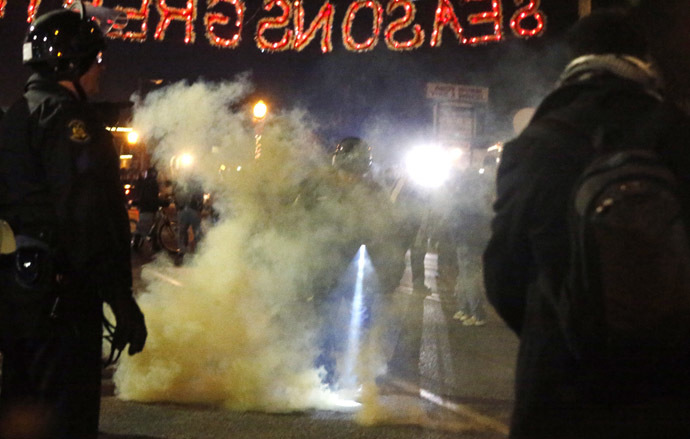 The case has laid bare racial tension in the US, with protesters believing there would be a different court decision if the killed person had been white.

"The no indictment thing was like a kick in the gut," Lou Downey, an activist from Stop Mass Incarceration Network who was in the thick of Monday's unrest, told RT. "Michael Brown's mother was there at the protest. She was terribly traumatized. She said that just proves they don't care, they're never going to care."

"A black woman with six children told us, 'If Darren Wilson does not get indicted it means my children have no future.'"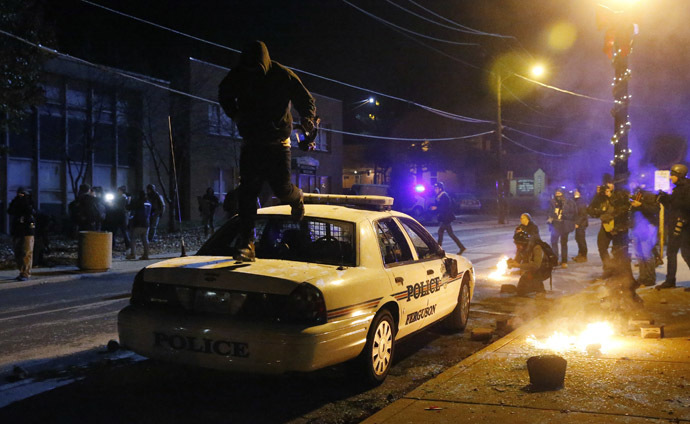 Darren Wilson, meanwhile said in an interview with ABC, the first since the death, that he believed "he did his job right".

He told the jury he had no other choice but to use a gun.

"I drew my gun, I turned. I said 'Get back or I'm going to shoot you.' He immediately grabs my gun and says 'You're too much of a pussy to shoot me.' He grabs it with his right hand and twists it and then digs it down into my hip."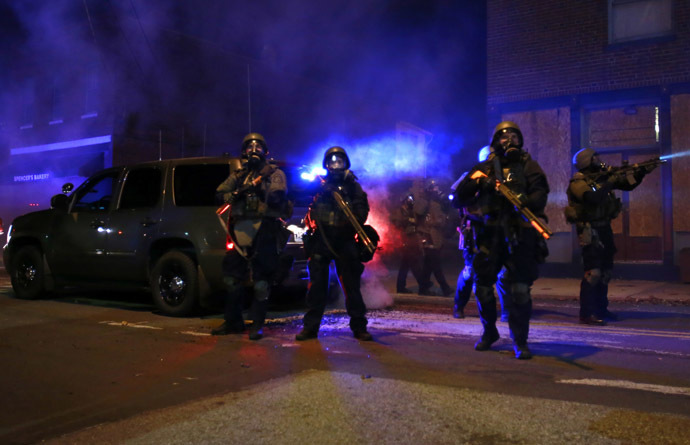 President Barack Obama condemned the violent rioting which took place on Monday, but said he understood why many people were unhappy with the grand jury's decision.

"The frustrations that we've seen are not about a particular incident," Obama said. "They have deep roots in many communities of color who have a sense that our laws are not always being enforced uniformly or fairly.''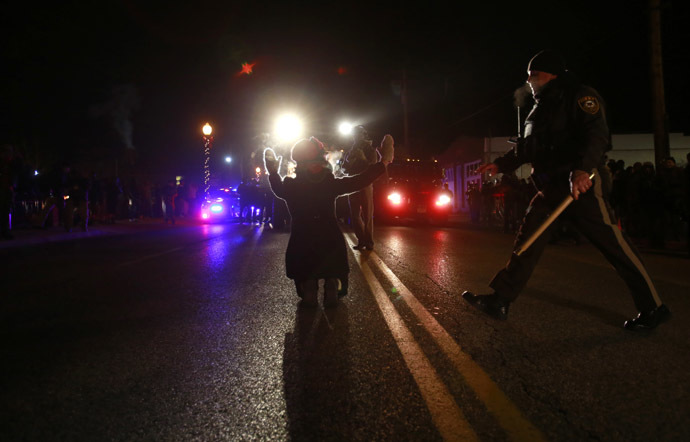 You can share this story on social media: