'Just trying to do our jobs': Ruptly journalist arrested for covering Ferguson unrest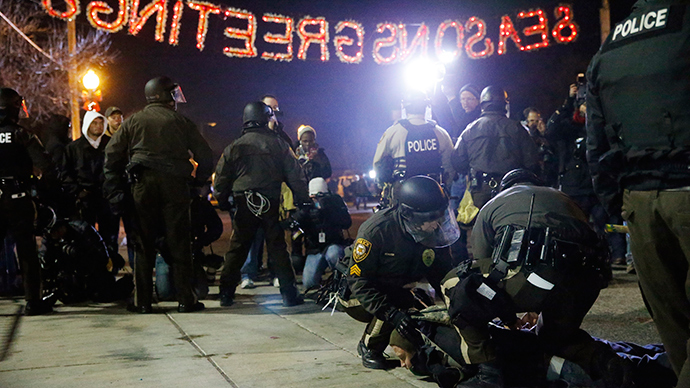 A producer from RT's Ruptly video agency was detained in Ferguson simply for reporting on the protests. Denise Reese, who was kept for around five hours before finally being released, said, "I was arrested without any warning."
A Ruptly colleague said Reese had been detained for unlawful assembly, while a camera crew managed to record the moment she was marched off towards the police building. In the video, she is the second person being escorted, the one wearing the gas mask.
Reese says she was obeying police orders to stay off the road, while law enforcement officers had given repeated warnings to the protesters to disperse or they would be arrested. However, the Ruptly producer said the protesters and media in the vicinity weren't causing any problems.
READ MORE: RT video agency Ruptly producer injured in Ferguson protests
"There was this one police officer who I was talking to because he was yelling at me and a colleague of mine that we were unlawfully assembled. We both tried to tell him that we were just trying to do our jobs as journalists," Reese, who is a German citizen, recalls.
"He just looked at me and pushed me away with his baton. I followed that order to back off. Then he said just turn around, so I turned around and started to walk away with the camera running. Then he just grabbed me, put my hands behind my back and I was arrested without any warning," the producer added.
Despite repeatedly trying to explain that she was a journalist and not a protester, her requests fell on deaf ears.
"They brought me and the others who were arrested to a backdoor garage. I was handcuffed with real handcuffs. They made us sit on the cold floor, probably for around 20 minutes. I was called to come to the front. They registered me and brought me into a police van. Females and males had to be separated. I waited for around 90 minutes to 2 hours before we were taken to Clayton police department," Reese said, adding that she had not been told what charges she was facing, or what she had done wrong.
Literally 2 minutes after my latest post I got arrested in #Ferguson - still in the police van - updates follow #MikeBrown@Ruptly

— denise reese (@denice_ruptly) November 26, 2014
Reese, who is based in Berlin, and had only arrived in Ferguson the day before to cover the protests, said the police, "did not give any second thought about who they are arresting. They are not listening to you. All they do is blindly follow their orders, or I am not sure if that is an order or just a misuse of their power, which they have with the badge and the uniform."
released with no charges after being arrested and held by #Ferguson police for 5 hrs - continue covering in a few hours #MikeBrown@Ruptly

— denise reese (@denice_ruptly) November 26, 2014
Aside from the officer who arrested her, who Denise said was "clearly not able to do his job or handle the situation," she mentioned she was treated well during her time in detention.
Reese, who had the correct journalistic credentials to work in the US, is one of Ruptly's most experienced producers and previously covered the Maidan protests in Kiev.
Forty-four people were arrested in total during a second, calmer night of demonstrations. Late on Monday and early into Tuesday, police detained 61 protesters during a night of arson, looting, vandalism and sporadic gunfire.
You can share this story on social media: