'F**k CNN!" - Angry protesters disrupt Ferguson live coverage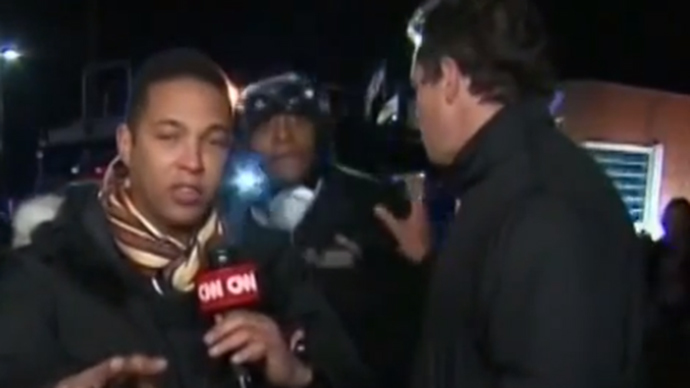 ​Police in the vicinity of Ferguson, Missouri had their hands full Monday night when the absence of an indictment against Officer Darren Wilson spawned protests, fires and looting. For the media, covering the madness was an ordeal as well.
LIVE UPDATES on Ferguson reaction to grand jury decision
While journalists scrambled to deliver live coverage from the region into the morning as demonstrations raged on, reporters on the ground in towns like Ferguson, Clayton and St. Louis saw themselves under attack — verbally and physically — from protesters enraged by a grand jury's decision not to indict Wilson, the 28-year-old Ferguson cop who killed unarmed teen Michael Brown earlier this year.
In one instance on CNN, critics of the network relied on their words to express their feelings about Monday's night coverage. At one point, a live segment was derailed when a demonstrator rushed the microphone and barked, "Fuck CNN!"
"As we said, we don't know what's going to happen, so we apologize for that," CNN host Don Lemon responded.
Indeed, the network again was in for a surprise when another anchor was belted in the head with a rock thrown from off camera later into their coverage.
"Sorry. I just got hit with a a rock." CNN live from #ferguson just now. https://t.co/lAAp1lvi0s

— Andrew Blake (@apblake) November 25, 2014
Later on Tuesday, CNN's live reporting was again disrupted by angry protesters in New York City - and a vine of the incidents made rounds on social media.
A grand jury determined earlier Monday that Wilson will not be charged with any crime for now with regards to the August officer involved shooting that killed Brown, 18. Despite pleas from US President Barack Obama and others for demonstrators to stay calm, however, matters quickly escalated in Ferguson and many other towns.
Only moments after the president addressed the nation, CNN host Don Lemon took heat after saying what Gawker could only describe as "something infuriatingly dumb and insensitive." Broadcasting live from Ferguson, Lemon scrambled for the right words to describe the scene before explaining, "Obviously, there's a smell of marijuana in the air."
"Don Lemon has become a one man [shake my damn head] factory," DC-based writer Dave Weigel tweeted on Tuesday.
I deleted that tweet bc ad hominems are also dumb. Still: Don Lemon has become a one man smdh-factory.

— daveweigel (@daveweigel) November 25, 2014
Other armchair media critics were quick to pounce on that comment and others from the correspondent, but protesters rallying in Ferguson were much more apt to make their grievances against the media heard: at one point on Fox News, a mask-clad protester pried the network photographer's video camera out of his hands and threw it to the ground on live TV.
Lorena de la Cuesta, a field reporter for RT's video agency, Ruptly, said she was injured herself after being struck with an apparent gas canister while covering Monday's events.
Online, individuals outraged by the lack of an indictment, the response from protesters and the mainstream media's coverage of events as they unfolded took to Twitter and other outlets to make their complaints heard.
Television networks attempted to broadcast late into the evening as at least dozen structure fires erupted around Ferguson, including one at an automobile dealership, but their reporting was met with criticism both on the streets and on the web.
Of course, television coverage from the events that unfolded on Monday evening represented just a fraction of what outraged Americans were upset about in the wake of the grand jury decision. Demonstrations like the ones in Ferguson that erupted after the announcement soon were established in other locales like Washington, DC, New York City and Oakland, California, and activists have planned similar protests for Tuesday evening.
You can share this story on social media: