RT video agency Ruptly producer injured in Ferguson protests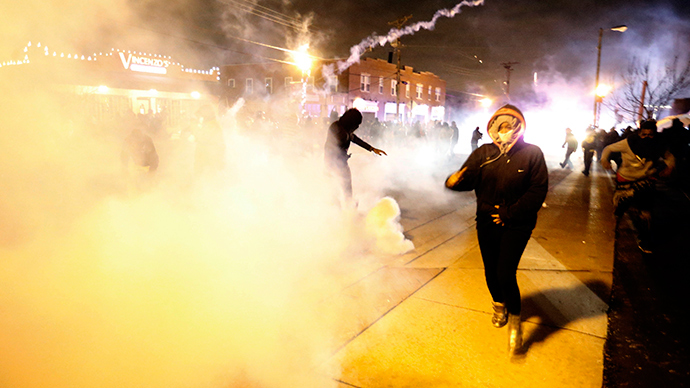 A producer for the RT video news agency, Ruptly, Lorena de la Cuesta, has been hit by a tear gas canister during the latest Ferguson protests.
LIVE UPDATES on Ferguson reaction to grand jury decision
The tear gas cannister that hit me tonight in #Ferguson , nothing serious. pic.twitter.com/j69Xb0mvNn

— Lorena de la Cuesta (@LorenadlaCuesta) November 25, 2014
The producer, however, didn't sustain serious injuries.
It comes amid protests all across the US after a grand jury refused to indict white police officer Darren Wilson over the fatal shooting of 18-year-old African-American Michael Brown.
"People started to get really nervous when the final decision of the grand jury was announced. I was doing live, and I started to walk towards the police, and suddenly everyone started running in the opposite direction. I felt a really strong impact on my leg, and when I looked, I realized it was a tear gas canister," Lorena de la Cuesta told RT.
"So the gas came out, and my eyes started burning, and I couldn't breathe. It was a bad feeling," she added.
A few hours before, CNN's Sara Sidner was hit on the head with a projectile, while doing her live.
"I just have a little bump on my head," she said after the incident.