Coast to coast, US boiling with rage over Ferguson verdict (PHOTOS, VIDEO)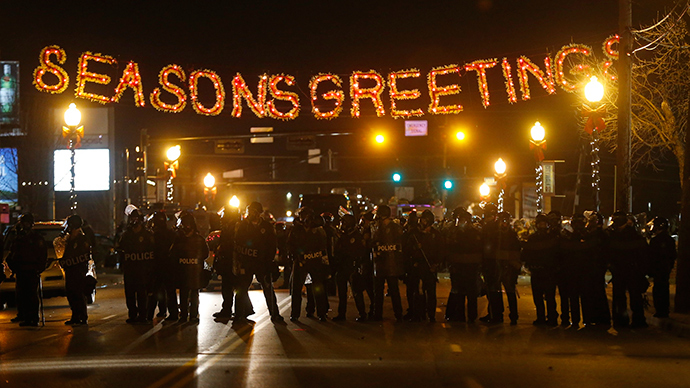 The fallout from the Missouri grand jury's decision to acquit the officer accused of killing Michael Brown. Demonstrations are taking place in a number of large cities across the country, including outside the White House in Washington, DC.
LIVE UPDATES on Ferguson reaction to grand jury decision
Washington
Protests in the US capitol have been mainly peaceful, with in the region of a thousand protesters gathering outside the White House. Some have been chanting 'Hand's up, Don't Shoot,' while others have been lying down on the ground.
Another view of the protests at the White House. pic.twitter.com/Mch2HG7yeE

— Byron Tau (@ByronTau) November 25, 2014
New York
Protesters took to the streets marching up Seventh Avenue following the grand jury's decision, while barricades were torn down at Union Square, where more than a thousand people had gathered.
BREAKING: #NYC Police Commissioner Bratton splattered with fake blood at #Justice4MikeBrown protest pic.twitter.com/GHa6ZWYcKq

— Jeff Rae (@jeffrae) November 25, 2014
New York Police Commissioner Bill Bratton attended the protests in the city, but was splattered with fake blood. The protesters are causing havoc to the city's transport systems and have already taken over three bridges, which have all been shut down.
The Brooklyn Bridge is being now shutdown by protesters. 3rd #NYC bridge shutdown. #Ferguson

— New York City Alerts (@NYCityAlerts) November 25, 2014
There have also been reports of some scuffles between protesters and the police. Law enforcement officers were using their batons against the public, who threw objects at the police in response.
BREAKING NEWS FROM NEW YORK: Situation escalating as police continue to engage with protesters https://t.co/1m2xpnphpN#Ferguson

— TheAnonMessage (@TheAnonMessage) November 25, 2014
Chicago
Despite sub-zero temperatures in the Windy City, protesters are out in force and have already shut down a major intersection in the city center.
100s in the streets on Michigan speaking out about injustice in #Ferguson. | #Chi2Fergusonpic.twitter.com/z77EE0elS5

— m_x (@soit_goes) November 25, 2014
Oakland
There are reports that protests in the West Coast city are beginning to turn violent. They have started to light fires on the city's main streets, while police are maintaining a heavy and visible presence.
UPDATE: Protesters have started a fire just off I-580/Grand Ave. in Oakland. Live video: http://t.co/NkLp2LxPBjpic.twitter.com/xvKV3LYaGR

— NBC Bay Area (@nbcbayarea) November 25, 2014
Those angered by the Missouri grand jury's decision had blocked all lanes of Interstate 580, shutting down the highway. The local authorities said that so many people were taken into custody that police requested a bus to transport them.
Here we are at Grand and MacArthur in Oakland. Garbage can on fire has "FTP" spray painted on side #fergusonpic.twitter.com/Ckp9h5fLkE

— Vivian Ho (@VivianHo) November 25, 2014
There are also reports that flags have been burnt as well as garbage being set on fire.
Los Angeles
The majority of protests have so far been peaceful, with some lying down in the middle of the road, bringing traffic to a halt.
IN LOS ANGELES: Demonstrators are laying down at LABrea and Wilshire #Ferguson#TrafficStop (WATCH) https://t.co/xEx1Mjqnee

— Nancy Hennen (@tweetbrk) November 25, 2014
Protesters have also successfully managed to block the 110 freeway in the city, which has been shut down in both north and southbound directions.
Protesters shut down the 110 in #LosAngeles#Ferguson#FergusonDecision#LApic.twitter.com/zNRegYbb3e

— JennMed (@AlDenteGuida) November 25, 2014
You can share this story on social media: