'Terror on American soil': #FergusonOctober stages 4-day rally as shooting anger rages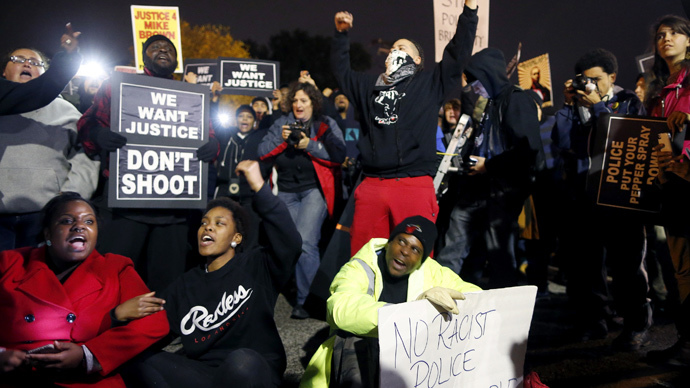 Protests in the suburbs of St. Louis kicked off a weekend-long series of rallies against racial law enforcement profiling that has left two black teenagers dead. Activists confronted police decked out in paramilitary gear, but the night ended peacefully.
Locals dominated the crowds, but people from around the country joined the vigil held in honor of Michael Brown, who was shot dead by a white police officer in the St. Louis suburb of Ferguson on Aug 9. The vigil was held on West Florissant Avenue, where protesters gathered 60 days ago to demonstrate.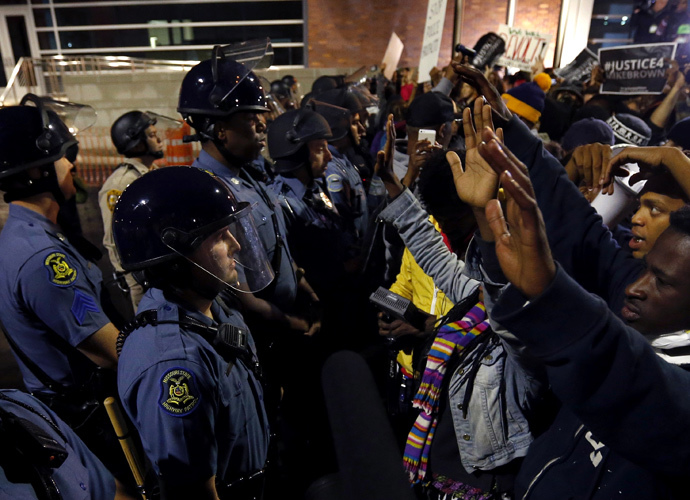 The protest has been planned for a long time,but tensions were fueled since Wednesday, when another black teen, 18-year-old Vonderrick Myers Jr, was shot dead by an off-duty white police officer, reportedly up to 17 times in the St. Louis suburb of Shaw. Police claimed Shaw fired on the officer who shot him, but residents insisted he was unarmed.
The death of the two teenagers has sparked a dialogue on racial tensions in the city and the institutions and power that enable such tragedies to occur with such frequency.
#Ferguson has not seen this big a crowd of protesters at this time of night https://t.co/Sx7WshR0Hx

— TheAnonMessage (@TheAnonMessage) October 11, 2014
At Friday night's demonstrations, a group of protesters took over the Ferguson Police Department parking lot. Protesters held up a mirrored casket in front of the line of police officers.
#Ferguson#FergusonOctober W Florrissant marching, carrying coffin, towards police département. pic.twitter.com/IvDl3OAlPl

— Yann Schreiber (@YannSchreiber) October 11, 2014
"Who do you serve? Who do you protect?" the protesters screamed, as many onlookers recorded the events for social media around the world to see.
Policed blocked radio communication and transmission from the public, in order to "ensure the safety of the 1,300 officers of this department, as well as the citizens we serve," St. Louis Police Chief Sam Dotson said.
The channels will be blocked to the public for the duration of the protests, police said.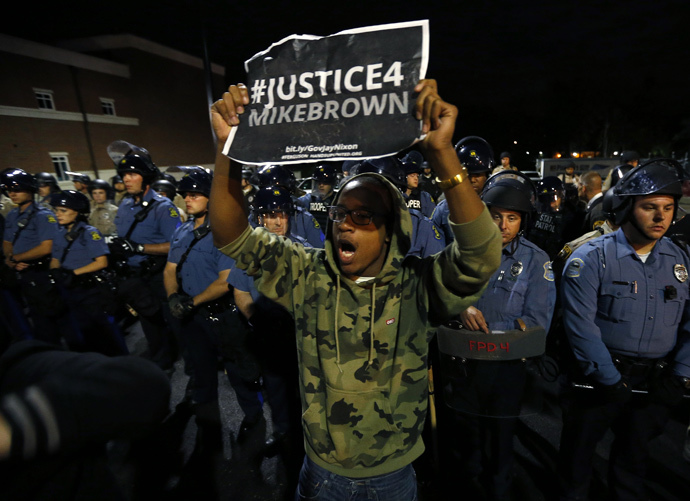 "Here in Ferguson, our community has come to know terror on American soil," the organizing group, #FergusonOctober, wrote on their website.
"A public slaying so gruesome it harkened images of the lynchings from the most heinous moments in history, for young and old to see," the announcement says.
Ferguson Protestor Open Letter 10.7.14 by dmckesso
By half past midnight, the protests in Ferguson had calmed down, with many participants heading home to and others heading to neighboring Shaw, to exercise their First Amendment freedom of speech rights.
Brown's killing on August 9 triggered weeks of civil unrest in the district of St. Louis, which has a mainly black population, while its police department and city leadership is mostly white. Police resorted to using tear gas and rubber bullets to control the August crowds.
More turmoil in #StLouis as another young black man is killed by police. #ferguson#michaelbrown#STL#VonderritMyerspic.twitter.com/Am4tpZI4O3

— scott olson (@olsongetty) October 10, 2014
Protestors will gather again Saturday morning at 10 am in a "Justice for All" march and rally, to be held in downtown St. Louis.
Black protester staring down black state trooper. pic.twitter.com/kPBnPdtAVn

— Yamiche Alcindor (@Yamiche) October 11, 2014
Events are being held October 10-13 for the "Weekend of Resistance."
You can share this story on social media: