Ups and downs of Obama-mania in Kenyan cartoons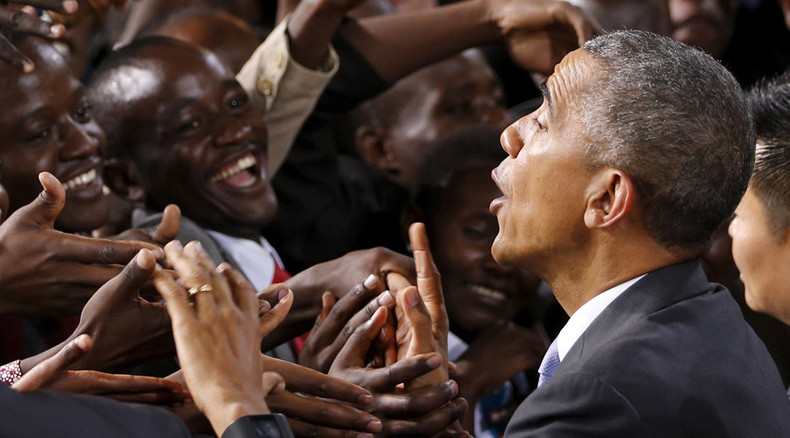 As US President Barack Obama was paying his first official visit to Kenya, cartoonists in the east African nation used the opportunity to address government corruption, gay rights controversies, and even poke fun at the distinguished guest.
Though Obama has visited Kenya before, this was his first time in the official capacity of president. The amount of equipment which came over on Air Force One and the extensive security detail involved prompted cartoonist Eric "Gammz" Ngammau to compare Obama to Kenyans packing heavy to visit their relatives in the back country.
The decision by Kenyan authorities to forcibly remove the homeless of Nairobi before Obama's arrival was mocked by another cartoonist, Patrick Gathara.
Gathara used a variation of that image to accuse Kenyan politicians of corruption, depicting them as pigs lining up to greet the visiting American leader.
The president's father, Barack Obama Senior, grew up and is buried in the remote western Kenyan village of Kogelo. Obama's election to the US presidency in 2008 prompted a frenzy of adulation in the African nation, described here in a cartoon by Tanzania's Godfrey "Gado" Mwampembwa.
Though some of the hero worship has since worn off, Obama-mania still runs high with some. Writing at 'Africa Is a Country,' blogger Wangui Kimari cited news reports that 18 male students at the University of Nairobi threatened to kill themselves and 31 female students "said they would urinate on the tree that Obama had planted the last time he was there in 2008" if he did not visit the university. Students at the Senator Obama Secondary School were also clamoring for a visit, and asking if the school could get a name change to reflect Obama's promotion to President.
Obama's security detail would have a hard time protecting the president from Kenyans' expectations, quipped cartoonist Victor Ndula.
As expected, the most controversial part of the visit was the "elephant in the room" – gay rights. When the US president remarked that "everyone should be treated equally under the law" and that the state should not discriminate against people simply "because of who they love," his host Uhuru Kenyatta replied that the matter was "a non-issue."
Same-sex acts are illegal in Kenya, punishable by up to 14 years in prison. Last year, cartoonist Ndula compared Obama's gay rights agenda to the British imperialist Cecil Rhodes.
Other cartoonists have touched upon the US lagging behind China in reaching out to Africa, mostly because Beijing keeps politics and culture separate from mutually acceptable business arrangements. Here is a 2013 cartoon by Celestine "Celeste" Wamiru.
Wamiru's cartoon was part of an exhibit, organized by Gathara and the artists' collective PAWA254, showing the evolution of Kenyan public opinion of Obama over the past decade, as expressed by cartoonists. In addition to Gathara and Wamiru, the exhibit featured works by Paul Kelemba, Samuel "Igah" Muigai, Ndula and "Gado."
Obama left Kenya on Sunday afternoon for Ethiopia, prompting the cartoonist Muigai to quip that things would quickly revert to the old ways as Kenyatta's government had nobody it needed to impress.