US military moves to remove ban on transgender members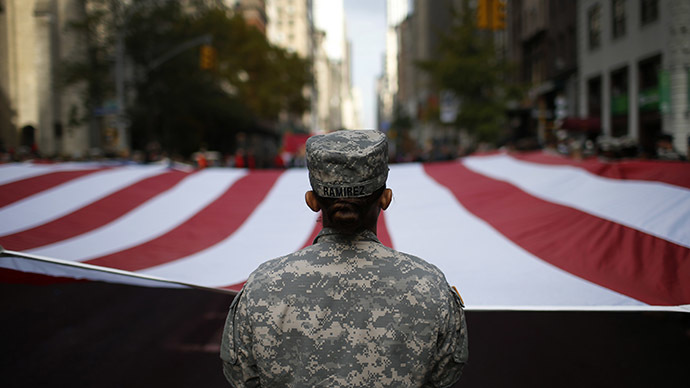 The Pentagon announced Monday that it is moving forward with a plan that aims to end the military policy that prohibits transgender individuals from serving openly.
Defense Secretary Ashton Carter said in a statement that a working group will be established to explore the issue over the next six months. The group will operate under the presumption that transgender individuals, or those who identify with a different gender than the one they were born as, can serve openly in the military "unless objective and practical impediments are identified."
If no negative consequences are found and the ban is lifted, it would go into effect sometime early next year.
"Transgender men and women in uniform have been there with us, even as they often had to serve in silence alongside their fellow comrades in arms," Carter said in a statement.
READ MORE: Pentagon changes LGBT policy to strengthen national security
As the working group undergoes its investigation, Carter said that only Brad Carson, the acting undersecretary of defense for personnel and readiness, will be able to discharge military members for being transgender. However, transgender people would still not be allowed to join the military during this time.
The issues the Pentagon will examine range from the ease with which hormone doses can be taken on the battlefield and what type of medical care would be covered by the military to whether or not having openly transgender individuals in a group would affect the way people work together. Other issues, such as what bathrooms they would use and what uniforms they would wear, will also be discussed.
It's unclear exactly how many transgender individuals are serving in the military, but estimates and studies have pegged the number at as many as 15,000, including those in reserves, the Associated Press reported. Some transgender members keep their gender identity a secret from their colleagues, while others are known to their superiors, who choose not to report them for discipline.
If implemented next year, the ban reversal would come more than four years after the military's ban on gay and lesbian individuals was removed.
"The Defense Department's current regulations regarding transgender service members are outdated and are causing uncertainty that distracts commanders from [the Defense Department's] core missions," Carter said.
READ MORE: Obama wants to end 'conversion' therapies for gay & transgender youth
"We must ensure that everyone who's able and willing to serve has the full and equal opportunity to do so, and we must treat all our people with the dignity and respect they deserve. Going forward, the Department of Defense must and will continue to improve how we do both. Our military's future strength depends on it."
The move by the military was welcomed by groups working to improve the acceptance of transgender individuals. Mara Keisling, executive director of the National Center for Transgender Equality, told Reuters that the announcement "is a positive sign."
"It is in everyone's interest that the 15,000 or so currently serving trans people be allowed to serve openly and honorably," she said.