Dixie defense: Confederate flag supporters protest backlash against beloved symbol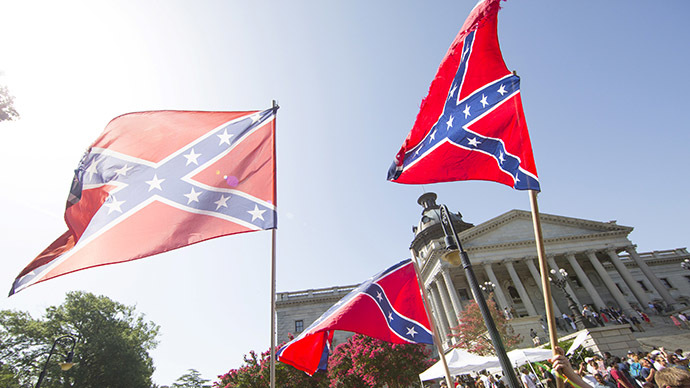 As cities, states and merchants take down the Confederate battle flag in reaction to last month's Charleston church shooting, many Southerners are rallying to protect the symbol they insist is about heritage and regional pride.
More than 4,500 people turned out in Central Florida over the weekend to take part in the "Florida Southern Pride Ride." Local law enforcement estimated some 1,500 cars, pick-ups and motorcycles from across the South, and as far away as California, got together in an eight-mile convoy. The controversial symbol was never the official banner of the Confederate States of America and was first widely flown in the 1960s as a symbol of opposition to federal racial integration policies.
The rally took place in the Marion County seat of Ocala, where a city administrator had ordered the flag to be removed from a government building. County officials overruled the demand last week.
"That flag has a lot of different meanings to a lot of different people," said David Stone, 38, who organized the event, to Reuters. "It doesn't symbolize hate unless you think it's hate – and that's your problem, not mine."
States like South Carolina and Alabama, as well as many local municipalities, have removed the flag from public landmarks following the fatal shooting of nine people at Emanuel African Methodist Episcopal (AME) Church in Charleston, South Carolina by white 21-year-old Dylann Roof in mid-June. Roof posed with the flag in many photos posted online.
READ MORE: Failed background check allowed Charleston shooter to purchase gun – FBI
Roof reportedly yelled, "You rape our women, and you're taking over our country, and you have to go," as he opened fire on Emanuel AME parishioners.
Confederate flag rallies were planned to take place over the weekend across the South, including in Amarillo, Texas; Hot Springs, Arkansas; Loxahatchee, Florida; Ruckersville, Virginia; Tyler, Texas; and Giles County, Virginia.
Eyes have turned to the state of Mississippi, where Governor Phil Bryant has sidestepped calls for him to announce a special legislative session to address Confederate banners in state buildings. Mississippians voted decisively in 2001 to retain the state's flag design, which features the Confederate emblem.
"A backlash is beginning," Ben Jones, a spokesman for the Sons of Confederate Veterans, told Reuters. "We are putting flags out. Everyone time one is taken down, we put five or six of them up." The organization represents 30,000 descendants of Confederate soldiers.
Back in South Carolina, the Loyal White Knights chapter of the Ku Klux Klan is planning a pro-flag rally at the statehouse in Columbia on July 18, according to reports.
In North Carolina, the state Department of Motor Vehicles has sold out of specialty license plates featuring the Confederate flag, according to WXII.
Other Southern municipalities are reckoning with the legacy of the Civil War as debate over the flag's presence continues.
READ MORE: Muslim groups fundraise to restore black churches, 'support victims of arson'
In New Orleans, the city council is taking steps to remove Confederate landmarks -- including a 131-year-old statue of top Confederate general Robert E. Lee -- that exist around the city.
"To maintain these symbols as we move toward our future seems to belie our progress and does not reflect who we truly are or who we want to be," Mayor Mitch Landrieu said, as cited by the New Orleans Advocate.
"I ask you, how can we expect to inspire a nation when our most prominent public spaces are dedicated to the reverence of those who fought for bondage and supremacy of our fellow Americans?" he asked.
Meanwhile, a Robert E. Lee statue in Dallas was spray-painted late last week with the word "SHAME."
In Tennessee, Governor Bill Haslam has stated support for calls to remove a statue commemorating a Confederate general and early leader of the Ku Klux Klan from the state capitol building. Yet July 13 is "Nathan Bedford Forrest Day" in the state, as Forrest is remembered as "a recognized military figure in American history and a native Tennessean," according to an official proclamation signed by the governor.
You can share this story on social media: