California gov't buildings caught wasting water despite drought restrictions - report
Published time: 13 Jul, 2015 18:35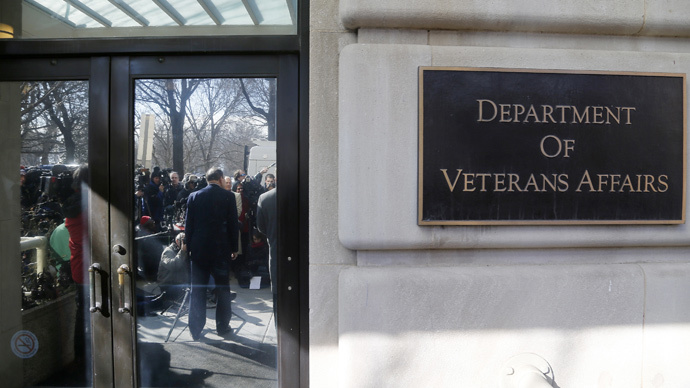 US Department of Veterans' Affairs facilities in Southern California have been wasting water amid the state's historic drought, running lawn sprinklers far longer than allowed by city guidelines, according to a local news report.
CBS2 in Los Angeles used hidden cameras to reveal that the Veterans Affairs' West Los Angeles Medical Center used a type of sprinkler to water far longer than the eight minutes allotted under the Department of Water and Power (DWP) rules. In addition, DWP rules prohibit any customers from watering between the hours of 9 a.m. and 4 p.m. The sprinklers drew water from the municipal supply, the station reported.
KCBS used time-lapse cameras to show that the VA facility ran its sprinklers for more than two hours on June 2. Reporter David Goldstein said that the lawn was watered to the point that mud and pooled water dotted the landscape.
READ MORE: Californians opting for 'gray water' recycling amid drought - report
The same VA facility over-watered for nearly six hours in October, after Los Angeles instituted water restrictions amid the state's four-year drought, CBS2 reported.
CBS2 said that Lina Satele of the VA Public Affairs Office insisted the station cease its interview with a grounds supervisor, and threatened to confiscate the reporter's camera since he was on federal property.
She said over-watering in June may have coincided with a ceremony on the lawn days later that included the Secretary of Veterans' Affairs visiting from Washington. Satele could not clarify to CBS2 whether the VA is subject to local water prohibitions.
Satele later emailed CBS2 to say that the VA suggests complying with city and state water restrictions. The facility in West Los Angeles has cut back on water use by 35 percent, she said.
According to CBS2, another VA facility in Loma Linda, California had a broken sprinkler head, causing water to spray indiscriminately and flow into drains. A follow-up several weeks later found the sprinkler head problem was still unaddressed.
"As soon as we're aware of anything that's broken or needs repair we get on it as fast as we can," said facilities manager Jeff Schuller.
"But it's not my job to let you know. Shouldn't one of your people have known that?" CBS2's Goldstein asked.
"That's true, it isn't your job. But we appreciate the help," Schuller replied.
READ MORE: 'Toilet to tap': California considers sewage as possible source of drinking water amid drought
In April, California Governor Jerry Brown (D) announced a mandatory 25-percent reduction in water use by cities and towns as the state is in the throes of a four-year drought.
At the end of June, the US Department of Agriculture reported that 99 percent of California was suffering some level of drought, with 47 percent in "exceptional drought" conditions, the most severe categorization. Downtown Los Angeles had its driest four-year period on record, with just over 29 inches of rain falling from July 1, 2011 to June 30, 2015.
Locales across the state are dealing with water theft and problems with conservation efforts in their attempts to comply with state standards. The state announced in late June that urban water use declined 28.9 percent in May.
"The numbers tell us that more Californians are stepping up to help make their communities more water secure, which is welcome news in the face of this dire drought," said State Water Board Chair Felicia Marcus. "That said, we need all Californians to step up--and keep it up--as if we don't know when it will rain and snow again, because we don't. If the drought continues beyond this year, we'll all be glad we did."