California wildfire forces hundreds to flee their homes (PHOTOS)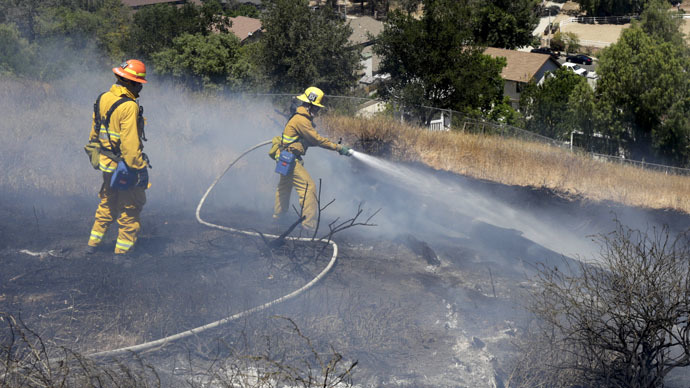 About 1,000 people have been evacuated from a Los Angeles suburb as firefighters struggle to contain a three-alarm brush fire that is threatening some 500 homes.
So far the firefighters managed to contain about 20 percent of the flames that are ravishing the Newhall area near Interstate 5.
Evacuations underway after brush fire explodes in SoCal: http://t.co/ZSvI5QnMIY PHOTOS: http://t.co/S1QzZi5Ukrpic.twitter.com/f4U4pF0r1b

— ABC7 News (@abc7newsBayArea) June 24, 2015
The fire started at about 1:15pm local time, in the Stevenson Ranch area, according to the Los Angeles County Fire Department. More than 450 firefighting personnel are at the scene, joined by seven helicopters and four air water tankers.
More help is due to arrive from CAL FIRE, which is on its way from the San Diego area. Evacuations were ordered some 45 minutes after the blaze began to spread.
"I would not say the worst is over yet," said LA County Deputy Fire Chief John Tripp.
INCREDIBLE PHOTOS: Evacuations underway as brush fire burns near California Freeway... http://t.co/0b3tSehE7Gpic.twitter.com/leLEG1gP5u

— ABC 7 Chicago (@ABC7Chicago) June 25, 2015
An evacuation center has been set up at a nearby West Ranch High School, while farm animals were moved to a ranch nearby.
California Highway Patrol issued an alert asking that people avoid the Santa Clarita area as a number of lanes on the 5 freeway remain blocked.
Firefighters battle brush fire burning near Santa Clarita, California http://t.co/XlyBkbvYPL#NBCNightlyNewspic.twitter.com/9cvCitcaOD

— NBC Nightly News (@NBCNightlyNews) June 24, 2015
Eighty six hundred acres have burnt so far as a result of wildfires, which are quite common in drought-struck California during summer months, according to CAL FIRE. The state has experienced 2,486 wildfires since the beginning of the year.