Liquid treasure: Water theft rising in drought-ravaged California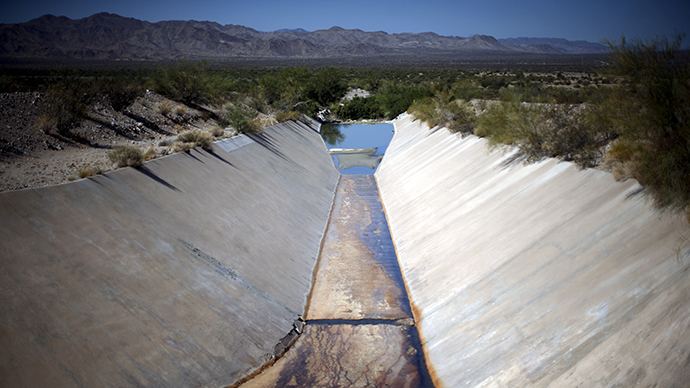 It's not quite "Mad Max," but Californians are resorting to water theft and police are playing catchup, as nearly half of the state suffers in the throes of an intense drought.
A group of thieves broke locks guarding spigots at a shopping center in Milpitas, KPIX reported over the weekend, making off with hundreds of gallons of water. Police are still seeking the suspects, who braved surveillance cameras to access the water.
In April, the Associated Press reported that a large amount of water was stolen from the Sacramento-San Joaquin Delta, a source of water for 23 million state residents.
READ MORE: Californians opting for 'gray water' recycling amid drought - report
The AP also reported in February that Modesto homeowners had illegally taken water from a canal.
Hundreds of gallons were stolen from a fire department water tank in North San Juan during wildfire season last summer.
"We were just absolutely stunned," Boyd Johnson, a battalion chief with the North San Juan fire department, told the National Journal. "Fires are on everyone's mind during the summer so to see this happen, I think it really scared people."
Enforcing water theft laws in the face of a four-year drought is not easy, some in law enforcement say.
"This is something that's very hard to pin down. If you don't catch someone in the act, how do you prove they did it?" Mendocino County Sheriff Tom Allman told the National Journal.
Mendocino County currently counts water theft as a misdemeanor. "To me this is like looting during a disaster. It should be a felony," Mendocino County Supervisor Carre Brown said of water theft.
In Lemoore, the Public Works Department dedicated an employee to searching for water thieves after police found evidence of someone accessing water through fire hydrants, the National Journal reported.
READ MORE: Drought may hasten demise of California's enigmatic Salton Sea
Some areas, like Contra Costa County, have raised fines for water theft. Contra Costa increased its water theft fines from $25 to $250, and $500 for repeat offenders.
More than 46 percent of the state -- from Modoc National Forest in the north to Orange County in the south -- is suffering "exceptional drought" conditions, the harshest category of drought, according to the National Drought Mitigation Center.