'Toilet to tap': California considers sewage as possible source of drinking water amid drought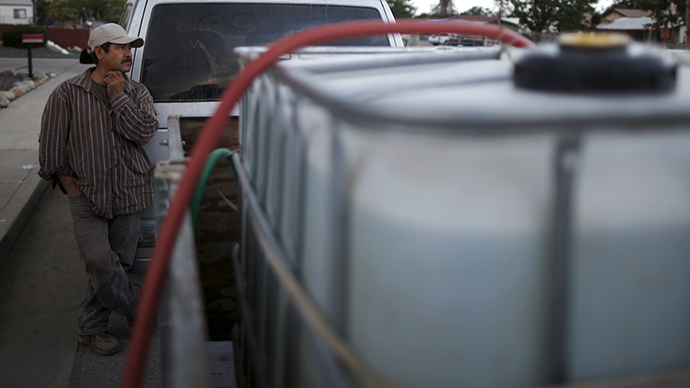 Potable water reuse – or converting sewage effluent to heavily-treated, purified drinking water – is receiving renewed attention in California in the midst of the state's four-year drought.
According to a report by the Los Angeles Times, "California water managers and environmentalists" are pushing the idea of recycled sewage water. Yet past efforts in the state to employ similar systems have stalled, as opponents have dubbed the concept "toilet to tap."
This spring, California Gov. Jerry Brown ordered a 25 percent cut in urban water usage based on ongoing drought conditions across the state.
Proponents of potable water reuse say that the system could convert the hundreds of billions of gallons of treated sewage that is already directed into the Pacific Ocean into drinking water.
READ MORE: 'The blob' in Pacific Ocean might be to blame for California drought, erratic US weather - studies
"That water is discharged into the ocean and lost forever," Tim Quinn, executive director of the Association of California Water Agencies, told the LA Times. "Yet it's probably the single largest source of water supply for California over the next quarter-century."
A potable reuse system would mean effluent would be sent to an advanced treatment plant for a three-step purification process.
According to the newspaper, the water is first sent through a microfilter to block particles or bacteria of a certain size. Then the water is filtrated by reverse osmosis, in which it is "forced through a membrane" that blocks pharmaceuticals, viruses, and other materials. Finally, ultraviolet light and hydrogen peroxide break down pathogens or organic compounds that eluded the two initial steps.
The water would then be sent to a traditional water treatment facility to integrate with other water sources after further processing.
READ MORE: California's water conservation efforts hindered as tiered pricing ruled unconstitutional
The system results in cleaner water than most bottled waters, according to water reuse advocate WateReuse California.
According to an economic analysis of such a system by George Tchobanoglous, a water treatment expert and professor emeritus at UC Davis, potable reuse could result in up to 1.1 million acre-feet of water annually by 2020.
Besides the "yuck factor," opponents of potable reuse say they are also concerned of trace amounts of drug compounds, hormones, and personal care products in wastewater.
"Personally I would not drink water that has been recycled through the toilet to tap process," Steven Oppenheimer, a biology professor at Cal State Northridge, told the Times.
Supporters of potable reuse point out that more than 200 wastewater treatment plants currently discharge sewage effluent into the Colorado River, the primary source of drinking water in Southern California.
Even if potable reuse is accepted by the public, such a system may not come to fruition for years given the lack of regulatory framework. A panel is working to offer a report on the subject to the state legislature by 2016.
Around the globe, solutions aimed at helping those forced to depend on low-grade sanitation systems could also help a drought-ravaged area like California. At least a billion people have no toilet at all and must openly defecate in areas of the world that lack First World sanitation standards, according to a Harper's magazine profile of The Blue Diversion Toilet.
The toilet "separates urine, feces, and water with a simple hydraulic system powered by a small solar panel. Urine is first pumped into a treatment tank containing a membrane bioreactor that converts the traces of organic matter and ammonia into harmless compounds and recovers safe water,"according to Harper's. It also provides "recycled water for hand washing and anal cleansing."
The Bill and Melinda Gates Foundation is active in funding projects aimed at improving global water and sanitation access. Bill Gates was recently filmed drinking water cleaned by a project his foundation funds, the OmniProcessor.
The OmniProcessor, designed and built by Seattle engineering firm Janicki Bioenergy, burns human waste to produce electricity and water. The processor powers itself through the use of a steam engine and does not emit an odor. The machine could handle 14 tons of waste from 100,000 people, producing up to 86,000 liters of drinkable water a day, and net 250 kw of electricity.
You can share this story on social media: