'The blob' in Pacific Ocean might be to blame for California drought, erratic US weather - studies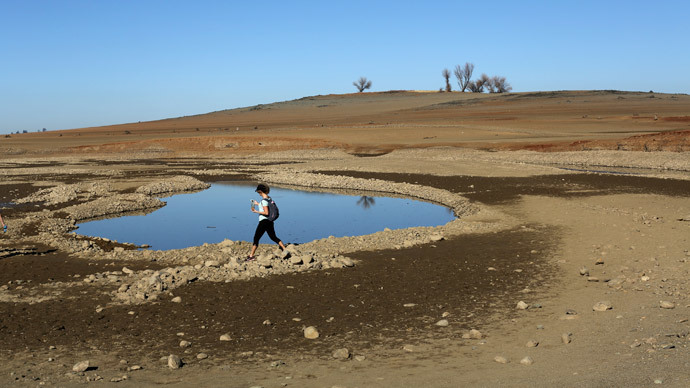 Coined "the blob," a massive patch of warm water off the US West Coast is contributing to warmer-than-average drought conditions in states like California, in addition to lower temperatures on the US East Coast, according to two new reports.
The blob -- measuring about 1,000 miles (1,600 kilometers) in diameter and 300 feet (91 meters) deep -- is currently positioned against the West Coast. It is about 2 to 7 degrees Fahrenheit (1 to 4 degrees Celsius) above normal average temperature. Climate scientist Nick Bond was first to call the warm weather anomaly "the blob" nearly a year ago.
"In the fall of 2013 and early 2014 we started to notice a big, almost circular mass of water that just didn't cool off as much as it usually did, so by spring of 2014 it was warmer than we had ever seen it for that time of year,"said Nick Bond of the University of Washington-based Joint Institute for the Study of the Atmosphere and Ocean, a joint research center of the school and the National Oceanic and Atmospheric Administration (NOAA).
Bond's new study, which is set to appear in Geophysical Research Letters, found that the blob formed due to a lasting high-pressure ridge that maintained heat levels in the water rather than the usual low-pressure system that helps cool the ocean. The air continued inland, delivering high temperatures and contributing to deeper drought conditions in California, Oregon and Washington.
The warmer temperatures will continue throughout 2015, according to the study, which was co-authored by Meghan Cronin and Nate Mantua of the NOAA, and Howard Freeland of Canada's Department of Fisheries and Oceans.
The blob is also causing marine life to appear in unusual places, as warm water with less nutrients is disrupting ecosystems and food supply.
The warm patch also affects the US East Coast, according to the other study, carried out by Dennis Hartmann, a professor of atmospheric sciences at the University of Washington.
He found that the warm water in the Pacific also caused cold, wet air in central and eastern areas of the US, leading to more snowfall and colder temperatures in the winter of 2013-2014. The pattern is known as the "North Pacific Mode."
"Lately this mode seems to have emerged as second to the El Niño Southern Oscillation in terms of driving the long-term variability, especially over North America," Hartmann said, according to Science Daily.
The cold winter on the East Coast in 2014-2015 can also be attributed to the high-pressure system back on the West Coast, Hartmann has argued.
"It's an interesting question if that's just natural variability happening or if there's something changing about how the Pacific Ocean decadal variability behaves," Hartmann said. "I don't think we know the answer. Maybe it will go away quickly and we won't talk about it anymore, but if it persists for a third year, then we'll know something really unusual is going on."
Bond told Science Daily that climate change was not likely the cause of the blob, though the weather patterns it produced do foreshadow what global warming has in store.
"This is a taste of what the ocean will be like in future decades," Bond said. "It wasn't caused by global warming, but its producing conditions that we think are going to be more common with global warming."
California is entering its fourth year of record drought. Governor Jerry Brown introduced a mandatory water reduction plan last week. There are fears California may only have 12 months' worth of water left, as snowpack measurements for the year are set to hit record lows.
You can share this story on social media: