California town conserves too much water, dumps 500k gallons amid drought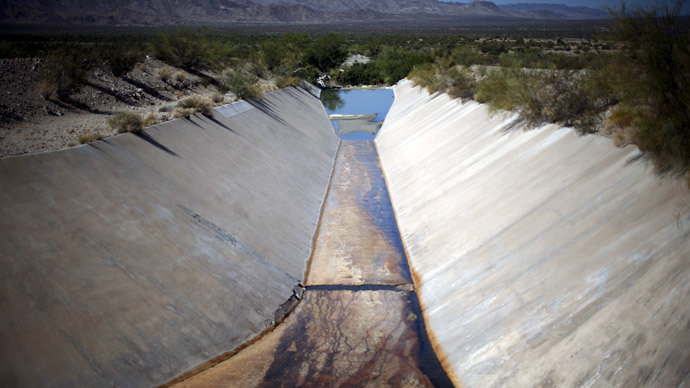 The mayor of Poway, California has admitted that 500,000 gallons of water were wasted based on an unsafe chemical imbalance despite the town's successful conservation efforts during historic drought conditions.
Poway Mayor Steve Vaus said that in the month of May, the town conserved water by about 45 percent, which is well ahead of state-mandated savings. In April, California Governor Jerry Brown announced a mandatory 25-percent reduction in water use by cities and towns as the state is in the throes of a four-year drought.
Vaus told KGTV that Poway's water savings meant water sat in the Blue Crystal Reservoir for too long. Heat helped cause a chemical imbalance of chloramine, a mix of chlorine and ammonia used to clean drinking water.
"It was a perfect storm of conservation and heat," Vaus said.
READ MORE: Californians opting for 'gray water' recycling amid drought - report
The water was deemed unsafe to drink based on state regulations, Vaus added, saying that putting the water back where it came from would have cost the San Diego County town too much money.
"If you think about it, making those hundred tanker truck runs back and forth, it just doesn't pencil out," said Vaus.
The water could not be marked for irrigation purposes given someone still could ingest the tainted water.
"This was just an unfortunate consequence that pains us, but we want to keep our people healthy," Vaus said.
Poway is considering a standalone recycling system that would avoid the waste of water in the future, which would cost the town more than $1 million.
"I think it's a shame," Poway evident Helen Shelden told KGTV. "I think the city should've prepared better for it."
READ MORE: Satellites show world is running out of water - new NASA study
Despite the letdown, Vaus said what was important is that the town's 50,000 residents are answering the call to conserve, saving far more water in May than they were asked.
According to the National Drought Mitigation Center, nearly 47 percent of California is suffering "exceptional drought" conditions, the highest classification of drought. Poway is in an "extreme drought" zone, considered the second-worst classification.
The state announced last week that urban water use declined 28.9 percent in May.
"The numbers tell us that more Californians are stepping up to help make their communities more water secure, which is welcome news in the face of this dire drought," said State Water Board Chair Felicia Marcus. "That said, we need all Californians to step up--and keep it up--as if we don't know when it will rain and snow again, because we don't. If the drought continues beyond this year, we'll all be glad we did."
You can share this story on social media: