Justice Dept. investigating possible price fixing at airlines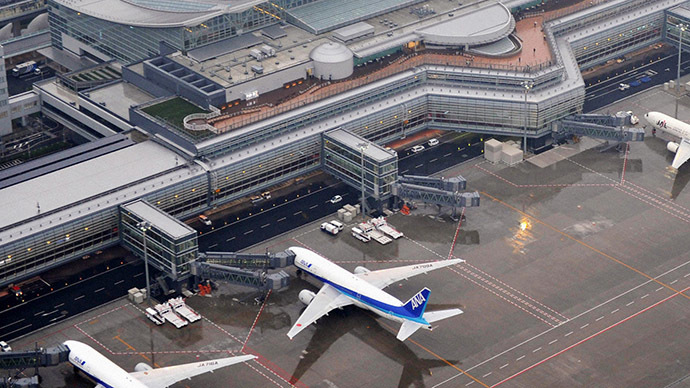 Major US airlines are being investigated by the Justice Department for "possible unlawful coordination" in ticket pricing. The probe comes as airlines are benefiting from low jet fuel prices, and more people flying than ever before.
The anti-trust probe began two months ago to determine whether major US airlines are colluding in creating new flights and routes or limiting available seats to keep airfares artificially high, according to a document obtained by the Associated Press.
In a letter sent to US carriers, the department demanded that copies of all communications between the airlines be handed over. The correspondence request also extends to anything shared with Wall Street analysts or major shareholders concerning plans for passenger-carrying capacity or "the undesirability of your company or any other airlines increasing capacity."
RT @AP: BREAKING: Document shows Justice Dept investigating whether airlines are colluding to keep airfares high. pic.twitter.com/wWShb5loBC

— Andrew Albert (@AndrewJAlbert01) July 1, 2015
Justice Department spokeswoman Emily Pierce told the AP the agency is looking into "possible unlawful coordination among some airlines," but declined to say which airlines are being investigated.
United and American Airlines confirmed to AP that they were cooperating with the department's request, while Southwest and Delta made no immediate comment. AP also contacted smaller carriers like Frontier Airlines, which said they had not been contacted by the Justice Department.
READ MORE: Ten major US banks fined $43.5 mn over IPO scandal
Lawmakers and consumer advocates have routinely called for investigations into whether airlines limit the number of tickets they sell to boost prices.
Last month, Sen. Richard Blumenthal (D-Connecticut) wrote to William J. Baer, head of the Justice Department's antitrust division, complaining that "Consumers are paying sky-high fares and are trapped in an uncompetitive market with a history of collusive behavior."
A series of airline bankruptcies and mergers since 2008 have led to a consolidation of US carriers, cutting the number from nine to four: American, Delta, Southwest and United. These four carriers now control 80 percent of seats in the domestic travel market.
Average domestic airfares rose 13 percent from 2009 to 2014, adjusted for inflation, according to the Bureau of Transportation Statistics. They found the average domestic flight last year cost $391, the highest price since federal statisticians began tracking fares two decades ago.
"This is a long time coming," Diana Moss, president of the American Antitrust Institute, told the Washington Post, referring to the investigation. She said that airlines have continuously signaled "to each other that it was in their joint interest to keep capacity tight and to keep prices high."
READ MORE: Democrats seek gas price fixing investigation
The consolidation of airlines in the US market has led to record-making profits. In the past two years, the four major US carriers earned a combined $19.7 billion, as airlines have taken advantage of historically low prices for jet fuel, saving $3.3 billion in the first quarter, according to AP.
Airlines have also increased add-on charges for travelers in the form of baggage and reservation-change fees. Over the past 12 months they have collected $3.6 billion in bag fees and $3 billion in change fees.
"We fervently hope that the US airlines targeted by the Justice Department's inquiry are cleared of these allegations," US Travel Association President Roger Dow told the Washington Post. "American consumers are already jaded enough about flying that we've been wondering for a while how many more gut-punches they could absorb before we see a dip in air travel demand."