Solitary confinement for Illinois juveniles banned – new settlement
Published time: 6 May, 2015 00:36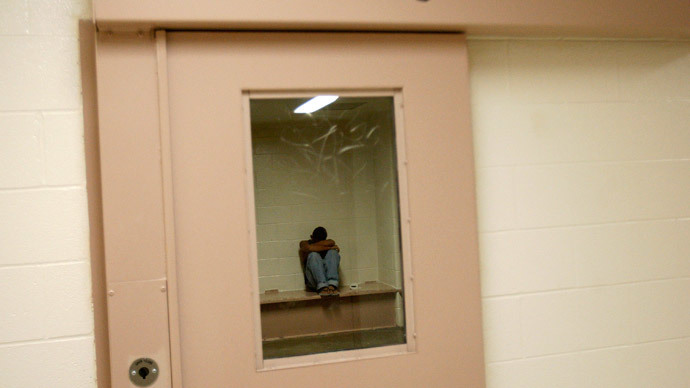 Solitary confinement for those held in Illinois juvenile facilities will essentially be banned following the settlement of a federal lawsuit involving the American Civil Liberties Union and the state.
Under the terms of the federal settlement, juveniles will be required to spend at least eight hours a day outside their cells and must continue to receive education and mental health services. The settlement applies to six juvenile facilities in the state, but not to juveniles held in the general prison population under the Illinois Department of Corrections.
The settlement policy announced Monday was approved in April by Judge Matthew F. Kennelly of Federal District Court, in the lawsuit RJ v. Jones. It is meant to improve conditions at the state's juvenile facilities where about 700 juveniles are currently held.
Great news coming out of Illinois: Federal court approves end to solitary confinement of juveniles in the state!... http://t.co/Lguq473PkS

— AllianceforBMOC (@AllianceforBMOC) May 5, 2015
Before initiating the case, the ACLU of Illinois conducted a survey of the youth facilities and interviewed scores of young people. The group discovered that the department provided inadequate mental health and educational services. It also found juveniles were exposed to dangerous situations such as excessive room confinement and violence from staff and other youth.
"What we would say is that if you get to leave your room and be in the company of staff, and have the opportunity to talk to them for eight hours every single day, there's no longer solitary confinement,"said Adman Schwartz, a lawyer with ACLU of Illinois, to the New York Times. "You don't need to use solitary confinement to keep a prison safe. We think that these new rules are consistent with running a safe and rehabilitative prison system."
READ MORE: NYC mayor to shrink Rikers prison populations by 25%
The six state-run juvenile facilities affected by the settlement hold from as little as 24 people each to as many as 238.
A spokesman for the Illinois Department of Juvenile Justice said state officials were pleased with the settlement.
"We believe this policy is consistent with prevailing federal rules and national best practices," Mike Theodore, a department spokesman, said to the Times. "Department of Juvenile Justice staff have been working diligently over the last year to begin to comply with the new directive."
READ MORE: Class-action lawsuit formed against 'kids for cash' scandal
The Illinois settlement follows a nationwide trend to reform the use of solitary confinement in juvenile correctional facilities. Other states that have made reforms are Mississippi, New York and Ohio.
Advocates like The American Academy of Child and Adolescent Psychiatry say solitary confinement can cause paranoia, depression or even psychosis in young people. The court's decision makes the state the 20th to reform solitary confinement as a control and punishment measure. A review by the Department of Justice found that more than "half of the suicides in juvenile prisons occur during solitary confinement."
"I think there's a growing recognition that putting children and youth into isolation is not a way to address the problems that these young people have," said Elizabeth Calvin, senior advocate in children's rights division of Human Rights Watch, to the Times. "If we're talking about teens, we're talking about individuals who are still developing, neurologically and socially. Those are tasks that require social interaction."