Florida fraternity suspended after 3 members expelled for spitting at veterans group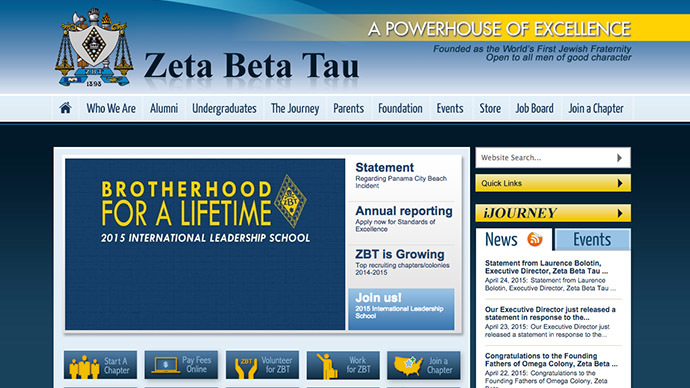 A University of Florida fraternity expelled three members after they were accused of spitting at a group of disabled veterans and stealing their flags. The Alpha Zeta chapter of Zeta Beta Tau International was also suspended, having broken its probation.
Fraternity members from the University of Florida and Emory University chapters of ZBT were holding their spring formal at the Laketown Wharf Resort in Panama City Beach, Florida, when they disrupted the Warrior Beach Retreat of about 60 veterans who fought in Iraq and Afghanistan last Friday night, witnesses told the Gainesville Sun.
In a letter to UF President W. Kent Fuchs, Warrior Beach Retreat's founder Linda Cope wrote that students were spitting on veterans, throwing beer bottles over a balcony, ripping flags off vets' cars and urinating on an American flag. The University has since suspended the fraternity.
As an alumni of ZBT I want to apologize to every veteran for the actions that took place in Panama City. from former...Posted by Joe Hopper on Friday, April 24, 2015
"They knew who they were and were just getting a kick out of it," she said. "It is heartbreaking as a mom with a son who sacrificed so much for their freedom."
"These guys were getting out of control," Cope added. "I was just in tears. This was supposed to be a safe place."
The UF ZBT chapter has been on a one-year probation for a hazing incident during the fall 2014 semester. It could be expelled from campus if the university's investigation determines that members violated a student conduct code while already under suspension, the Gainesville Sun reported.
UF just announced they've placed ZBT on interim suspension and charged them with series of offenses @ActionNewsJaxpic.twitter.com/A2XZoWuFa2

— Samantha Manning (@SamanthaANjax) April 24, 2015
The University of Florida reached out to Cope to apologize.
"As this investigation continues, and without knowing the full extent of what transpired, I want to make clear that I am deeply sorry for the affront that our students may have caused," Fuchs wrote in a letter published on Facebook.
The national chapter of ZBT has since apologized for its members' actions.
"I am deeply saddened that the actions of our members ruined this special event and failed to show the respect our military and their families so deserve." ZBT International Executive Director Laurence Bolotin wrote in a statement.
The University of Florida is extremely concerned about reports of illegal behavior involving our students last weekend...Posted by University of Florida on Thursday, April 23, 2015
The national organization hired an independent investigator to look into the incident and into the two chapters that participated. So far the chapters at the University of Florida and Emory University have suspended all activities and are fully cooperating in the investigation, Bolotin said, but the fraternity may still take additional action depending on the outcome of the probe.
Emory is also investigating the incident, but has taken no action against anyone yet.
"The disrespectful behavior exhibited by students toward our veterans is not acceptable and will not be tolerated by members of the Emory community," the school said in a statement. "If any members of our community are identified as being responsible, they will be held accountable for their actions by the university."
Officials at the university in Atlanta, Georgia said that, so far, no evidence has been found to implicate Emory students in the incidents.
Our brothers wrote a couple letters to veterans at Ft. Bragg. ZBT cares about our heroes #supportourtroopspic.twitter.com/ObGy1Sq8wi

— UConn ZBT (@UConn_ZBT) April 24, 2015
The Panama City Beach incident comes among a nationwide crackdown on offensive behavior by fraternity members. In March, the University of Oklahoma expelled two members of the Sigma Alpha Epsilon fraternity, as well as severing all ties with the chapter, after video surfaced of members participating in a racist chant. In December, San Diego State University banned the Gamma Alpha fraternity after members were accused of throwing eggs and waving sex toys at people involved in an anti-rape march on the California campus in November.
Graphic allegations of rape on US college campuses at schools such as Columbia University have spurred a wave of protest and calls for action, including the possibility of reform of the fraternity system.
University police have been stationed outside the Florida ZBT house since reports of the incident went viral, due to concerns for the chapter members' safety, the Gainesville Sun reported.
"There have been threats and I am concerned. I don't want the bad behavior by some students to escalate into bad behavior by others," Fuchs said.