2 Univ. of Oklahoma students expelled in ongoing fallout from racist chant
Published time: 10 Mar, 2015 19:16
Edited time: 11 Mar, 2015 14:05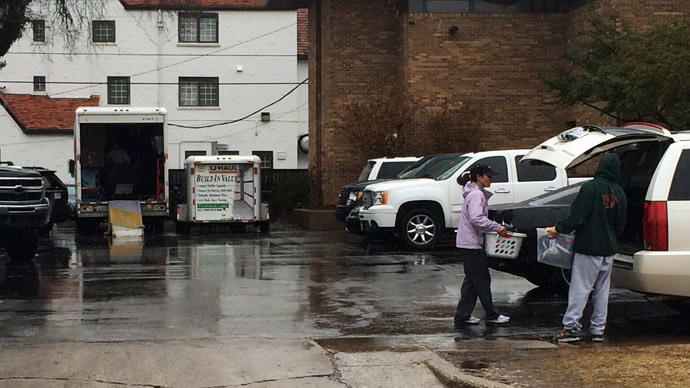 University of Oklahoma President David Boren announced Tuesday that the school has expelled two students who allegedly played a "leadership role" in a racist song performed by members of the Sigma Alpha Epsilon fraternity on a charter bus.
"I have acted today to expel two students who were leaders in the singing of a racist chant," Boren said a statement.
READ MORE: U. of Oklahoma drops 'disgraceful' fraternity after racist chant video surfaces
"I have emphasized that there is zero tolerance for this kind of threatening racist behavior at the University of Oklahoma," he said. "I hope that the entire nation will join us in having zero tolerance of such racism when it raises its ugly head in other situations across the country."
I have acted today to expel two students who were leaders in the singing of a racist chant. See press release - DBo pic.twitter.com/VypOiVqXi7

— David Boren (@President_Boren) March 10, 2015
Boren added that the school's investigation of the chant is ongoing.
"I hope that students involved in this incident will learn from this experience and realize that it is wrong to use words to hurt, threaten, or exclude other people. We will continue our investigation of all the students engaged in the singing of this chant. Once their identities have been confirmed, they will be subject to appropriate disciplinary action."
On Sunday, a video materialized showing members belonging to the Sigma Alpha Epsilon (SAE) chapter at the University of Oklahoma (OU) in Norman chanting, "There will never be a n***** in SAE!"
The video -- first revealed by Unheard, a student civil rights group on campus -- triggered immediate responses from the school, which severed ties with the fraternity, and SAE's national organization, which said it had shuttered OU's chapter.
"To those who have misused their free speech in such a reprehensible way, I have a message for you. You are disgraceful," Boren said Monday in an email to students, faculty, and staff, according to KGOU.
"You have violated all that we stand for. You should not have the privilege of calling yourselves 'Sooners.'"
Boren gave SAE members until midnight Tuesday to clear out their belongings from the campus fraternity house.
The Oklahoman reported that state Attorney General Scott Pruitt's civil rights enforcement office is not currently investigating the incident for any possible violations.
@kgborland and the women on the bus will take the same career paths.

— Elizabeth Desnoyers- (@MOVEprofPHD) March 9, 2015
SAE members are not the only ones caught up in the controversy. Members of OU's Delta Delta Delta sorority chapter were seen in the video taking part in the chant. According to USA Today, the sorority's national office said "behavior documented in the video is deplorable and is in no way consistent with Tri Delta's ideals and core values."
OU's Delta Delta Delta chapter, though, tweeted Monday that it was not part of the university's investigation.
"We fully support our OU president. We are NOT under investigation. The statement on our website is national protocol."
We fully support our OU president. We are NOT under investigation. The statement on our website is national protocol. #notonOUrcampus

— OU Tri Delta (@OUTriDelta) March 10, 2015
That sentiment drew criticism on Twitter.
@OUTriDelta if that is the case, why were your members on the same bus with #SAE clapping along? What will happen to those women?

— Pamela B. Slanderson (@SigmaR3LLA) March 10, 2015
@OUTriDelta members of your sorority were on that bus, clapping and singing along. You should be held accountable

— MrGn (@Morrghan) March 10, 2015
@OU_Unheard@President_Boren what makes this so sad is that there were women on the bus clapping also. what is their excuse?

— Carllide61 (@Carllide61) March 10, 2015
Rather than hold a scheduled spring practice, the vaunted OU football team, including coach Bob Stoops and athletic director Joe Castiglione, marched silently in protest of the video, with the group saying a prayer at midfield.
Per @NBCNightlyNews, Oklahoma U president has expelled two students. Here's the OU football team's silent protest: http://t.co/zuFJAFawCJ

— NowThis (@nowthisnews) March 10, 2015
Eric Striker, a leader on OU's football team, told The Oklahoman of past racist incidents he and fellow black student-athletes have faced involving OU fraternities.
"All of this has happened, and we kept it within and pushed it under the rug," Striker said. "After (the video), we have to take a stand. Our voices have to be heard."
A top recruit who had committed to attending the school to play football announced Monday that he has rescinded that commitment based on reasons that did not have to do with the staff or team.
Meanwhile, White House press secretary Josh Earnest said moves made by OU and SAE's national organization following the release of the video were "an appropriate step."
On Monday, OU students, led by the group Unheard, rallied on campus to protest the video and what it stood for.
OU students and administrators join together in protest after leaked SAE video. http://t.co/Fo0WuPfVbKpic.twitter.com/9Pjo9YowOn

— OU Daily (@OUDaily) March 10, 2015
@OU_Unheard My prayers & admiration go out to the Students of OU esp. those brave Black youth striving to birth a new day on campus & beyond

— Steven Muhammad (@ManRemade) March 10, 2015