U. of Oklahoma drops 'disgraceful' fraternity after racist chant video surfaces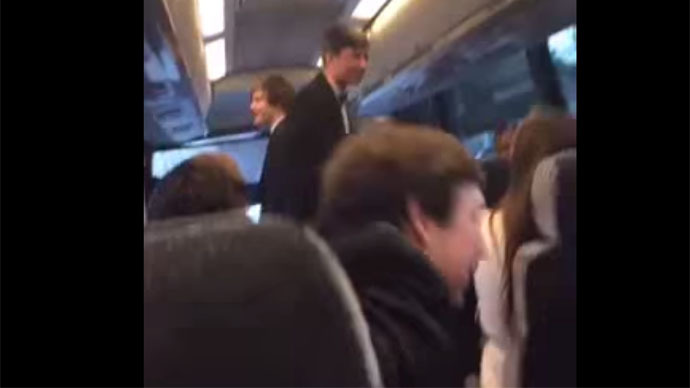 The University of Oklahoma announced Monday morning that it has "severed" all ties to the Sigma Alpha Epsilon fraternity after members of the school's chapter were caught on video participating in a racist chant.
On Sunday, a video materialized showing members belonging to the Sigma Alpha Epsilon (SAE) chapter at the University of Oklahoma (OU) in Norman chanting, "There will never be a n***** in SAE!"
#SAEHatesMepic.twitter.com/EaqJb1rpqR

— Riah Rentie (@RiahBonez) March 9, 2015
The video -- first revealed by Unheard, a student civil rights group on campus -- triggered immediate responses from the school and SAE's national organization, which said it had shuttered OU's chapter.
The girls in the video laughing and singing along are just as guilty as the SAE boys that were chanting. #NeverBeaNiggerInSAE

— Unheard (@OU_Unheard) March 9, 2015
"To those who have misused their free speech in such a reprehensible way, I have a message for you. You are disgraceful," University of Oklahoma president David Boren said in an email to students, faculty, and staff, according to KGOU.
"You have violated all that we stand for. You should not have the privilege of calling yourselves 'Sooners.'"
Boren said the members of OU's SAE chapter have until midnight Tuesday to move their belongings out of the fraternity's building on campus.
During a press conference on Monday, Boren indicated the university will not help the SAE members find housing, saying, "We don't provide student services for bigots."
"We will look at all possible punishment and what is available to us under the law," Boren said about the ongoing investigation of the incident.
.@President_Boren says will look at all punishments available through the rule of law. @OKCFOXpic.twitter.com/vxFF3gYB5t

— Danielle Dunn (@DanielleDunnOKC) March 9, 2015
Boren added he would be happy if the students responsible for the "reprehensible chant" did not return to the university at all. He said he would even "pay their bus fare" to leave town.
.@President_Boren says he would be happy if those students left the university. @OKCFOX#SAE#BREAKINGpic.twitter.com/GUy6PI0kiD

— Danielle Dunn (@DanielleDunnOKC) March 9, 2015
Upon seeing the video, SAE's national organization said it immediately closed its OU chapter and suspended its OU members from the fraternity's privileges.
"I was not only shocked and disappointed but disgusted by the outright display of racism displayed in the video," said Brad Cohen, SAE's national president, in a statement.
"SAE is a diverse organization, and we have zero tolerance for racism or any bad behavior. When we learned about this incident, I called an immediate board meeting, and we determined with no mental reservation whatsoever that this chapter needed to be closed immediately. I am proud of my fellow board members because we mean what we say."
Students, led by the group Unheard, demonstrated on campus early Monday morning.
Peaceful gathering of students at @OU_Unheard demonstration. @OKCFOXpic.twitter.com/aZ4b4qgmsS

— Danielle Dunn (@DanielleDunnOKC) March 9, 2015
So proud of our community. #OUUnheard@Shawntal_Pink@Xo_unvpologeticpic.twitter.com/x0aJD69xkl

— britt. (@CoolStoryB) March 9, 2015
Photos from today's @OU_Unheard demonstration around campus: http://t.co/fNyIEwIQ26pic.twitter.com/pQwHoD8pot

— OU Daily (@OUDaily) March 9, 2015
OU students gather for peaceful demonstration against video of racist "SAE" chant http://t.co/PaU8PlfJIJpic.twitter.com/dl9K2Wlg7L

— KOKH FOX 25 (@OKCFOX) March 9, 2015
A new diversity position is being created in recruitment after conversations with OU Unheard

— Unheard (@OU_Unheard) March 9, 2015
This speaker has definitely gotten the crowd's attention. @OUDailypic.twitter.com/gtAjuPzskq

— Andrew Clark (@Clarky_Tweets) March 9, 2015
.@UofOklahoma student athletes gathering at the North Oval. @OKCFOX#BREAKINGpic.twitter.com/cKWKRH7aye

— Danielle Dunn (@DanielleDunnOKC) March 9, 2015
The SAE house was vandalized Sunday night, according to reports.
Graffiti overnight @sae1856 says "TEAR IT D." National group is closing the OK chapter after racial video. @OKCFOXpic.twitter.com/TPnwFNqkxv

— Danielle Dunn (@DanielleDunnOKC) March 9, 2015
KGOU reported that law enforcement surrounded the fraternity house to allow members to move their belongings out.