Tesla updates software to roll out driverless cars in three months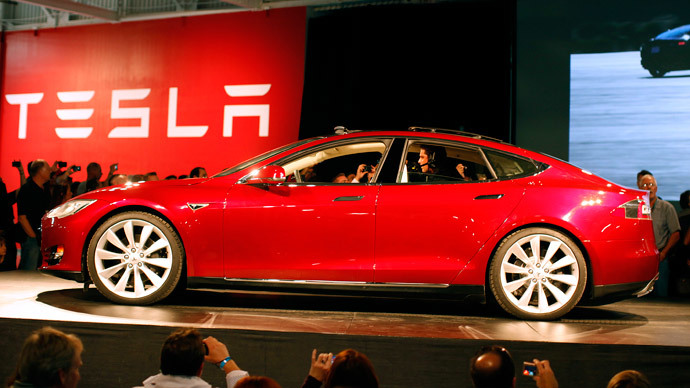 Seeing a Tesla is about to get a lot more wild, as the company is preparing to install its self-driving software in the Model S fleet. The autopilot feature will only work on highways... as the technology may not yet be legal in the US.
Tesla will roll out an auto-steering software update for the Model S in the next three or four months, and owners won't even have to go into a Tesla store for the upgrade, founder Elon Musk said at a Thursday press conference.
READ MORE: 'Personal roller coaster': Tesla Motors unveils electric Model S that drives itself
Drivers will only be able to engage the autonomous system while on highways, despite having the technical ability to do a lot more.
"It is technically capable of going from parking lot to parking lot," Musk said. "But we won't be enabling that for users with this hardware suite, because we don't think it's likely to be safe in suburban neighborhoods," he continued, noting that such streets often lack posted speed limit signs and pose obstacles like children playing in the street.
"There's certainly an expectation that when autopilot on the Model S is enabled, that you're paying attention. But it should also take care of you if you have moments of distraction," the Tesla founder added.
The company has been testing the software mainly between San Francisco and Seattle.
"We're pretty excited about the progress we're making there," Musk said. "We're now almost able to travel all the way from San Francisco to Seattle without the driver touching any controls at all."
Engadget pointed out that the electric car's new technology is not a huge leap from current automobile abilities.
"We've already seen plenty of car companies offer things like assisted parallel parking ‒ an evolved form of cruise control seems like the next logical step," the tech site wrote.
But the update may be ahead of the law when it comes to self-driving cars, experts warn. Only four states (California, Florida, Michigan and Nevada) allow for driverless cars.
Washington, DC announced new rules at the beginning of April 2014 that would make it the first jurisdiction to license self-driving car operators (rather than just testers). And the federal government has authorized only a handful of test locations for "connected cars," where vehicles use technology to communicate with other similarly equipped vehicles that alert drivers to potentially dangerous situations.
READ MORE: Google's self-drive cars to hit streets in 2015
"There's a reason other automakers haven't gone there," Karl Brauer, an analyst with Kelley Blue Book, told the New York Times. "Best case scenario, it's unclear. If you're an individual that starts doing it, you'd better hope nothing goes wrong."
"It's not just a philosophical reason why automakers haven't allowed their vehicles to drive themselves," he added. "There's a legal reason, too."
A spokesman for the National Highway Traffic Safety Administration told the Times in January that "any autonomous vehicle would need to meet applicable federal motor vehicle safety standards," and that the agency "will have the appropriate policies and regulations in place to ensure the safety of these types of vehicles."
Alexis Georgeson, a spokesman for Tesla, told the Times that there was "nothing in our autopilot system that is in conflict with current regulations."
Georgeson said the system was designed to be used by an alert driver. "We're not getting rid of the pilot. This is about releasing the driver from tedious tasks so they can focus and provide better input," she said.
The driverless car technology also raises the question of liability in an accident, which may need to be decided by the courts, rather than by legislation.
"If it's fully autonomous, who's responsible if there's a mistake? The driver or the company who made it?" Carl Tobias, a law professor at the University of Richmond, told the Times. "I don't see how Tesla's going to clear the hurdles. They may have to go to each state legislative body and convince them, and that takes time."
Before the autopilot technology arrives, Tesla is pushing a software update in the next two weeks ‒ Version 6.2 ‒ that is designed to reduce "range anxiety," or fear of running out of juice while on the road.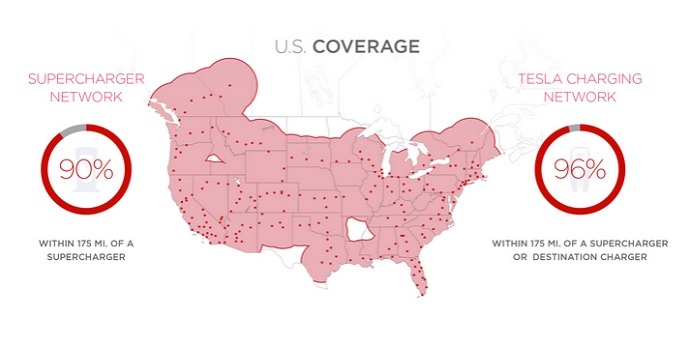 The upcoming update, called Range Assurance, will connect the Model S with the network of Tesla Superchargers and destination chargers, discarding those that are in heavy use or are inactive. The technology will also warn drivers before they drive out of range, the company said in a blog post.
Version 7.0 ‒ with the autopilot mode ‒ will have a complete overhaul of its user interface, the Tesla founder told reporters.
"It'll kind of need one," Musk noted, "because of the way the car will interact with you in the future."
People will be able to summon an unmanned Model S to their location, an ability that the billionaire said will be restricted to private property until the law catches up with the technology.
You can share this story on social media: