NYPD sued over raid on Philip Seymour Hoffman's alleged drug dealer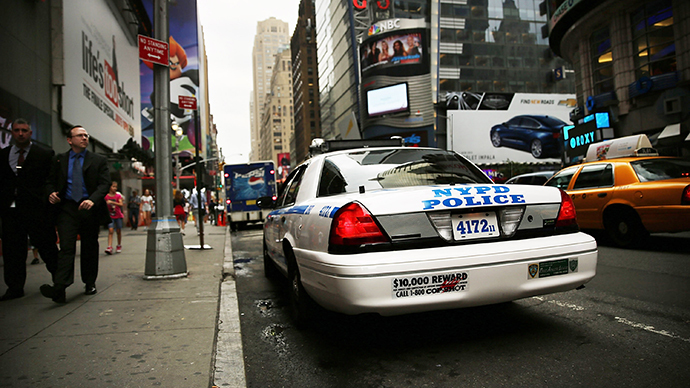 Thomas Cushman claims he was battered, bruised, defamed when New York City police mistakenly arrested him as he paid a visit to a man police suspected of being Philip Seymour Hoffman's heroin dealer. Now he is suing police over the incident.
Two days after Philip Seymour Hoffman died of a heroin overdose, Cushman went to visit his friend Robert Vineberg at his apartment. Just minutes after arriving, according to the lawsuit filed by Cushman, New York police broke down Vineberg's door with a battering ram, slammed into Cushman with their shields, kicked him, hit him and handcuffed him. He also claims that moments before police burst in, Vineberg was saying, "Let me tell you what's going on with Philip Seymour Hoffman..."
"We got two minutes into the conversation when 50 cops, yes 50 cops, came busting down the door, tackled me, and sliced open my head. Blood was gushing everywhere," Cushman said, according to the Daily Mail. "They hit me with these bullet proof shields."
READ MORE:Record opium poppy cultivation has 5% of Afghan pop. using heroin
Cushman said he didn't resist arrest even though he had nothing to do with Hoffman's death, and though he was "in pain with blood pouring from his eye," he was jailed overnight with no medical attention.
The complaint adds that he was stuck in a "perp walk" in front of the news media and his name was leaked to the media, something which led to "numerous articles" that "maligned Cushman as being associated with Hoffman's death and /or the sale and use of heroin."
READ MORE:Heroin deaths doubled in US in two years
The district attorney declined to prosecute him because there was no warrant for his arrest and there was no contraband on him, according to multiple reports.
His friend Robert Vineberg was charged and convicted for heroin possession, but there was no evidence to tie Vineberg to Hoffman's death.
Heroin and other opiate overdoses are spiking across Mass., with an alarming 58 suspected deaths so far this month http://t.co/ti7T8nq7ib

— The Boston Globe (@BostonGlobe) December 17, 2014
Cushman is seeking damages for wrongful arrest and imprisonment, assault, defamation, personal injuries and negligence.
READ MORE:Legalize heroin & cocaine': World leaders call for end to War on Drugs
Cushman's lawyer, Ronald Rubinstein, said his client's eye and leg injuries forced him to stay home for weeks and he lost his job as the manager of a nonprofit group's bookstore.
"He still has difficulty walking," Rubinstein told the New York Daily News.
Cushman is asking for unspecified damages.
A spokesman for the city Law Department told the new outlet, "We will review the lawsuit once we are served."