Record opium poppy cultivation has 5% of Afghan pop. using heroin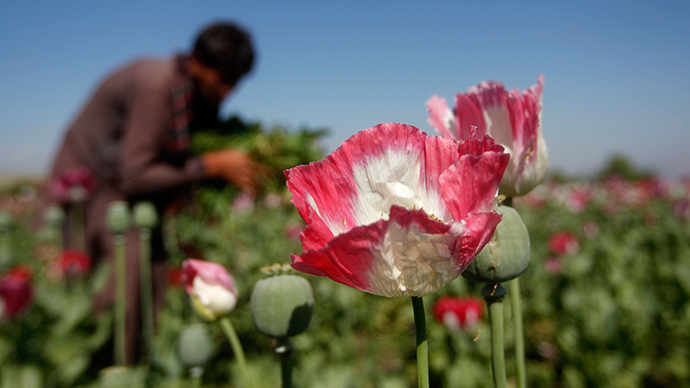 The UN says opium poppy growth in Afghanistan will rise to record levels by the end of 2014. A report by the organization says there is a 7 percent increase in land being cultivated despite the US spending over $7 billion on counter narcotics programs.
The survey was carried out by the Vienna based United Nations Office on Drugs and Crimes (UNODC) and it's bad news for the new Afghan government. They are already struggling to deal with a revitalized Taliban insurgency, especially in areas where opium poppy growth is at its highest.
The UNODC's Jean-Luc Lemahieu admitted that the figures from the report seemed to show that plans to eradicate or reduce opium production had failed. However, he did have confidence in the new Afghan government, even though the US led coalition has all but pulled out of the country. Washington has also spent $7.6 billion on counter narcotics programs in the country, since the Taliban's fall from power in 2001.
"(Changing) the economic incentives away from the illicit economy to the licit economy, now that's a hell of a task, but that's exactly what indeed this new government seems to stand for," said Lemahieu, the UNODC director for policy analysis and public affairs said, as reported by Reuters.
2014 #Afghanistan#opium Survey presented in Vienna & Kabul; opium cultivation rises 7%- http://t.co/u2inCK52ZK

— UNODC (@UNODC) November 12, 2014
The organization stated that poppy cultivation had expanded to 224,000 hectares in 2014, which was an increase of seven percent. In contrast, a mere 74,000 hectares were being used to grow poppies in 2002, a year after the Taliban regime was ousted from power.
Not surprisingly with the rise in land being used to grow poppies, there has been an increase in opium production, which is used to make heroin. Around 6,400 tons of opium were produced in 2014, which is an increase of 17 percent from the previous year. However, it failed to reach the all-time record of 7,400 which was produced in 2007.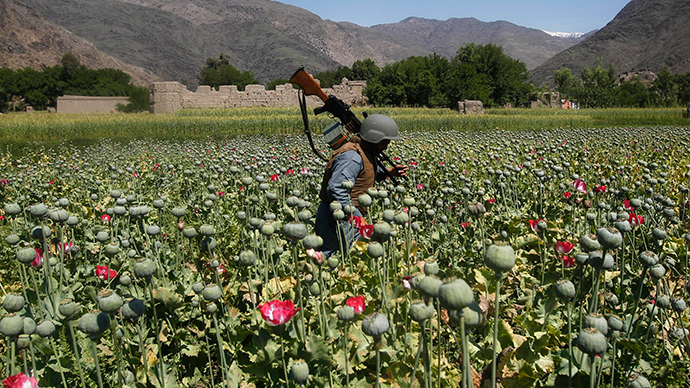 "In 2014, opium prices decreased in all regions of Afghanistan. One probable reason for the decrease was an increase in supply due to an increase in production," the survey said.
With the price of opium falling, this has led to a surge in the number of drug addicts in Afghanistan, with an estimated 1.5 million drug users out of a country of 30 million people, UN officials have stated, which is 5 percent of the country's population.
The report also showed that attempts to eradicate poppy cultivation were failing. Eradication programs decreased by 63 percent with only 2,692 hectares being cleared, while rudimentary and labor intensive methods, such as using sticks, blades and hands and uprooting were often used to get rid of the crops.
In the year British troops left Afghanistan, opium production reached record levels. Graph from UNODC report. pic.twitter.com/yBMAbQb7gl

— Jamie Wood (@JamieWood_Sky) November 12, 2014
New Afghan President Ashraf Ghani has been in power for less than two months, however, he does have a comprehensive plan to try and tackle the growing drug problem in the country, according to Lemahieu.
The vast majority (89 percent) of opium cultivation took place in nine provinces in Afghanistan's Southern and Western regions, which include the country's most insecure provinces. The Afghan president has written a book on how to fix failed states and says the need to increase jobs is key. He believes that cotton could be grown instead of poppies, if the West dropped tariffs, which are imposed on textiles produced in Afghanistan.