Afghanistan stores 40,000 tons of opiates – Russia's drug watchdog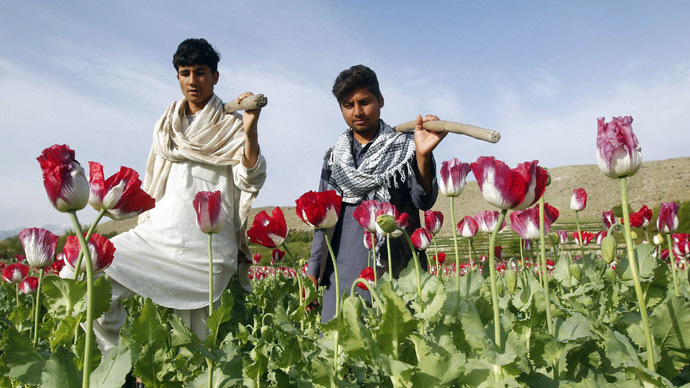 Some forty thousand tons of opiates are stockpiled in Afghanistan, Russian authorities revealed, urging coalition forces to focus on the elimination of drug laboratories in the Islamic Republic.
It is unlikely that the situation with the production and trafficking of drugs will worsen after the scheduled withdrawal of NATO combat troops from Afghanistan at the end of 2014, says Viktor Ivanov, the head of Russia's Federal Drug Control Service (FSKN). 
"Narcotics manufacturing is well run in Afghanistan. Around 40,000 tons of opiates are already stored there. So, in fact, they have reached saturation point," he said as quoted by Interfax. 
The amount of drugs in Afghanistan is so large, that markets in neighboring countries are overloaded, Ivanov added.
The Russian official called on the US-led coalition in the republic to work on the elimination of drug laboratories, which he sees as a possible solution to the problem. Afghan law enforcers don't have enough resources to cope with drug crimes in the country on their own, he explained.
For Russia – where an estimated 8.5 million people use drugs – battling the problem remains vitally important. Between 20,000 and 30,000 people die in the country annually through drug abuse, and around 100,000 from narcotics-related illnesses, according to FSKN.
Russian drug police seized and destroyed about a ton of Afghan opiates this summer alone, the drug control service chief said.
Russia is the target market for over 2,000 laboratories in the northern Afghan provinces. 
"Afghan heroin continues to shape the Russian drug market," Ivanov said earlier in September, at a meeting in Troitsk.
Heroin production in Afghanistan has increased 40 times since NATO began its 'War on Terror' in 2001, according to FSKN.  Over one million people have died from Afghan heroin since then.
Afghanistan retains its position as the world leader in the production and cultivation of opium – which is used to make heroin – the UN said in its World Drug Report 2013.
Moscow has repeatedly pushed for the eradication of poppy fields in Afghanistan as the simplest solution. This year, illegal poppy cultivation in Afghanistan is expected to reach record proportions, the UN's Office on Drugs and Crime said in a report published in April.
"Poppy cultivation is not only expected to expand in areas where it already existed in 2012, but also in new areas or places where poppy cultivation had been stopped," the document said, adding that if there is no disruption to this year's poppy harvest, Afghanistan will have the dubious honor of producing 90% of the world's opium.
You can share this story on social media: