​Hackers threaten 'Christmas gift' for Sony, release more data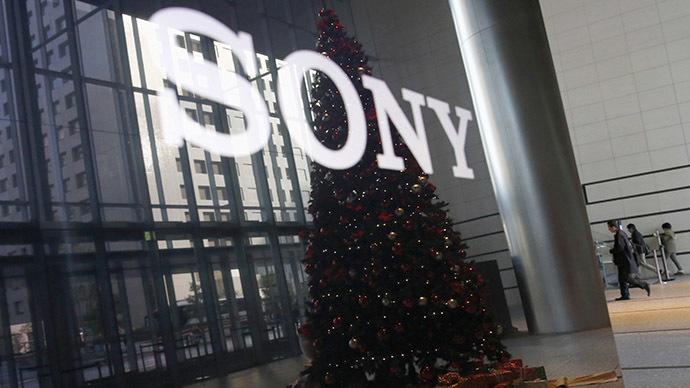 Hackers have released the seventh part of stolen images from Sony Pictures' archives. They relate to the corporation's streaming site, Crackle. The group says worse is to come and will make for a most unhappy Christmas for the company.
"We are preparing for you a Christmas gift," the hacker group calling themselves Guardians of Peace wrote in a message posted to the file-sharing site, Pastebin. "The gift will be larger quantities of data. And it will be more interesting. The gift will surely give you much more pleasure, and put Sony Pictures into the worst state," the hackers promised.
The latest leak consists of documents on the Grouper video site, acquired by Sony in 2006 and renamed Crackle.
Sony Pictures suffered the crippling hack on November 24.
READ MORE: 'You cannot find us': Sony hackers leak new data as FBI says no N. Korea trace
The attack not only damaged the company's network, but actually brought its activities to a halt. The hackers started to disclose sensitive corporate data, including financial and personal information, such as salaries and home addresses. There were embarrassing disclosures about actors, and the emails of Sony's top executives were also outed.
A number of scripts have been also leaked, including the new James Bond movie 'Spectre', as well as detailed plans for the Spider Man franchise.
READ MORE: Sony hack reveals movie studio kept passwords in folder named 'Passwords'
On Saturday, the Times of London alleged the hack had disrupted Sony Pictures movie shoots, claiming the entertainment giant could no longer process payments due to a crippled internal computer network. However, the claim was denied by the studio, USA Today reported.
"Production of Sony projects remain in motion," said Robert Lawson, a spokesperson for Sony Pictures.
"Everyone is banding together to get through this," Amy Pascal, co-chairman of Sony Pictures Entertainment told TheWrap. "Sometimes adversity leads to banding together in a positive way. I'm really proud of the way they have been stepping up," she said.
You can share this story on social media: