Freeze-frame: Hacker attack halts Sony Pictures' work for up to 3 weeks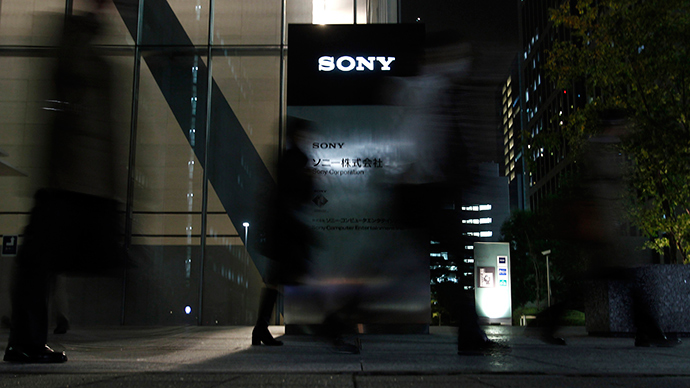 Sony Pictures Entertainment warns employees to abstain from connecting to corporate networks, Wi-Fi or email after the studio was reportedly attacked by hackers threatening to reveal company "secrets."
Computers in New York and around the globe were infiltrated by hackers, and in Los Angeles they were completely shut down as a precautionary measure by Sony Pictures Entertainment, reported Deadline.com on Monday.
"We are down, completely paralyzed," a source at Sony Pictures Entertainment told the site. However, the reported attack doesn't affect any other Sony divisions.
It all started with an image of a skeleton appearing on screens, and then a "strangely ominous" message told users they had been hacked by #GOP.
It went on to say, "Warning: We've already warned you, and this is just the beginning… We have obtained all your internal data including secrets and top secrets." The message threatened to release documents by 23:00 GMT Monday. As of Tuesday morning, pages with zip archives, specified by the hackers, "cannot be displayed."
Sony Pictures just got hacked. pic.twitter.com/T7sttAiRhL

— Textual Abuse (@TextualAbuse1) November 24, 2014
The hacker group appears to have obtained a variety of corporate documents – mp3 podcasts and passwords, the Verge reports. The message gave neither specific demands nor explanations as to what was happening.
It is unclear who is responsible for the attack. Citing an anonymous source, Bloomberg linked it to a group called 'Guardians of Peace'.
Sony Pictures is currently working on addressing the problem.
"We are investigating an IT matter," SPE spokeswoman Jean Guerin said in an emailed statement, Livemint.com reports.
According to a Livemint source at Sony Pictures, the company promises its employees the situation will be resolved sometime between one day and three weeks.
Sony Pictures Entertainment Inc. is the American entertainment subsidiary of Japanese Sony. With its headquarters in California, it produces and distributes franchises, such as 'Spider-Man', 'Men in Black' and 'Underworld'.
In August, the Tokyo based Sony stated that its services had artificially high traffic. Hackers claimed that they had taken down PlayStation Network via a denial-of-service attack. But according to Sony, no personal data of 53 million its users was compromised and the access was restored the following day.
This year, many large global companies have fallen victims to computer hackers. The list includes the largest bank in the USA, JPMorgan Chase & Co (JPM), and home products retailers Home Depot Inc. and Target Corp. (TGT).
You can share this story on social media: