Delta Airlines employee fired for protesting low wages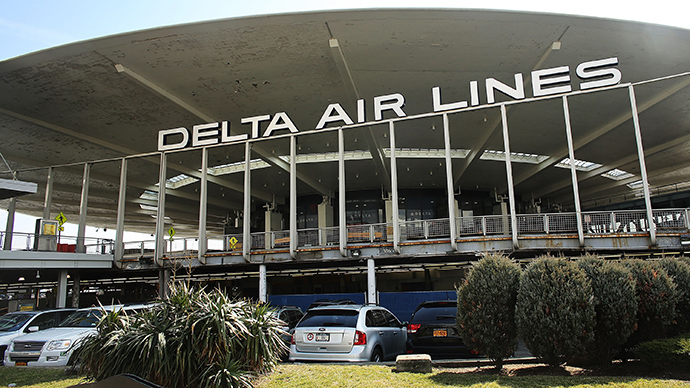 A Delta Airlines employee spoke to the press about the need to raise the minimum wage for less than a minute – but that was long enough to invalidate more than a quarter-century of work and get him fired.
Not content to accept that decision, he is now appealing his termination.
READ MORE:New wave of protests: All major US cities hit with minimum wage rallies
Kip Hedges, 61, worked for Delta Airlines for 26 years before he lost his job. He asked the company on Tuesday to reverse its decision to fire him for speaking out about the low wages paid to baggage handlers. His protest was caught in a 30-second video clip during a labor rally pressing for minimum wage increases at Minneapolis-St. Paul International Airport.
"A lot of the Delta workers make under $15 an hour," Hedges told a reporter in a video that was later posted to Facebook by 15 Now Minnesota, which organized the rally. "As a matter of fact, I would say probably close to half make under $15 an hour. So there's a lot of them that understand how important this is. And a lot of the better-paid workers also understand that the bottom has to be raised otherwise the top is going to fall, as well."
Interview with Kip Hedges, fired Delta baggage handler http://t.co/O1QhPrDewB

— Machinists Union (@IAM264Boston) December 11, 2014
That was enough for Delta Airlines to fire the veteran employee for "disparaging remarks."
READ MORE:Revolting bosses: 1,000s of French employers take to streets to protest working conditions, taxes
In a statement last Thursday, the company insisted that it "regrets any instance where a longtime employee is terminated."
"However, Delta requires all employees to meet company performance and conduct standards. This includes upholding our core values of respect and honesty in any communications regarding Delta," the statement continued.
Hedges used to be an officer in the International Association of Machinists, which provides federal protections against being fired for speaking freely – but the union lost a vote to represent the Minneapolis baggage handlers several years ago.
Delta baggage handler fired for publicly advocating $15/hr min wage, unionization. No 1st Amend rights in workplace http://t.co/oJcPqY0O48

— Mark Ames (@MarkAmesExiled) December 5, 2014
Private-sector workers are protected against mistreatment in the workplace by the National Labor Relations Act, but transportation workers are excluded from appealing to the National Labor Board. Hedges told the Minneapolis Star-Tribune that he is not optimistic about being rehired.
"The way the Delta appeals process works, there's not much hope of success," he said. "The people who fired me are the people who judge me."
READ MORE:UN investigating slavish treatment of migrant workers in UAE
Hedges called Delta's actions intimidation.
"The positive thing is that ramp workers all over the country are going on a union authorization card push to show Delta their tactic is backfiring. I hope Delta will look back at some point and say they wished they had not done that," he said.
Hedges told the Star-Tribune that he plans to sue for wrongful termination in a federal court if he loses his appeal.