Revolting bosses: 1,000s of French employers take to streets to protest working conditions, taxes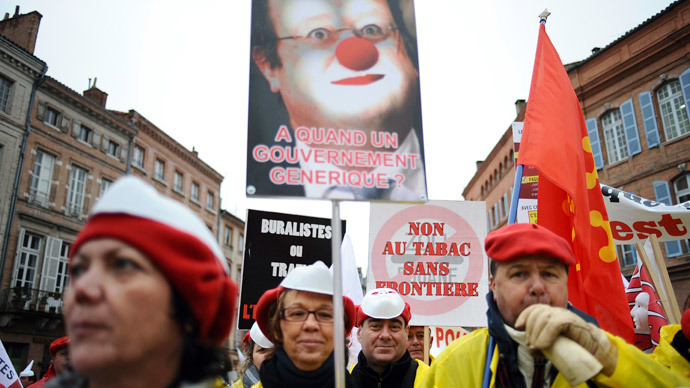 Workers, teachers and doctors are not the only ones protesting in France. Now bosses have flooded the streets, rallying against stifling employee regulations and increasing employment taxes.
The demonstrations, held in Paris, Toulouse and Marseille, gathered at least 10,000 owners of small- and medium-sized businesses, the organizers told French media. Paris police downplayed the protests, however, claiming there were only 2,200 people marching in the streets of the French capital.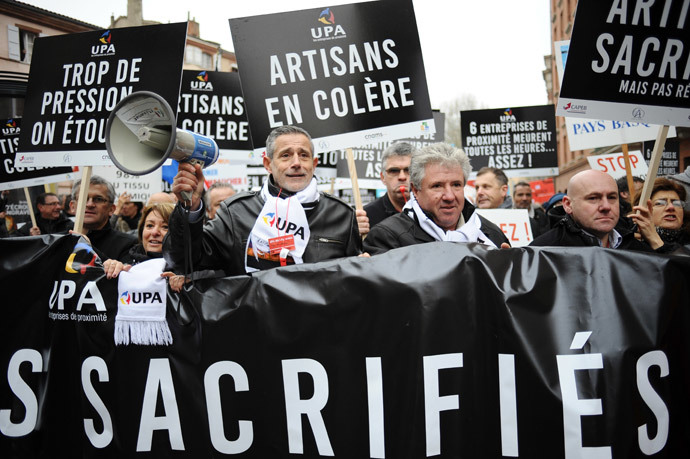 The bosses say they are protesting government "policies that have suffocated businesses for the last 30 years."
They are battling on a whole range of issues, including severe working condition, the minimum part-time working week of 24 hours and heavy taxes which they say are driving their companies into the ground.
Les petits patrons à Hollande : " on ne vous dit pas merci pour ce moment" pic.twitter.com/R9Ju3uFwnY

— Eric Nunès (@NunesEric) December 1, 2014
Manif cgpme . "Hollande tue les buralistes" pic.twitter.com/VXUndG8VQi

— Eric Nunès (@NunesEric) December 1, 2014
"Dear ministers: Work 70 hours a week for peanuts – I can provide training for that!" read another.
The crowd in Paris chanted, "We are the economy, we are work!" outside the Finance Ministry.
In Toulouse, protesters held banners that read: "Taxes, levies, charges: enough is enough!" and "Six local firms die every hour!"
"This year, 70,000 businesses went bankrupt. That's 110,000 jobs gone," said Gerard Ramond, head of the regional branch of the CGPME, which represents the bosses of small- and medium-sized enterprises, AFP reported.
The bosses have hit France's streets for the first time since 2000, when a 35-hour workweek was introduced.
Three employers groups are involved in the protests which are expected to continue for the whole week under the hashtag #liberonslentreprise (free the businesses).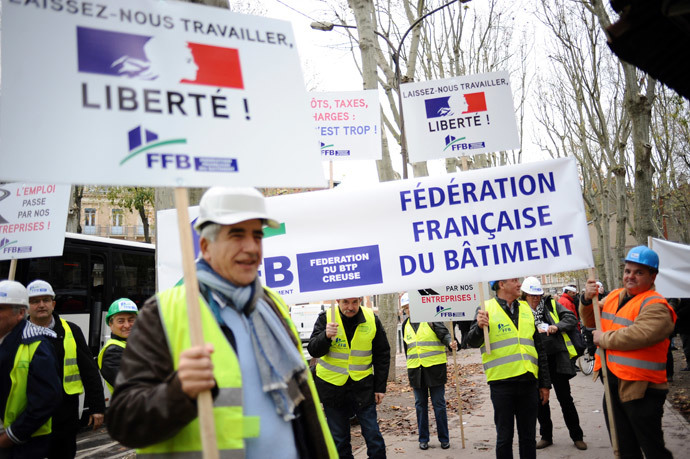 "Business leaders are exasperated while their businesses are suffering in a very difficult economic situation," Jean-Eudes du Mesnil du Buisson, head of the CGPME association of small- and medium-sized businesses, told France 24 TV.
The Movement of the Enterprises of France (Medef), France's biggest employers' group, also supports the demonstration.
"This protest must highlight the gravity of the situation," Medef said in a statement. "We need to act and convince people that there are solutions to boosting growth and employment."
Dans le froid et la bonne humeur, Les petits patrons occupent la place Félix Éboué pic.twitter.com/g9sjVBGsQZ

— Eric Nunès (@NunesEric) December 1, 2014
Les buralistes dans la rue à Paris ;-) pic.twitter.com/gvoJnbsAkf

— Eric Nunès (@NunesEric) December 1, 2014
The third group involved in the rally is UPA artisans' union, which is planning to publish an open letter to French President François Hollande in around 60 newspapers.
France's unemployment rate recently hit 5.5 percent. Hollande promised to cut payroll taxes if businesses take on new workers. However, no progress has been made so far.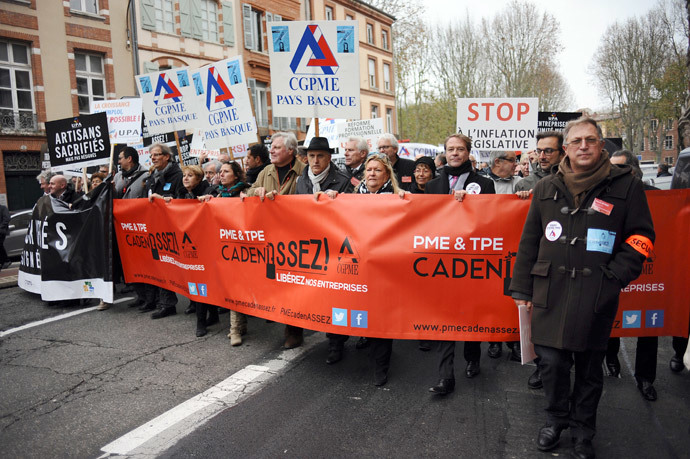 Hollande's ratings fell to a record low in September, with only 13 percent of French people saying they were satisfied with his performance as president and 86 percent stating that they no longer supported Hollande, according to a poll by the French Institute of Public Opinion.
Signez le manifeste Libérons l'entreprise via @medef44#liberonslentreprisehttp://t.co/1UzaZv5oC2pic.twitter.com/KlzFkIZoSS

— Arnaud Laverne ن (@arnaudlaverne) November 28, 2014
Les patrons de pme dans la rue à Paris 12 e pic.twitter.com/bA9kdktR6K

— Eric Nunès (@NunesEric) December 1, 2014
You can share this story on social media: