New wave of protests: All major US cities hit with minimum wage rallies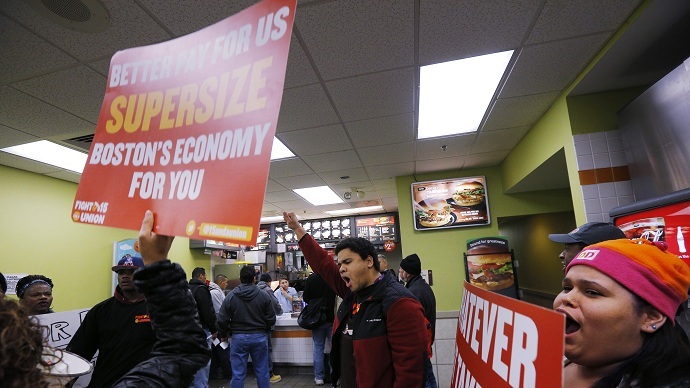 Workers in the fast-food, home-care, and airline industries are involved in demonstrations and engaging in walkouts all over the United States on Thursday in a call for a heightened minimum wage of $15, among other labor demands.
Organizers of the "Fight for 15"campaign, which began in November 2012 and then spread to hundreds of cities and "33 countries on 6 continents," expect Thursday's actions to take place in 190 cities at fast-food chain restaurants like McDonald's, Burger King, and Wendy's, as well as major airports like John F. Kennedy International Airport in New York.
Hundreds marching through the loop, demanding dignity and a living wage. #strikefastfoodpic.twitter.com/KzkwG5fKrB

— ROC-Chicago (@rocchicago) December 4, 2014
Major unions are also participating in the push to raise the federal minimum wage from $7.25 to $15 per hour. The last boost to the minimum wage occurred in 2009 for most jobs; tipped workers, who make $2.13 per hour, have not seen a raise since 1991.
In Los Angeles: "Hold the burgers, hold the fries, make our wages super-sized!" #StrikeFastFood#FightFor15pic.twitter.com/xeddjFVGzS

— SEIU (@SEIU) December 4, 2014
The current minimum wage for a full-time worker does not meet the federal poverty threshold for family of two, unlike the 1960s and 1970s. Advocates for an increase point to this stagnation or lowered value of the minimum wage as a prime reason for rising inequality in America.
Happening now in #chicago! #homecare15#StrikeFastFood#15AndAUnionpic.twitter.com/771347zSyk

— IL HC Fight for 15 (@IL_homecareff15) December 4, 2014
According to the Economic Policy Institute, the minimum wage in the US would be more than $18 had it "grown at the same rate as average wages or total economy productivity."
Pre-dawn strike line at StL @Hardees on Hampton #StrikeFastFoodpic.twitter.com/LvZsURWkp7

— MOJobsWithJustice (@MOJwJ) December 4, 2014
Fast-food restaurants say their locations are operated by independent owners who are ultimately responsible for employee pay. Though this rationale for a giant corporation like McDonald's was weakened when, in July, the National Labor Relations Board's general counsel ruled that "43 of the 181 claims accusing McDonald's restaurants of illegally firing, threatening or otherwise penalizing workers for their pro-labor activities" had merit, as the New York Times wrote, possibly jeopardizing the company's claim that it is not a "joint employer" at its many restaurants. The decision could eventually lead to increased labor rights for employees.
cops following us, chants turn from #strikefastfood to #handsupdontshoot cause #blacklivesmatterhttps://t.co/j5TezsMwmw

— mindy isser (@mindyisser) December 4, 2014
Protests at nine cities will include airport workers, while home-care workers are expected to demonstrate in 20 cities, organizers said, according to Reuters.
Storified: follow the action as airport workers support #StrikeFastFood today. http://t.co/AjIDeEn5XJ

— Airport Workers Utd (@GoodAirports) December 4, 2014



Organizers added that this round of "Fight for 15" protests will be unprecedented in participation numbers and overall cities, as protests are occurring for the first time in locations such as Jackson, Mississippi; Knoxville, Tennessee; and Buffalo, New York.
Knoxville is on the map! #StrikeFastFood welcomes this new city to the Fight For 15! pic.twitter.com/eYUGVKYm5a

— Show Me $15 (@Show_Me15) December 4, 2014
MEMPH15 "what we make is too damn low" #StrikeFastFoodpic.twitter.com/6h1tZ0y7PP

— Show Me $15 (@Show_Me15) December 4, 2014
#fastfoodstrike#MyHungerGamespic.twitter.com/c10tzNqIwT

— Anna Zivarts (@annazivarts) December 4, 2014
We are on strike in Richmond, VA to lift our families up! #StrikeFastFoodpic.twitter.com/zOjDhUUrxp

— Raise Up For 15 (@RaiseUpfor15) December 4, 2014
MT @SEIU: Airport worker Rashad G. in FL: "We can't wait for higher wages. The landlord WON'T wait." #StrikeFastFoodpic.twitter.com/gw0cShtxaN

— attn: (@attndotcom) December 4, 2014
Another protest in #NYC - this time fastfood workers on strike to demand higher wages #strikefastfood

Ett filmklipp publicerat av Alexey Yaroshevsky (@yaro_rt) Dec 12, 2014 at 8:45 PST
You can share this story on social media: