Salary of McDonald's CEO should be slashed, activist shareholders say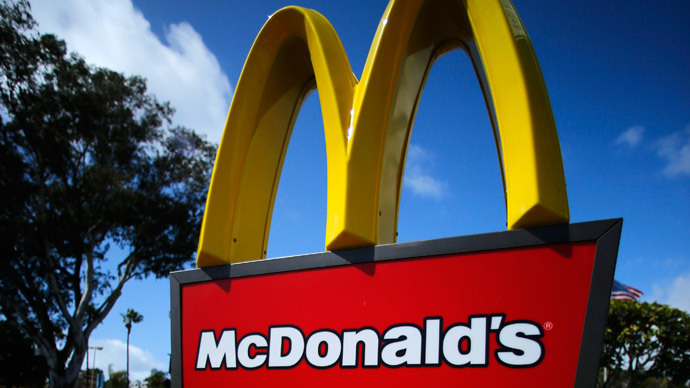 The salary of McDonald's CEO Donald Thompson should be slashed by the company's Board of Directors due to the chain's poor performance and the vast difference between his wage and the paychecks of average workers, activist shareholders have said.
The Change to Win (CtW) investment group announced in a letter to shareholders on Monday that it is rallying protesters for a demonstration outside McDonald's annual shareholder meeting on May 22. CtW made it clear in the letter that the company's financial performance, combined with its treatment of struggling workers, has become a major cause for concern.
"As you are no doubt aware, McDonald's financial and operational performance has been disappointing for several years: its share price has trailed the S&P500 over each of the past 5-, 3-, and 1-year periods, by 45-percent, 20-percent, and 20-percent respectively," the letter stated, as quoted by the Guardian.
"At the same time, doubts about the company's business model have mounted: McDonald's restaurants have been the site of growing strikes and protests by food service employees, its long-standing disavowal of responsibility for workplace standards at its franchised restaurants faces a serious legal challenge, and the company itself acknowledges that growing public concern over income inequality poses a risk to its business," the letter went on.
CtW advises a federation of unions with total investments worth nearly $250 billion.
McDonald's and other fast food corporations have been the subject of demonstrations across the US in recent years as income inequality has grown and the companies have been accused of being too slow to raise workers' wages, among more serious accusations. During the 2013 shareholders meetings, countless employees walked off the job.
Last year, financial information company NerdWallet used data submitted by anonymous McDonald's workers via employer review website GlassDoor.com to examine the average pay for a Golden Arch employee.
The average employee that customers see changing the fryer, taking their McNugget order, or working behind the Drive-Thru window earns $7.73 per hour, according to the NerdWallet study. That is even less than the median wage for the entire fast food industry, which sits at $8.90 per hour.
Dana Lime, a senior analyst with NerdWallet and the author of the report, told the Huffington Post that it would take a McDonald's employee four months to earn what then-CEO James Skinner earns in an hour: $9,247.
"A lot of these companies are paying minimum wage or slightly above that, and the disturbing fact is that even if a worker works 40 hours a week for a month, they're never going to get close to what the CEO makes for one hour alone," Lime said.
Adding to the frustration this year is that, while workers' paychecks have not grown, Thompson has seen his income remain stable. The CEO's salary was cut by nearly $4 million – to nearly $9.5 million – recently, although he has still been awarded with millions in stock options and bonuses, despite missing the incentives required to receive those perks by a wide margin, according to the Guardian.
CtW, like other activist shareholders involved with fast food titans Domino's, Chipotle, and Wendy's, has recognized that such an unbalanced approach may not equate to future success. The federation said the McDonald's board has already taken a "variety of ad-hoc steps" to increase Thompson's already "considerable" payment.
"What we are seeing is an unbalanced approach to human capital," Richard Clayton, director of research at CtW, told journalist Dominic Rushe. "The compensation committees of these companies are typically charged with overseeing pay, benefits for the whole workforce. But what they actually focus on is the incentives for the executives and ensuring that executives have all kinds of ways of making money."
New York City has been ground zero for the growing number of efforts to convince McDonald's and other chains to pay more (an hourly wage of $10 to $15 is the general asking point), to stop retaliating against employees who protest, and to pay delayed overtime checks.
In March, New York Attorney General Eric Schneiderman announced that Richard Cisneros, a McDonald's franchisee, agreed to settle for nearly $500,000 after refusing to reimburse workers for laundering their uniforms. Organizers and workers alike praised the settlement, but said it is only the first of many steps in forcing McDonald's to treat its employees with dignity.
Stephanie Sanders, a cashier who attended the protest of last year's shareholder meeting, told the Milwaukee Business Times that she and her co-workers are more motivated than ever.
"We're taking the fight directly to the corporations to tell them $7.25 an hour is not a living wage," she said. "Even though I serve food at my own job, I can't always afford to buy enough food for myself."