UN investigating slavish treatment of migrant workers in UAE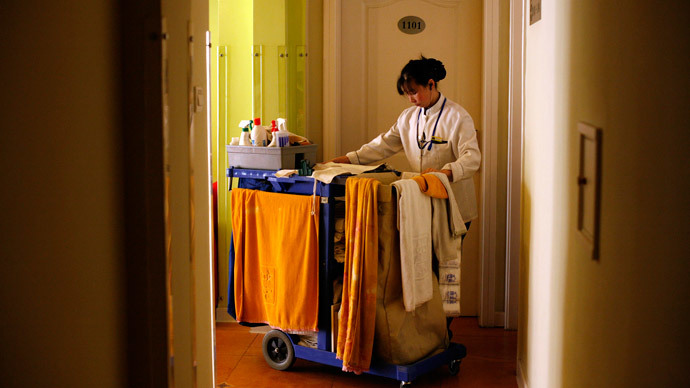 The Gulf state's physical abuse and slave-like treatment of migrant workers is making headlines again, as the UN starts its own investigation, following an official complaint at the international level, which detailed an "alarming frequency" of cases.
The complaint was lodged by the International Trade Union Confederation for "non-observance by the United Arab Emirates of the Forced Labor Convention" of the International Labor Organization (ILO).
Allegations of a "serious breach" of conduct were accompanied by those detailing a "[failure] to maintain a legal framework adequate to protect the rights of migrant workers" under a new amendment, which compels signatories to work at eradicating forced labor.
This follows on from numerous allegations that domestic workers across the Gulf state having been subjected to horrendous physical, verbal, sexual and other types of abuse. They were supported by Human Rights Watch, who believes some 146,000 domestic female workers from Southeast Asia to be among the most at-risk groups in the UAE.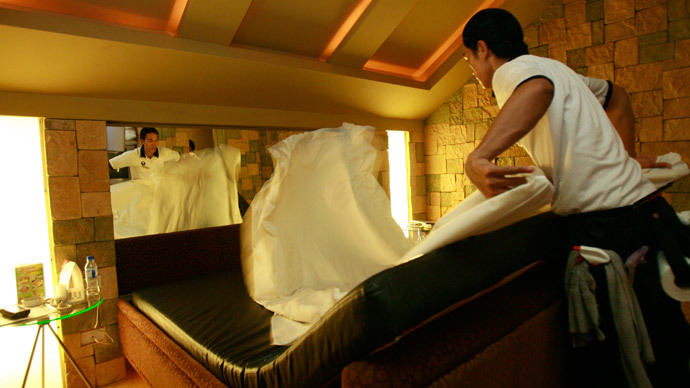 According to HRW and ITUC, Abu Dhabi has lost Western trust and will no longer be able to wave away outsiders with assurances that migrant-worker conditions in the country are adequate.

READ MORE: Migrant workers in UAE abused, exploited under 'kafala' system – HRW
The international labor body is investigating the ITUC claim that domestic staff and construction workers – many of them working on the $27 billion Saadiyat luxury complex of resorts and museums – are frequently "trapped in exploitative practices that may amount to forced labor."
In October, HRW released a damning report – the result of interviewing 99 people living and working in the UAE.
"I would wake up to start cooking, then cleaning, washing clothes, and then cooking again. No rest, there was just no rest... Because she kept yelling, I cried and asked to go back to the agency, but madam said 'I already bought you…'" a 23-year-old Indonesian domestic worker in Dubai told the NGO.
The problems arise through the UAE's visa sponsorship system, known as 'kafala', which establishes a relationship between migrant workers and their visa sponsor, and which also means that migrant workers cannot switch employers.
The ITUC's General Secretary, Sharan Burrow, called it "modern day slavery."
"You are owned by an employer; you have no right of movement from job to job; there's no serious compliance [with] the fundamental ILO articles of workers' rights; and you're not free to leave when the job becomes unbearable or the living conditions are such that you can no longer live with dignity. This must end," Burrow said.
In other cases, construction workers, who already live in deplorable conditions while working on luxury apartment complexes, are left penniless after paying illegal and unreasonably high recruitment fees, and deported for complaining or going on strike.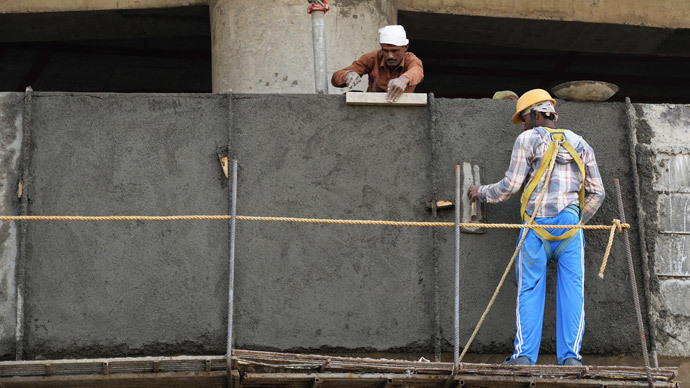 The projects they work on are often run in partnership with Western donors – like Abu Dhabi's own Guggenheim and Louvre galleries. An investigation by The Guardian revealed that migrant workers building New York University's Abu Dhabi campus were also gravely mistreated.
Another HRW report is due out in January. It is expected to support the claims made by a Guggenheim and Louvre boycott campaign group, Gulf Labor, which visited the labor camps.
"The Gulf Labor group found that workers' wages on Saadiyat remained at very low levels, and the persistent issue of recruitment fees had not been resolved," the May report says, adding that that "the social isolation and high-security nature of the facility is not a good model to be followed in the UAE in general."
"Workers should not be increasingly segregated from the UAE citizens, tourists, and corporate expatriates whose needs they service on a daily basis," said Shaina Anand, a member of the organization.
Other "multiple violations" were documented, including "employer retention of passports, mandatory overtime shifts, withheld pay, deportation without due process after work stoppages, substandard housing conditions, and non-delivery of promised pay increases."
The group expects all this to improve before the new NYU campus is finished and Guggenheim opens its doors.
"It's a further warning to the NYU, the Guggenheim, the Louvre, the British Museum and others that they've set up shop in a country with a dismal record on labor rights – and that's going to have ramifications, such as this investigation," Nicholas McGeehan, Gulf researcher at HRW said," as cited by The Guardian.
"They're going to continually be under scrutiny until their host puts their house in order. And the evidence suggests that they have not."
You can share this story on social media: