Migrant workers in UAE abused, exploited under 'kafala' system – HRW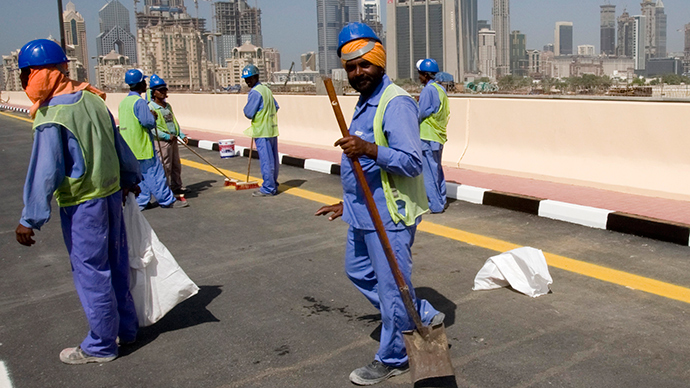 Domestic workers across the UAE have been subjected to horrendous physical, verbal and sexual abuse or passport confiscation in the abuse of the kafala, or sponsorship, system according to a new report by Humans Right Watch.
HRW estimates that some 146,000 domestic female workers have arrived to the UAE from countries such as the Philippines, Indonesia, India or Bangladesh. They come on promises of good working conditions, higher wages, and a chance to escape the poverty of their home countries.
However, the NGO heard complaints that workers are forced to labor excessive hours, or are even being subjected to physical violence or sexual abuse - while they cannot leave as employers confiscate their passports.

The HRW covertly interviewed 99 people in the UAE, in the end drawing up a 79-page report titled 'I already bought you'.

"I would wake up to start cooking, then cleaning, washing clothes, and then cooking again. No rest, there was just no rest... Because she kept yelling, I cried and asked to go back to agency, but madam said 'I already bought you…'" a 23-year-old Indonesian domestic worker in Dubai told the NGO.
READ MORE: 'Modern slavery': Intl delegation decries migrant rights abuses in Qatar
"My boss started hitting me after two weeks of being there," another worker revealed to HRW. "She hit me with her fist to my chest. She scraped her fingernails to my neck, and slapped my face. I was bruised on my neck. She sometimes pulled out tufts of my hair."

In total, "more than two dozen" domestic workers told the human rights group that employers had either physically or sexually abused them. One reported a broken arm as a result of her employer violently twisting it and another said she was raped.

"A large majority of the domestic workers Human Rights Watch interviewed alleged their employers had verbally abused them by shouting at them and calling them names such as 'donkey' or 'animal'," the report noted.

The problems arise through the UAE's visa sponsorship system, known as 'kafala' which creates a tie between migrant workers and their visa sponsor and which also means that migrant workers cannot switch employers.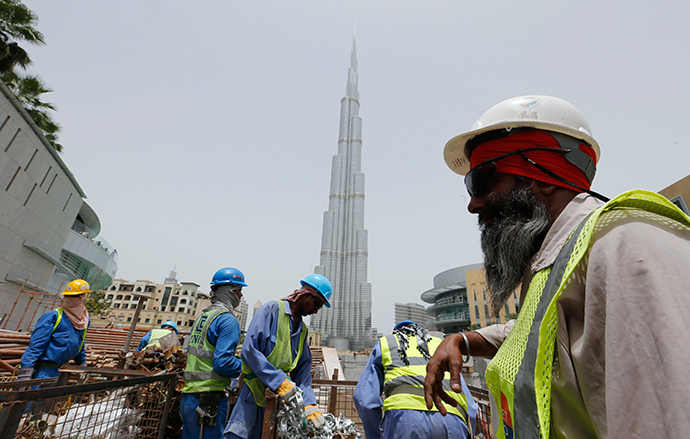 "The UAE's sponsorship system chains domestic workers to their employers and then leaves them isolated and at risk of abuse behind the closed doors of private homes," said Rothna Begum, Middle East women's rights researcher at HRW.

"With no labor law protections for domestic workers, employers can, and many do, overwork, underpay and abuse these women."

While the UAE has attempted to conduct some reforms to the sponsorship system, they still have very few rights.

HRW noted that it had sent its research findings to appropriate UAE government bodies. However, none had provided a response to the NGO by the time of the report's writing.

HRW has demanded that kafala be amended, stating that the entire system should be overhauled so that the domestic workers can switch employers without losing immigration status.

"It should pass the draft law on domestic workers, in line with the ILO Domestic Workers convention, raise public awareness about standards under the new domestic worker contract, and expand shelter and other aid and remedies for abused domestic workers," HRW recommended.

The kafala system is also used in Lebanon, Saudi Arabia, Jordan and other Gulf Arab states including Qatar, which is set to be the first Arab host of the World Cup tournament in 2022.

READ MORE: Almost 30 million people worldwide live as slaves – report

Qatar has approved new measures to improve conditions foreign laborers, including giving them a siesta. The move follows international criticism over 'World Cup slaves' and Qatar is considering replacing their kafala system with a "system based on employment contracts" according to announcements made back in May.

Qatar has been facing increased international criticism over foreign workers' rights since last September, when a Guardian investigation revealed that at least 44 Nepalese construction workers died in Qatar Between June 4 and August 8 in 2013. The newspaper exposed horrifying conditions, with the workers not being given enough food and water.
You can share this story on social media: