Chicago cops blast 'Black lives matter' protesters with 'Sweet Home Alabama' (VIDEO)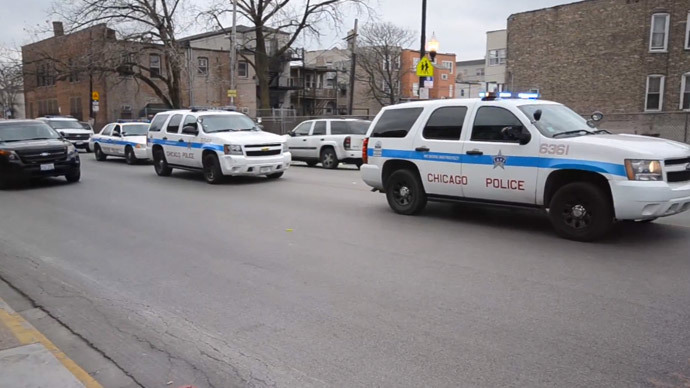 Chicago police said they are investigating an incident caught on video during a weekend "Black Lives Matter" protest in which a police escort car cranked "Sweet Home Alabama," a song some interpret as a tribute to the US South's segregationist policies.
The unmarked squad car was traveling amid other Chicago Police Department vehicles that made up an escort for demonstrators marching Saturday through the Garfield Park neighborhood of the city. The protest, like others that are ongoing nationwide, emanated from the grand jury decisions in New York and Missouri not to indict white police officers for killing unarmed black men.
The 1974 song by Southern rock band Lynyrd Skynyrd has been deemed by some as sympathetic to former Alabama Governor George Wallace and the segregationist policies he supported, especially in the 1960s during the civil rights movement. The band has said that interpretation is misguided.
DNAinfo pointed out that the song could have been a nod to the Southeastern Conference (SEC) Championship football game that was played that same day, in which the University of Alabama soundly beat the University of Missouri.
Nevertheless, that ambiguity fueled suspicion from onlookers. The footage was captured by photographer Gabriel Michael.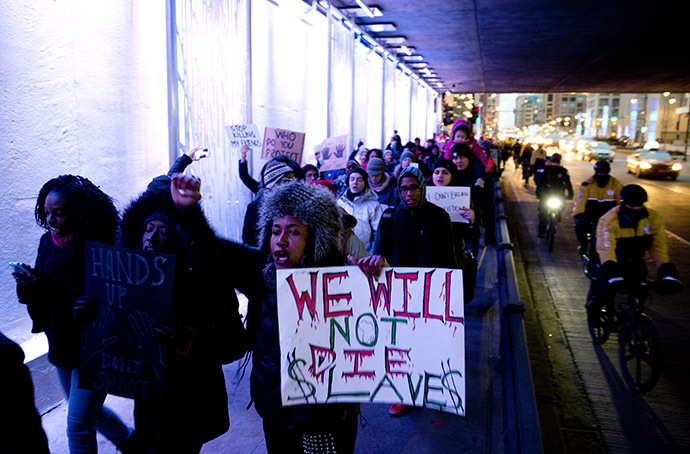 "That's called terrorism," a man walking in front of Michael's camera can be heard saying in the video as the police squad cars trailed behind the bulk of assembled protesters.
"I couldn't believe what I was hearing because you have to know the history of that song and the meaning," Michael told DNAinfo Chicago. "It didn't makes sense to me. It was [either] a horribly ironic joke that desensitized cops were playing, or it was intentionally disrespectful and intimidating."
He added that he was sure the music was coming from the squad car, either from inside or from the car's PA system.
"It was intimidating. It was aggressive. It was totally out of place," Michael said. "It was supposed to be a peaceful protest, and they ended it with that."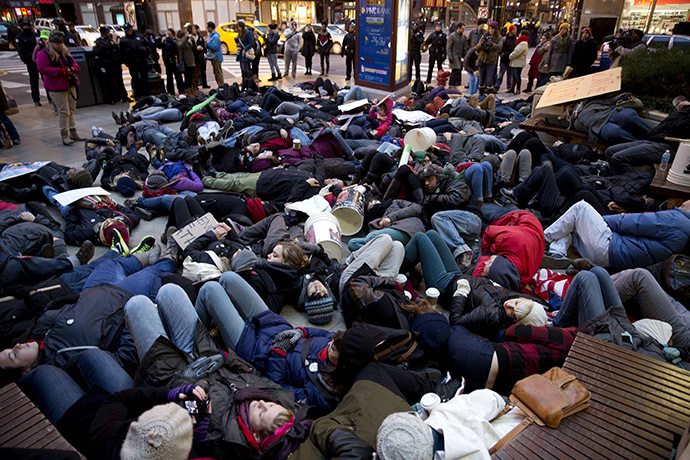 Stop Mass Incarceration Network Chicago, organizers of the protest, said in a statement that the video is "grotesque testimony to the genocidal logic of the police across this country who are acting as the modern-day lynch mob under the authority of the state."
Chicago police spokesman Martin Maloney confirmed the department was investigating the incident.
"As a Department, we are committed to community policing and fostering stronger relationships, based on trust and understanding, with the communities we serve," he wrote in an email, according to Reuters. "With respect to the peaceful protests, as you have seen over the past week, CPD is dedicated to protecting residents' right to free speech and peaceful assembly."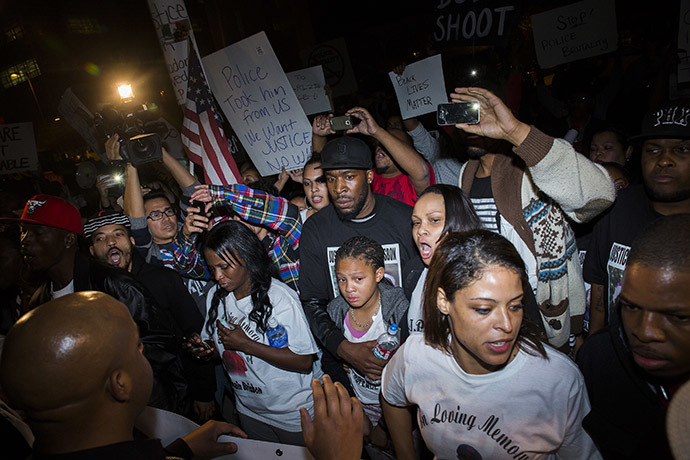 The non-indictments of Ferguson, Missouri police officer Darren Wilson, who killed 18-year-old Michael Brown in August, and Staten Island, New York officer Daniel Pantaleo, who was caught on video killing Eric Garner with a chokehold in July, have sparked outrage across America, including Chicago.
Protests over racial profiling, police brutality, and an overall mistrust of America's police-court-prison trinity have spread from Ferguson - where demonstrations and intense moments of civil unrest have occurred since Brown's death - to cities from coast tocoast.
You can share this story on social media: