'Govt created a monster': 1000s protest police violence across US for 3rd night (PHOTOS)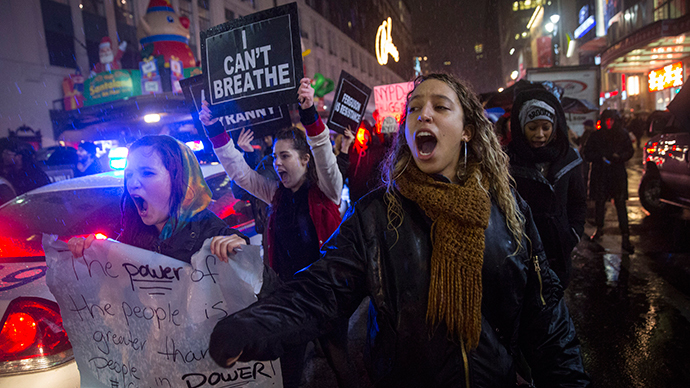 Thousands of people in New York and other US cities protested for a third night against the use of lethal force by police against minorities, as prosecutors pledged to consider charges against an officer in the killing of an unarmed black man last month.
The killing of 28-year-old Akai Gurley, who was gunned down in November by a police officer in a darkened public housing stairwell in Brooklyn, is the latest in an avalanche of deadly police actions across the country which many deem racially-biased.
Tweeps who took this photo in NYC #ICantBreathe we need to give credit cause it is epic pic.twitter.com/7aZL6OlqM3

— bebird (@bebird) December 6, 2014
Cops used an LRAD/sound cannon at multiple points tonight. Full riot squads. Told us to disperse or get arrested. Durham NC #ICantBreathe

— Charlie Stern (@CharliexVxStern) December 6, 2014
Brooklyn District Attorney Kenneth Thompson said Friday he will convene a grand jury to consider possible charges against Peter Liang, who shot Gurley. Police there have said Liang may have accidentally discharged his gun. At a news conference Friday, the president of the advocacy group BK Nation, Kevin Powell, called the shooting the latest in a "series of modern-day lynchings."
We don't need the celebrities. We don't need the politicians. We just need the people. One law for all of us. #ICantBreathe

— Geoffrey Colon (@djgeoffe) December 6, 2014
This week's outbreak of angry but mostly peaceful protests began Wednesday when a New York grand jury refused to bring charges against white officer Daniel Pantaleo in the death of a 43-year-old black father of six, Eric Garner, who was being arrested on suspicion of selling cigarettes illegally.
I hope the #ICantBreathe protests don't end anytime soon. This whole thing needs to evolve into Civil Rights Movement 2: #IndictTheSystem

— tylerc (@tylerc) December 6, 2014
The people awakened will never be muted by those that seek to deny a voice that cant be silenced #ICantBreathepic.twitter.com/aTPX9FUWaD

— anonymous (@AnonyCrypt) December 6, 2014
A video of his confrontation with police on Staten Island in July featured Pantaleo's arm across Garner's neck as he is subdued by four officers. Then Garner, who had no weapon, was knocked face down to the pavement as he repeatedly said, "I can't breathe." The grand jury sat for nine weeks and eventually decided to take no action against Officer Pantaleo.
Last month a Missouri grand jury also chose not to indict Darren Wilson, a white policeman, for the killing of an 18-year-old unarmed black man Michael Brown in the St. Louis suburb of Ferguson in August, provoking several nights of unrest. The grand jury in Ferguson heard over 70 hours of testimony deciding whether to indict, USA Today reported.

Activists on Friday concluded a protest march to the Missouri governor's mansion. More than 100 protesters shouted, "Hands up, don't shoot," and other slogans as they rallied in the rotunda of the state capitol in Jefferson City.
#Oakland: 400+ people on the move turning on 9th toward Broadway. #EricGarnerpic.twitter.com/7sL0SZ8n35 via @AlanWangABC7#ICantBreathe

— Revolution News (@NewsRevo) December 6, 2014
Powell and Market in SF right now. #icantbreathepic.twitter.com/Wfwd40mLNE

— Ryan Merkley (@ryanmerkley) December 6, 2014
On Thursday in Phoenix, Arizona, another unarmed black man was shot dead by a white police officer during a scuffle, leading to protests in that city.
university of arizona student led protest. #ThisStopsToday#BlackLivesMatter#ICantBreathe cc: @UofApic.twitter.com/gyGLGAJF9c

— mylifeasprose (@mylifeasprose) December 5, 2014
"The government has created a monster and the monster is now loose," Soraya Soi Free, 45, a nurse from the Bronx who has been protesting in New York, told Reuters.
The decisions by grand juries in Ferguson and New York not to indict white police officers have angered ordinary Americans and human rights experts alike.

"I am concerned by the grand juries' decisions and the apparent conflicting evidence that exists relating to both incidents," UN Special Rapporteur on minority issues, Rita Izsak, said in a statement.

"The decisions leave many with legitimate concerns relating to a pattern of impunity when the victims of excessive use of force come from African-American or other minority communities."
New Orleans Protesters Shut Down City Streetcars By Laying On Tracks #ICantBreathepic.twitter.com/QghfVnOszc

— Lnonblonde (@Lnonblonde) December 6, 2014
On Friday over a hundred demonstrators stormed into an Apple Store in New York to stage a brief "die-in," sprawling on the floor as shoppers and employees watched. They shortly left the store without incident.
Watching these peaceful demonstrations makes me proud to be an American. #NYC#icantbreathehttps://t.co/djlTxNQxQP

— Dustin C Jones (@DustinJonesEsq) December 6, 2014
Similar mini-demonstrations were staged at Macy's flagship department store in Herald Square and at Grand Central Terminal. Police calmly stood by, letting the protesters briefly occupy the locations.
Meanwhile, up to 100 people gathered near the site of Garner's death for a candlelight vigil on Staten Island. A group of marchers who pressed on through the rain were confronted by police on Manhattan's lower East Side before midnight. Several protesters were arrested, Reuters reported.
4 ARRESTS TOTAL NOW #DALLAS#ICANTBREATHE#BLACKLIVESMATTERpic.twitter.com/vfZ4lNJs64

— whytniejy (@TheRealWhytney) December 6, 2014
Protests also unfolded in Chicago, Boston and Washington, DC, with demonstrators chanting "Black lives matter," and "I can't breathe."