More than 150 detained in California as police killing protests reignite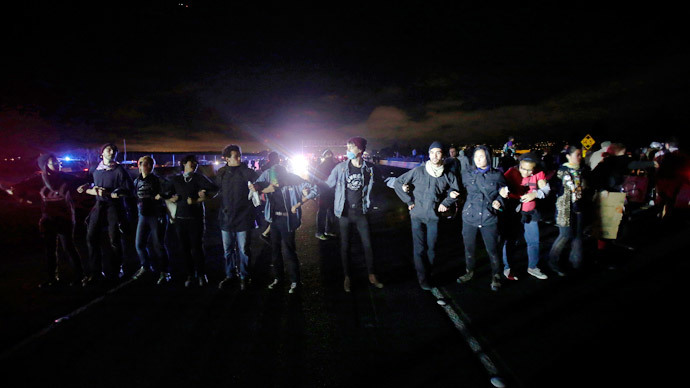 Some 150 people have been arrested in California as protests spilled into a third night, after decisions not to charge white police officers for the deaths of Michael Brown and Eric Garner prompted outcries about the use of force on minorities.
Protests in Berkley involved more than a thousand people, several hundred of whom stormed a major California freeway on Monday night, blocking it off and holding traffic up.
Damn good thing I didn't need to drive anywhere tonight #berkeleyprotestspic.twitter.com/QNcNMX9LHe

— Chris Taylor (@FutureBoy) December 9, 2014

California Highway Patrol officers began arresting scores of protesters around 11:30 pm, reported the San Francisco Chronicle.

Protesters had been throwing rocks and other projectiles at officers, California Highway Patrol spokesman Daniel Hill told Reuters. The arrests were predominantly made for obstruction.
Yes, I'm tweeting in handcuffs. No stopping me. #Berkeley#BlackLivesMatter#FTP#KettleAtRosspic.twitter.com/IWiphyXfwd

— Not Frantz Fanon (@violentfanon) December 9, 2014

Protesters started trying to access Interstate 90 at around 6:30 pm, outnumbering law enforcers hugely, while another group blocked an Amtrak train shortly before the arrests began.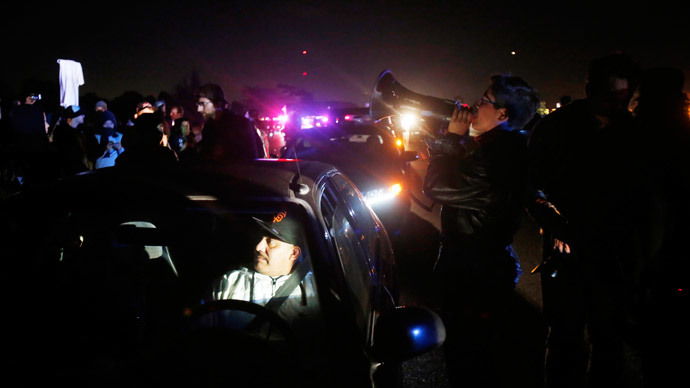 Thirty-year-old Danielle Fung was one of a dozen who linked arms on the track. She told the paper that the purpose of the action was to start "standing up for what we want, standing up for ourselves," she said. "We are bringing attention to humanity."

"By shutting down this train, it will delay the rest of the trains in the Bay Area," Navid Shaghaghi, 30, of Berkeley told the paper. "Now everyone will be asking, 'Why are the trains delayed?' Because of the protesters. Unless we're free, we will prevent the system from operating."
Shutting down highway and train during this night protests in #Berkeley#BerkeleyProtestspic.twitter.com/HDojeXJxPT

— Sputnik (@SputnikInt) December 9, 2014

Further protests occurred outside the Barclays Center in Brooklyn. Some 300 demonstrators blocked off the streets chanting: "I can't breathe" – the last words of Eric Garner and a rallying catchphrase for thousands of demonstrators protesting in cities across the country at his death.

On July 17, 2014, Eric Garner, a 44-year-old black man, died on Staten Island, New York, after a white police officer put him in a choke hold, a technique prohibited by the New York City Police Department. After repeating about a dozen times, "I can't breathe," Garner, who had asthma, reportedly suffered a heart attack and died. Garner left behind a family of six children.

The New York grand jury's decision not to charge the officer and a similar non-indictment of former Ferguson, Missouri police officer Darren Wilson, who fatally shot unarmed black teenager Michael Brown in August, have resulted in outrage and protests, coast to coast, over racial profiling, police brutality and an overall mistrust of America's legal system. The phrase "hands up, don't shoot" - a reference to Brown's killing – has also become a rallying cry.
Just unbelievable picture from #berkeleyprotests last night. #EricGarner#Berkeley#Ferguson#BlackLivesMatterpic.twitter.com/04yuu4Dm0M

— αηιs (@H0XH4) December 9, 2014

In downtown Phoenix, a further 200 people marched on police headquarters over the death of another unarmed black man at the hands of a white officer. Thirty-four-year-old Rumain Brisbon was fatally shot after accusations of drug dealing.

"I want a conviction. When was the last time an officer was charged for killing someone?" Brisbon's friend, Brandon Dickerson, told ABC 15. "I want a conviction."

His nine-year-old daughter led the march to the Phoenix police station, asking who shot her dad. She was barely audible through her tears.
You can share this story on social media: