#BlackLivesMatter: Anonymous calls for march of millions over police brutality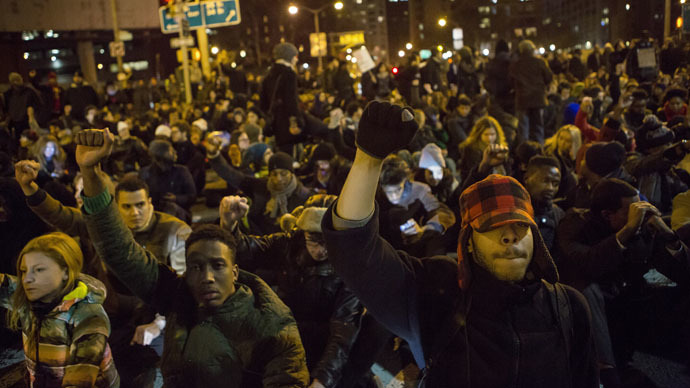 The hacktivist collective Anonymous has called for a nationwide 'march of millions' next Saturday to demand justice for Michael Brown, Eric Garner, and other African Americans who have died as a result of police violence.
The 'Day of Anger' event, carried under the burgeoning #Blacklivesmatter social movement, is set to take place on December 13. Although tentatively scheduled to kick off in New York City, the hacktivists call for protests all across the nation.
"We must not only show our power, but show that there is still hope for humanity, we must show the world these deaths are not in vain," the group said in a Facebook post.
Protests have broken out across the country after a grand jury decision that acquitted a white New York City police officer of any wrongdoing in the death of Eric Garner, a 43-year-old black Staten Island resident, on July 17.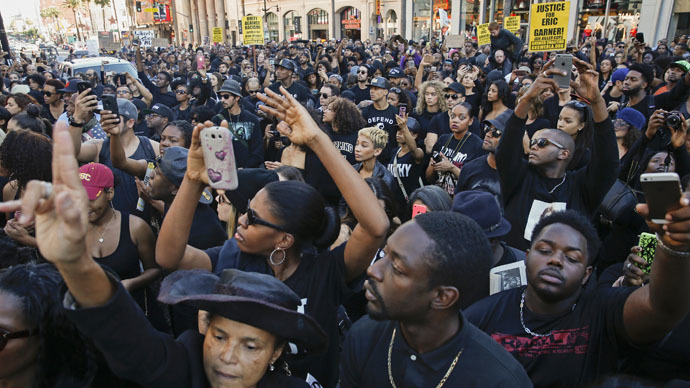 The incident, ruled a homicide by the medical examiner, was videotaped by a passer-by and put online. In it, the officer can be seen placing Garner in an illegal chokehold while a group of other officers force Garner to the ground. Garner, who reportedly suffered from asthma, died after repeatedly saying, "I can't breathe" - a phrase that has become a rallying cry for the protesters.
The Garner decision came shortly after a Missouri grand jury decided not to indict a white police officer in the death of Michael Brown, 18, who was shot multiple times following a confrontation with police in Ferguson, Missouri despite being unarmed.
On Saturday, protests against police brutality turned violent in Berkley, California. Police deployed tear gas and smoke canisters to disperse the protesters after being pelted with bricks, rocks and pipes.
READ MORE: Rubber bullets, tear gas in Berkeley as police disperse #EricGarner, #Ferguson rally
Several officers were injured in the violence.
You can share this story on social media: