Arrests, protests & 'Xmas carols': Ferguson unrest enters fifth day, c15 detained
Black Friday protests in Ferguson saw activists singing the words "it's a racist time in the city" to a Christmas tune. However, the holiday caroling mood was marred by clashes as police arrested at least 15 people for failing to clear the streets.
Follow RT's LIVE UPDATES on Ferguson solidarity protests
Police officers wearing riot gear stormed the crowd of about 150 protesters outside the Ferguson police station. Some 15 people have been taken into custody, Missouri Department of Public Safety spokesman, Mike O'Connell, told the St. Louis Post-Dispatch newspaper.
One person is in police custody, facing charges for assaulting an officer, St. Louis County police tweeted.
READ MORE:Pregnant woman loses eye from St. Louis County police bean-bag shooting
Confirmed: 15 arrested in #Ferguson; one facing assault on a law enforcement officer charge. Other protesters remain peaceful.

— St. Louis County PD (@stlcountypd) November 29, 2014
Police line up in front of New York protestors at PD in #Fergusonpic.twitter.com/T14PxTHEiw

— Lorena de la Cuesta (@LorenadlaCuesta) November 29, 2014
A separate group of 150 protesters walked down Ferguson's Chesterfield Mall, chanting "Shut it down!" and "Arrest Darren Wilson!"
Most shoppers left the mall when the demonstration started.
"They seem peaceful enough, there's no problem for me," said Jon Nuttall of St. Louis City, while his teenage son, Joshua Nuttall, added: "It's more annoying because it's causing all the stores to close."
READ MORE:'Black Lives Matter Friday': Boycotts, marches, arrests over Ferguson decision
Police in #Ferguson issued warning to protesters leave streets. Some protesters ignored warnings. Were taken into custody.

— St. Louis County PD (@stlcountypd) November 29, 2014
'Life is Hell': Protesters sing social justice holiday carols
Yet another group of other activists gathered near Tower Grove South neighborhood to sing social justice holiday carols. The protesters distributed copies of a "caroling for justice" book with modified lyrics to popular Christmas carols.
READ MORE:400 Ferguson protesters arrested across US, unrest persists
"Life is Hell," protesters sang to the tune of Silver Bells: "It's a racist time in the city/Ring-a-ling, hear them sing/Slim hope for justice today."
"They're dreaming of a white Christmas/just like the ones the bigots know/Where justice is missing and fairness isn't/Because fairness and justice they don't know," the protesters were singing changed lyrics to "White Christmas."
There were at least 45 protesting carolers outside various restaurants and cafes.
READ MORE:Scuffles, arrests as pro-Ferguson NYC activists disrupt Thanksgiving parade (VIDEO)
Bob McCulloch, the prosecuting attorney for St. Louis County, announced the grand jury's decision in the Michael Brown case on Monday evening. He said that "no probable cause exists" to file any charges against Wilson. A statement from Wilson's attorney said his client had followed his training, as well as the law, when he shot Brown.
READ MORE:UN panel slams US for police brutality, torture
After the jury's decision a wave of violent protests and peaceful marches swept over Ferguson and many other major US cities.
Happening Now: Protesters marching again in #Ferguson. #stlcopd remains vigilant as citizens exercise their 1st Amend. rights. #engagedstl

— St. Louis County PD (@stlcountypd) November 29, 2014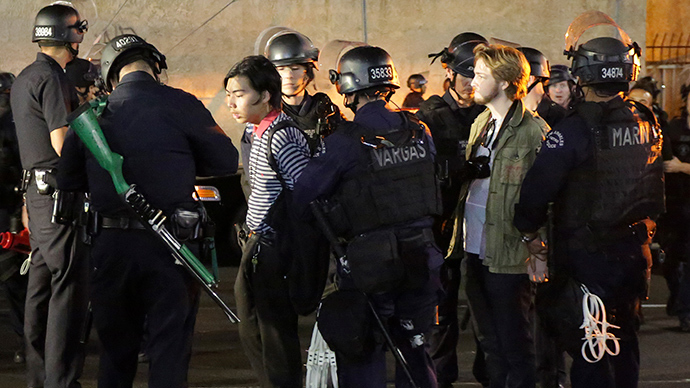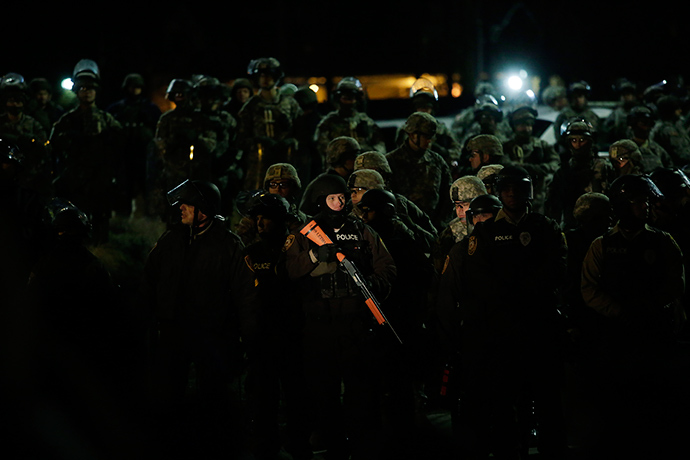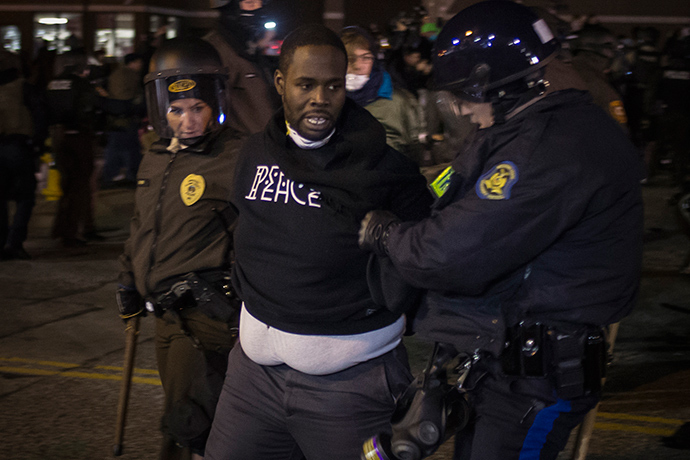 You can share this story on social media: