Scuffles, arrests as pro-Ferguson NYC activists disrupt Thanksgiving parade (VIDEO)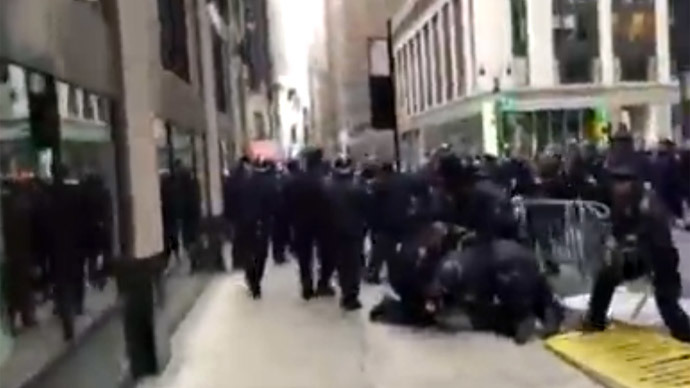 A group of activists has taken action against the Ferguson grand jury verdict in New York by disrupting an annual Thanksgiving parade in a planned #stoptheparade flash mob. At least seven people have been arrested, police say.
Information on the possible disruption of the annual Macy's Thanksgiving Day Parade – which features thousands of costumed participants taking to the streets of Manhattan to celebrate the holiday to lively tunes – first appeared a day ahead of the event.
"The parade is about family!!" Umm, so is the protest. #stoptheparadepic.twitter.com/jieBmAdumW

— Heather Marsh (@GeorgieBC) November 27, 2014
Activists in New York City decided to interrupt the parade in a protest against this week's grand jury decision not to indict Ferguson Police Officer Darren Wilson over the shooting of Michael Brown.
Protestors chanting "hands up, don't shoot!" at the #stoptheparade march @nypmetropic.twitter.com/kN4vxo9Bu9

— Natalie Musumeci (@natmusumeci) November 27, 2014
A group of two dozen activists gathered in downtown Manhattan on Wednesday, discussing plans to interfere with the processions, according to the New York Post. "The police aren't going to arrest us and they are not going to shoot us," an organizer said, as quoted by the newspaper.
#regram via @jamnopeanut Protestors attacked at #ThanksgivingDayParade #stoptheparade THREE ARRESTS! #handsup #dontshoot #mikebrown

A video posted by Black (@blackloudproud) on Nov 11, 2014 at 7:16am PST
Happy Thanksgiving from #stoptheparade courtesy of the NYPD.

A video posted by Tommie Sunshine (@tommiesunshine) on Nov 11, 2014 at 6:29am PST
The Macy's Thanksgiving Day Parade is broadcast live on national television, with an audience of millions watching the event throughout the country. There have been reports on Twitter that the NYPD has told news stations not to show the protest.
The New York police are telling news stations not to show clips of the protest. It isn't being televised. #stoptheparade

— zoe;.!, (@1970cliffordd) November 27, 2014
The flash mob has attracted more activists through social media, with the hashtag #stoptheparade quickly gaining traction.
a billion cops mobilized in midtown #StopTheParadepic.twitter.com/sxIVD4KobH

— CHAMPAGNE BHABI (@yzplz) November 27, 2014
Protesters took to the streets carrying banners which read, "No Justice No Peace" and "Black Lives Matter," along with other banners.
Turn it up don't turn it down were doing this for mike brown #stoptheparade#BlackLivesMatterpic.twitter.com/HanwlZQaYA

— Katastrophe (@nevernotever) November 27, 2014
Streets across the country – New York City included – have been flooded with activists since the announcement of the jury verdict on Monday. In New York, no major resentment between police and protesters was reported.
#NYPD dogpiled on #StopTheParade protesters, swung batons at us & used batons to push us back! #MikeBrown#ACAB#NYCpic.twitter.com/2FvCnqTlN8

— Ash J (@AshAgony) November 27, 2014
At least seven people – one woman and six men – were reportedly taken into custody after being arrested along the parade route on Thursday.
This sums it up. #stoptheparadepic.twitter.com/eTTXl67mSL

— Davon Magwood (@davonmagwood) November 27, 2014
Some 400 protesters have been arrested over the past three days across the US, with people taking to the streets in over 170 cities throughout the country. New York saw one of the largest rallies on Tuesday, with thousands gathering in Manhattan's Union Square. On the West Coast, some 200 activists were detained in Los Angeles, as police ordered rallies off the streets.
You can share this story on social media: