Woman with 9mm handgun arrested near White House
Published time: 21 Nov, 2014 10:12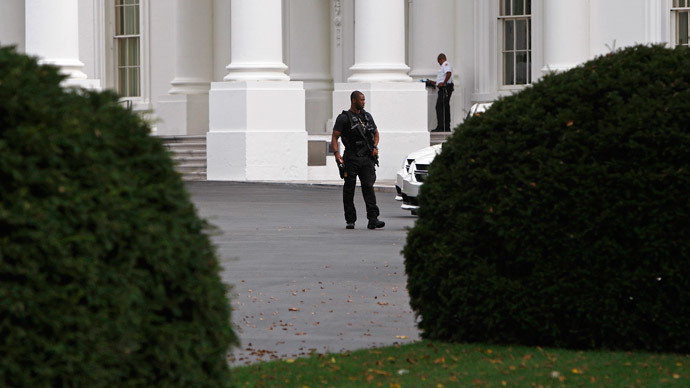 A woman with a 9mm handgun has been detained by Secret Service agents near the White House in the latest incident involving presidential security.
A Secret Service spokesperson told CBS News that officers observed the woman wearing a holstered handgun near The White House's north fence on Pennsylvania Avenue.
READ MORE: US Secret Service director resigns after series of scandals
April Lenhart, 23, of Mount Morris, Michigan, was arrested about 8:30 pm local time, Secret Service spokesman Robert Hoback said in an email, Reuters reported.
The woman is undergoing questioning by police, but, according to CBS, remains "uncooperative."
USSS says woman was found to be carrying a 9mm handgun in a holster. She is identified as April Lenhart of Michigan, a white female, 23.

— Mark Knoller (@markknoller) November 21, 2014
The incident came just minutes after President Barack Obama had finished his Address to the Nation inside of the White House, where he laid out his plans for sweeping immigration reform that would grant amnesty to some 5 million illegal immigrants now living in the United States.

The announcement was greeted with deep partisan wrath, as Republicans vow to repeal Obama's use of executive powers, bypassing Congress to initiate the controversial measures.
Pres Obama was in the WH at the time of the arrest. He had finished his Address to the Nation from the East Room 15 mins earlier.
— Mark Knoller (@markknoller) November 21, 2014
There has been a recent spate of security incidents around the White House, including several involving firearms and other weapons.

One day earlier, a 41-year-old male approached the White House to say that he had a personal invitation from President Obama to visit him the White House, according to court documents.

After Secret Service agents became suspicious, they followed him back to his car where they reportedly discovered a .30-30 rifle, ammunition and a 6-inch knife in the vehicle. The man was arrested on a charge of possessing an unregistered firearm, which is illegal in the capital.
READ MORE: Obama extends deportation reprieve to 5 million undocumented immigrants
In September, a Texas man armed with a knife jumped the White House fence, actually making it inside of the executive mansion, the doors of which had been left open. Following that incident, which forced an evacuation of the White House, Secret Service Director Julia Pierson ordered enhanced officer patrols and surveillance to patrol the White House grounds.

This week, Acting Secret Service Director Joseph Clancy told a congressional panel that the string of security lapses has had effects on morale and operational security, "both with potentially dire consequences," AP reported.